2014 IET Present Around The World Australian Final

Thursday, 1 May 2014 from 6:00 pm to 8:30 pm
Event Details
 The Institution of Engineering and Technology (IET) invites you to the Australian final of the international Present Around The World competition. Six finalists from universities across Australia will present on an engineering or technology related topic for 10 minutes followed by a 5 minute Q & A. The winner is awarded a cash prize and a chance to win the Asia Pacific Regional final, held in 2014.
Refreshments will be available at the event.
We will be announcing the winners at our 2014 PATW Awards Gala Dinner, an industry networking dinner night held on 2nd May 2014. This event is a great opportunity for students to engage with the industry as well as the companies to showcase their organisation. A $5 post-event refund is available for the 2014 PATW Awards Gala Dinner if you attend our free 2014 IET PATW Australian Final.
For more information about the IET PATW competition, visit our website at: theiet.org/patw
For more information about IET Victoria, visit our website at :   www.theiet.org/victoria
 Dress Code: Smart casual
Schedule
| | |
| --- | --- |
| 18:00 | Registration and Networking |
| 18:10 – 18:30 | Introduction by Host |
| 18:30 – 19:15 | Presentations by three finalists (WA, SA/NT, VIC) |
| 19:15 – 19:35 | Refreshments |
| 19:35 – 20:20 | Presentations by three finalists (TAS, NSW, QLD) |
| 20:20 – 20:30 | Voting of People's Choice Award |
| 20:30 - 20:45 | Counting of votes and Networking |
| 20:45 - 20:55 | Order of Thanks and annouceent of People's Choice Award winner |
Presentation Information

Finalist 1: Amy Joyce (Murdoch University - Western Australia)
Topic: Energy Efficiency Opportunites in the Australian Mining Sector

The mining sector accounts for a significant proportion of Australia's total energy use. The Australian Government's Energy Efficiency Opportunities Programme places a legislative requirement upon large energy users to identify and assess opportunities to save energy within their business.This presentation will discuss several energy-saving technologies employed within the WA mining sector and how they fit within the broader context of energy efficiency.
Finalist 2: Rowan Pivetta (Flinders University - South Australia/ Northern Territry)
Topic: National Instruments Autonomous Robotics Competition
The National Instruments Autonomous Robotics Competition is an annual six month competition for undergraduate students from around Australia and New Zealand. The 2013 competition required competing teams to build and program an autonomous robot capable of demonstrating obstacle avoidance, object handling, localisation and navigation within a simulated mining environment to complete a search and retrieval task.


Finalist 3: Mark Fabbro (University of Melbourne - Victoria)
Topic: Clock Synchronisaton

The importance of achieving clock synchronisation has motivated the development of several algorithms. It is a difficult problem to measure the performance of an algorithm under different conditions and to compare different algorithms directly. To meet this end, a simulation framework was developed to capture the key features of a WSN (namely time-varying sensor device connectivity and communication transmission delay) and four clock synchronisation algorithms were simulated under a variety of conditions in order to appraise their performance.

Finalist 4: Talbot Mathews (University of Tasmania - Tasmania)
Topic: Humanitarian Engineering

This presentation explores the need for engineers to engage in humanitarian projects, the roles engineers do and can play in humanitarian development, their responsibility, and a recommended guideline or approach to follow.

Finalist 5: Mathew Brown (University of New South Wales - New South Wales)
Topic: Polyphonic Music Transcription

Considered one of the greatest challenges in the area of Music Information Retrieval (MIR) , Polyphonic Music Transcription is the process of analysing a live musical performance and producing its musical notation. Combining DSP and Musicological theory, a system that generates sheet music in real-time from recorded music has been engineered. Applications include mass-sheet music production for composers/bands as well as instant notation of any song for aspiring & learning musicians.
Finalist 6: Mathew Priestley (James Cook University - Queensland)
Topic: Validation of Variable Frequency Drive Circuit Model

Variable Frequency Drives (VFDs) are electrical devices placed upstream of an AC motor to control the speed and torque of a motor. The inclusion of a VFD, which is a non-linear load, can produce spurious earth leakage currents which falsely trip earth leakage protection devices. Consequently, there has been an emphasis placed on modelling these earth leakage currents in circuits which contain an AC drive.Therefore, the primary aim of this thesis was to prove that the circuit model, developed by a previous JCU student, could produce circuit characteristics with similar trends to that produced in typical industry VFD environments.

Judges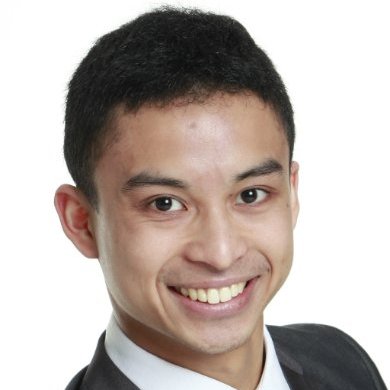 Roneil Kintanar is an entrepreneur and National level award winning public speaker.
He has given lectures and workshops in the University of Melbourne and Australian National University on topics such as networking, entrepreneurship, public speaking and leadership.
He is also one of the key drivers behind TEDxUniMelb's Student Presentations program, a program which trains students in delivering high quality presentations.
He is a Third year Arts student studying Politics and Asian Studies in The University of Melbourne.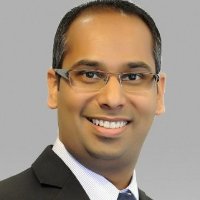 Dr Bicky Bhangu is the Senior Country Manager at Rolls-Royce Singapore Pte Ltd. He has a BEng in Electrical and Electronic Engineering from the University of Nottingham, an MSc in Control Systems, PhD in Advanced Machines and Drives from the University of Sheffield and an MBA in Technology Management.
Dr Bhangu is Adjunct Professor at Nanyang Technological University in Singapore, Fellow of the IET and a Chartered Engineer. He is the Deputy Chair for IET Singapore Network, Committee member of IET Technical Professional Network (TPN) – Aerospace and member of the Communities Committee – Asia Pacific.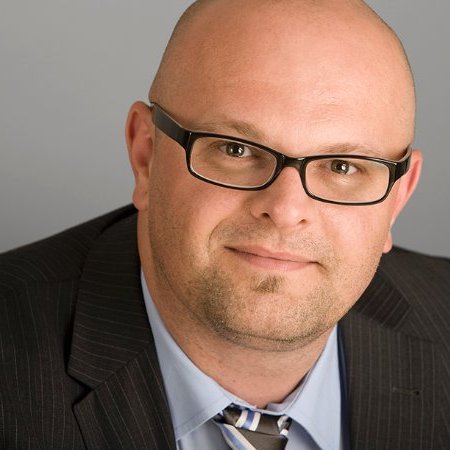 Robert Tatton-Jones is a Rolling Stock Engineer and Project Director with 22 years experience in the Rail industry. Robert has worked in many technical and production/maintenance roles and has been responsible for successfully delivering and managing major new rolling stock projects in the UK and in Victoria, Australia.
Currently Robert works for Metro Trains Melbourne and is the Fleet Manager for the Comeng Fleet (Melbourne's biggest EMU fleet) operating on the Melbourne Metropolitan Rail Network.
Parking

There are a few options for public parking at The University of Melbourne. Please visit Public Parking at The University of Melbourne for further information.
Have any questions about 2014 PATW Australian Final? Contact IET Victoria Young Professionals Section (YPS) at vicyps@theiet.org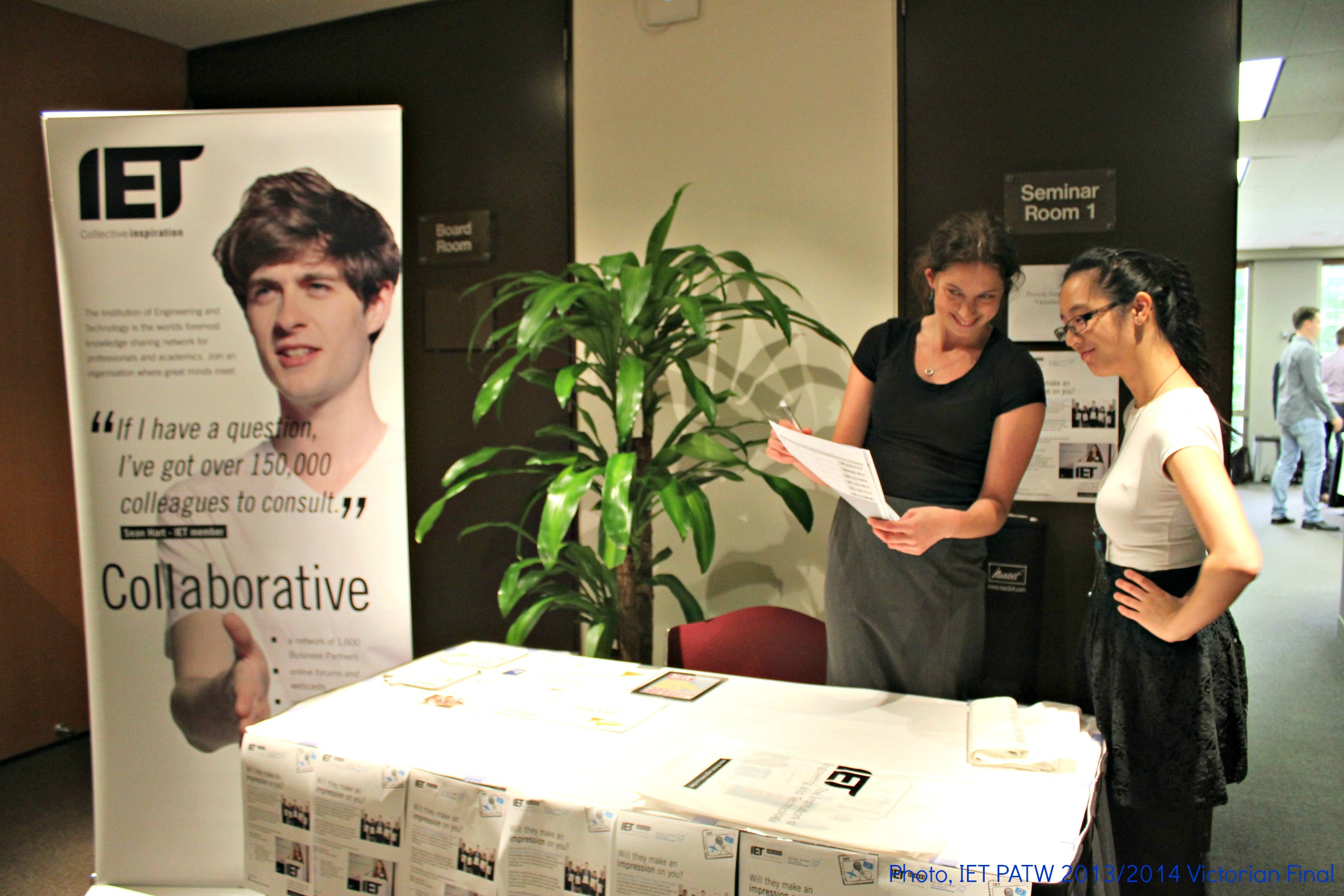 When & Where

A1 Theatre, Level 1 Building 173, Old Engineering School
University of Melbourne
Grattan St
Parkville, VIC 3010
Australia

Thursday, 1 May 2014 from 6:00 pm to 8:30 pm
Add to my calendar
Organiser
The Institution of Engineering and Technology (IET) is a world leading professional organisation sharing and advancing knowledge to promote science, engineering and technology across the world. A professional home for life for engineers and technicians, and a trusted source of essential engineering intelligence.
The IET has more than 168,000 members worldwide in 150 countries, and its volunteer members operate almost 100 Local Networks as well as 21 Technical and Professional Networks.
It was formed in March 2006 by a merger of the Institution of Electrical Engineers (IEE) and the Institution of Incorporated Engineers (IIE) .
The Institution of Engineering and Technology is registered as a Charity in England and Wales (no 211014) and Scotland (no SC038698) .