Location
2.0 VIntage Market
850 Stud Road
Scoresby, VIC 3179
Australia
Join us for a spectacular day out! LIVE MUSIC, FOOD TRUCKS, CAR & BIKE DISPLAYS, MARKET & TRADE STALLS, GIVEAWAYS, PRIZES & MORE!
About this event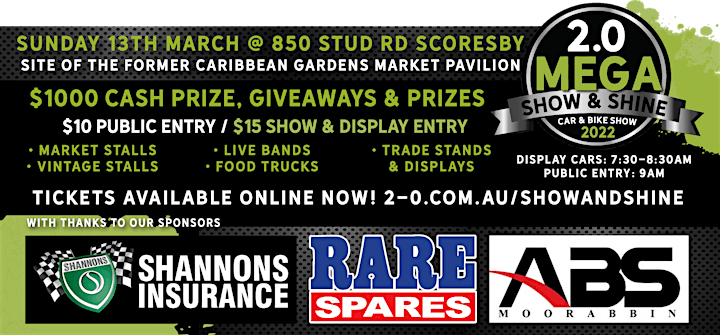 2.0's MEGA Show & Shine 2022 - Car and Bike Show!
$1000 CASH PRIZE for the PEOPLE'S CHOICE Car or Bike, plus GIVEAWAYS, PRIZES, LIVE MUSIC, FOOD TRUCKS - and don't forget the SHOPPING!
TRADE STALLS, MARKET STALLS and our HUGE Pavilion full of vintage, artisan, handcrafted wares (OPEN 7 DAYS @ 850 Stud Road Scoresby - site of the former Caribbean Gardens Market Pavilion!)
HOSTED BY MR EXCITED - Everyone's favourite local car personality!
VISIT THE WEBSITE >> https://2-0.com.au/showandshine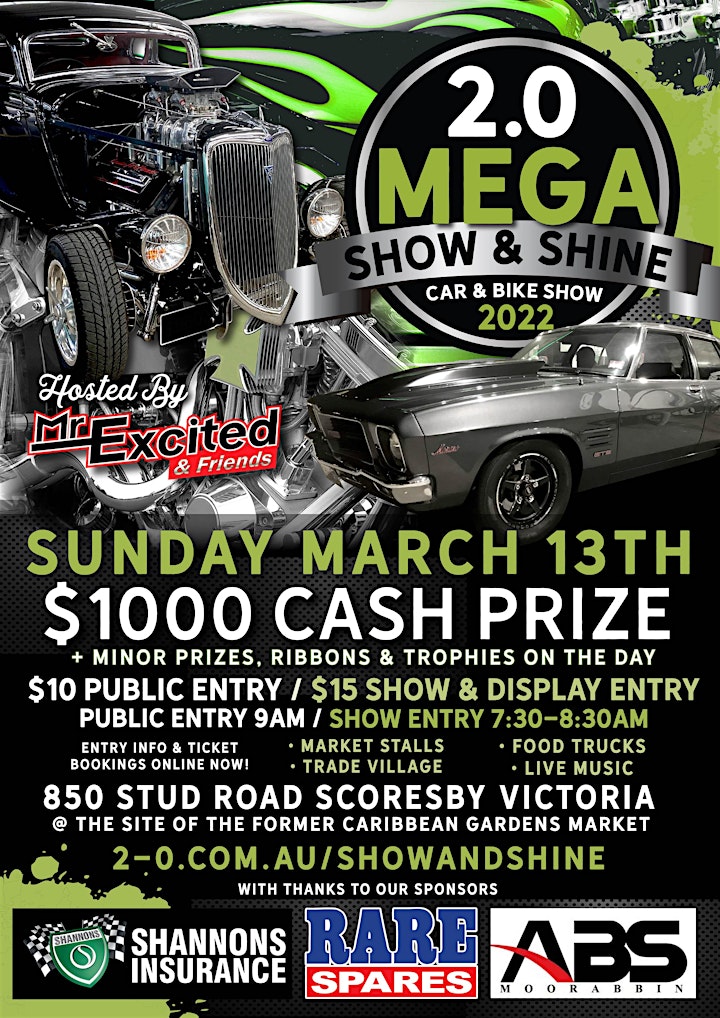 SHOW & DISPLAY:
• $1000 CASH PRIZE - PEOPLE'S CHOICE! • RIBBONS & TROPHIES ON THE DAY!
Voting cards will be issued with paid entries at the gate to be completed and returned. The car or bike with the most votes will take home the cash prize!
2022 SHOW & SHINE PRIZE CATEGORIES:
AUTOMATIC ENTRY TO ALL APPLICABLE CATEGORIES
• People's Choice ($1000 Cash Prize!)
• Best Original
• Best Custom
• Best Hot Rod
• Best Muscle Car
• Best Bike
• Best Modern
• Best Classic
• Best Paintwork
• Best Interior
PRIZES & GIVEAWAYS:
VOTE for your favourite CAR or BIKE and go in the running to WIN a range of amazing prizes - keep an eye on our WEBSITE and FACEBOOK PAGE to see the goodies up for grabs!
HUGE THANKS TO OUR SPONSORS - Rare Spares, Shannons Insurance and ABS Moorabbin for their support!
TICKETS:
PUBLIC ENTRY: $10 (Includes 1 x Voting Card)
Children Under 10 & Seniors FREE!
SHOW & DISPLAY ENTRY: $15 (Includes Driver Admission + 1 x Voting Card)
BOOK A TRADE STALL OR MARKET STALL
$35 inc GST for a 3x3m Space - CLICK HERE FOR INFO!
SPONSORSHIP OPPORTUNITIES AVAILABLE
Suitable for all budgets - starting at just $50 + GST. CLICK HERE FOR INFO!
The site of the former Caribbean Gardens has been transformed into 2.0 Vintage Market - featuring over 200 stalls filled with vintage, artisan and handcrafted goods, there's something for everyone! From man cave to collectables, tasty treats to delicious sweets, clothing, home and garden and much more - all under one roof in the giant 10,000m2 pavilion! Best of all, it's OPEN 7 DAYS - Check it out HERE!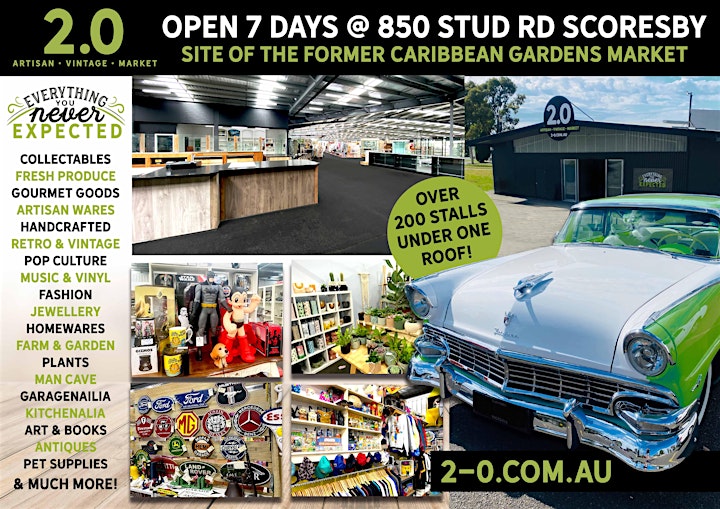 • COVID INFORMATION: All current COVIDSAFE regulations apply to this event. A QR Code Check in is required upon entry to the venue. Masks must be worn when inside the Pavilion and indoor West Wing Car & Bike Display areas. Please note that we are currently not required to check the vaccination status of our patrons. Should the event be postponed, your tickets and entries will remain valid and will be carried over to the future rescheduled event date. Refunds will not be issued unless the event is cancelled by management.
IMPORTANT: Terms and Conditions of entry apply - please see https://2-0.com.au/terms-conditions
** NO BURNOUTS or disrespectful behaviour will be tolerated. Anyone deemed to be behaving in an irresponsible manner will be asked to leave the venue immediately and will not be eligible for a refund on entry or admission fees.
SHOW & SHINE ENTRY TERMS AND CONDITIONS:
• All judges decisions are final, no discussion will be entered in to.
• The $1000 cash prize for PEOPLE'S CHOICE will be awarded based on the vehicle which receives the highest number of votes as completed on official voting cards handed to patrons upon entry, completed in full and placed in the designated entry barrel for tallying. In the event a tie-breaker is required, 2.0 Vintage Market will call upon an impartial third party (either our designated MC or sponsor company representative with no bias as to the vehicles contending the title) to make the final call as to the winner on the day. This decision shall be final.
• WINNERS PRESENTATIONS will occur approximately between 3pm-4pm. We require the winners to be present for the prize ceremony - leaving the venue prior to prize presentations will render your vehicle ineligible for winning any of the prize categories.
• Any entrant breaching any of the above terms and conditions, or the terms and conditions of entry to the venue (https://2-0.com.au/terms-conditions) will be automatically disqualified.
QUESTIONS? Email info@2-0market.com.au or call 2.0 Vintage Market on 0435 525 455.
Can't wait to see you there!