Description
How to become financially secure …
…by doing exactly what you love doing anyway!
Two Day Seminar
Lindy Chen's
Import Master Class
Shows you how to ...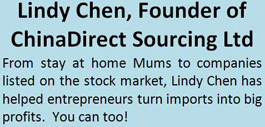 Set up a part-time business that makes more than your full-time income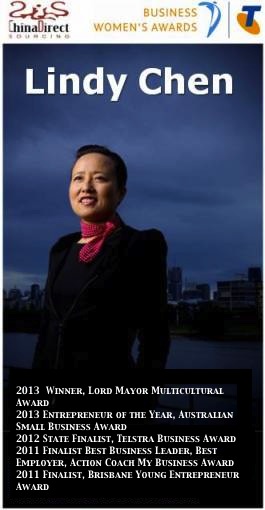 Become a big earner with only a small start-up capital Get a personal stake in the world's fastest growing economy Assess the true value of what you are buying so you can negotiate like a pro Understand the three pricing levels in the Chinese market Do contract negotiation like a chess grand master Manage your project so 100% of the products match your quality standard Find gaps in the market so that your profit potential is guaranteed Know in advance which factories can make high quality products sure to guarantee repeat business Make a start-to-finish business plan that leaves nothing to chance Make the Chinese-Western culture gap work for you not against you Protect yourself from IP theft Value-check your project to make sure the numbers always add up to wealth for you
See below how attendees have raved about this event:
"The service provided by the ChinaDirect team was outstanding. Lindy and the team`s presentation style and skills were fantastic. The Master Class helped me better understand China importing, Chinese culture, manufacturing, and research and tendering." - Maryanne Butler
"Loved it learnt everything I came here to learn, understanding the culture and their behaviours were what I deeply wanted to know." - Jamason Schultz
"The Workshop was very worthwhile. I really enjoyed the weekend. Has put my mind at ease.The most useful things I learnt from 2 day master class are finer points of completing purchase order, and negotiation skills and applying them in advance or the actual negotiation." - Shane Mocowsy
See for yourself what these and many more have discovered about importing from China, and The ChinaDirect Sourcing Importing Process!
Register now!
- The registration fee is non-refundable but transferable to another person for the same event.
- All cancellations or transfers must be communicated in writing.
- Failure to attend the event is considered a cancellation (no refund will be payable).
- Partner discount is limited to one per booking.