Description
Written and Directed by Tupe Lualua Savaia Lefaga, Luatuanu'u, Porirua
Choreographed by Andy Faiaoga Manono Tai, Luatuanu'u, Savaia, Lefaga, Hamilton
Inspired by the memories of their beloved Grandmother, Avea'i Fui, and the research of Dr. John McLane, Tupe Lualua and Andy Faiaoga's latest work is a response to the devastating Spanish Influenza Pandemic of 1918, which claimed the lives of almost a third of the total population of Sāmoa and became a catalyst for Sāmoa's resistance against the New Zealand colonial government.​
"I was four years old when it came, my Father had to instruct the young men of the village who dug the mass graves; there was also a young woman in the village who died while breastfeeding her baby…although I was only little, it was a very hard time for us"
1918 premiered to sell out audiences in Wellington during the MEASINA festival 2015, remounted for a performance season at the Mangere Arts Centre in Auckland and was recently presented at the National University of Samoa during February 2016. 1918 was also presented at the San Diego International Fringe Festival in June 2016 receiving the critics choice and box office awards.
1918 is unique because it weaves heritage siva Sāmoa, text and contemporary dance as the medium
for expressing this pivotal moment in history and acknowledging the complex relationship between Sāmoa and New Zealand.
Le Moana is a vessel for the exchange of stories, concepts and ideas through the medium of Pacific dance, theatre and film. The Le Moana collective are graduates of the internationally renowned Whitireia Performing Arts and have been professionally trained in Māori Haka from New Zealand, Siva from Sāmoa, Ura from the Cook Islands and New Zealand Contemporary Dance.
Le Moana was established as a vessel for cultural enrichment and as a platform for the development of Pacific Heritage and Contemporary dance on a locally and internationally.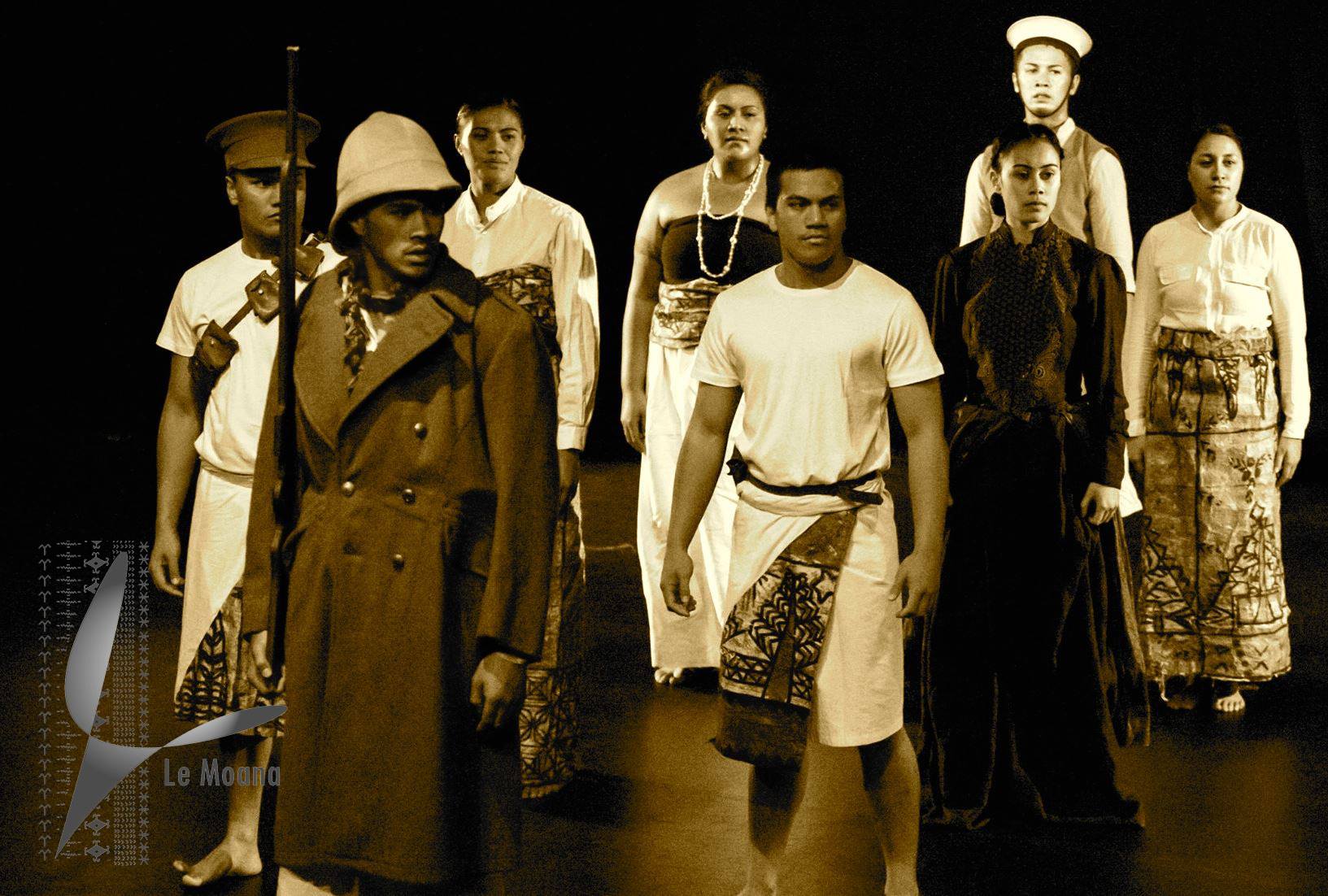 "A HEADY, POIGNANT AND POLISHED WORK" - Raewyn Whyte - Theatreview
"...I found myself experiencing the emotional and cultural aspects of the pandemic in a way that my years of research never allowed. This piece allows for a glimpse into the cultural underpinnings of a significant population in New Zealand, an unusual event in our increasingly splintered world. It offers a chance for the Samoan population to learn of their history and for non-Samoan audiences to build true empathy, a rare gift. "1918" is an opportunity for genuine, cross-cultural education" - Dr John Ryan Mclane
"...I was privileged to be in the audience, of one of the most moving and compelling pieces of choreography, depicting a dark and devastating era in Samoa's history…" - Tuitongama'atoe Solomona - First Sāmoan Congregational Christian Church San Diego
"...It was excellent....it stirred and moved me as the play unfolded, reflecting on a deeply emotional period in Samoa's history where thousands of Samoan died as a result of the flu epidemic that devastated Samoa in 1918..." - Su'a William Sio - Labour MP Mangere