Festival to celebrate Divine Mother of the Universe (Goddess Durga, Goddess Lakshmi, Goddess Saraswati)
About this event
Chinmaya Mission Australia (Sydney) invites you and your family to come and celebrate Navaratri (online only via zoom).
We will be celebrating with a beautiful pooja for Divine Mother (Shree Maha Saraswati Devi), Mother of Knowledge.
Registration will close 7 PM Wednesday 13th October, 2021
Program
7.30 PM: Navaratri - Saraswati Pooja with Veda Chanting
8.10 PM: Arati & Pledge
8:20 PM: Bhajans
8.45 PM: Talk on Navaratri
9.00 PM: Closing Prayers
Venue
Online Zoom (Information will be sent once you register only).
Special Seva Participation:
Devotees are encouraged to get special blessings on this day by becoming a Mukhya Yajman, this entails the individual devotee or their families to participate in the Pooja for the festival. This is considered a very special act as the pooja will help the devotees in their inner purification.
The donation will go towards helping Chinmaya Mission reaching out to more and more devotees and seekers, in turn the Mukhya Yajman gains further merits due to them performing their duties as householders which is to support the spiritual welfare of others.
All Can Participate in the Pooja:
+ Set up your altar at home with Goddess Durga, Goddess Lakshmi, Goddess Saraswati's Photo or Statue. If you are not able to set up an altar, it is okay. Please join.
+ Dress nicely for the occasion with your family sit near the altar and place your laptop in a way that we can see you and the altar.
+ Pooja requirements - You can do the Pooja at home and Swamiji will guide you. See below for simple pooja requirements.
Things you need for the Pooja:
Click on link [Simple Pooja Requirements]
Click on link [Veda Chanting - Durga, Shree, Medha Suktams for Abhishek, 108 Names of Goddess Saraswati, Opening & Closing Prayers, Arati, Chinmaya Pledge PDF]
Offer your Dakshina (Money offering) to Divine Mother of the Universe (Goddess Durga, Goddess Lakshmi, Goddess Saraswati)
Click on link [Dakshina offering]
Registration will close 7 PM Wednesday 13th October, 2021
Note: If you forget to register, we won't be able to give you zoom details. Please ensure you register before the closing date.
For further details:
Please call Nandu on 0408 445 941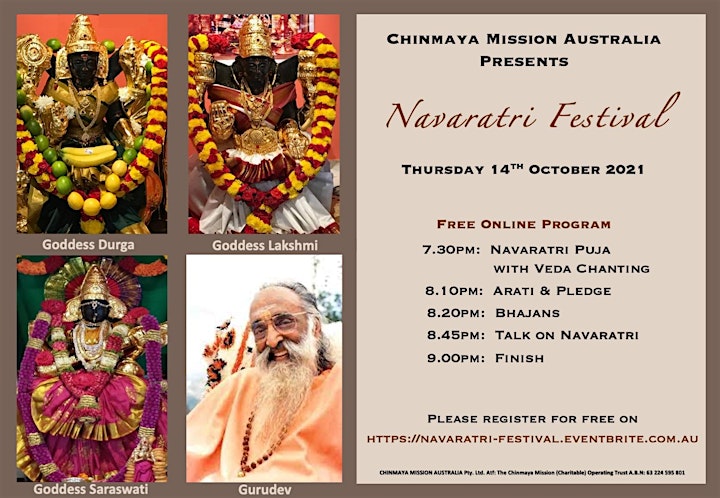 Organiser of Online Navaratri Festival