SYDNEY 1927-29: Tilly Devine & Kate Leigh rule the underworld. The Razor Gang Wars erupt. Blood flows. Meet them in the crypt.
About this event
THE RAZOR GANG WARS - DEADHOUSE season 3
It's a decade after the Great War and a new war is brewing in Sydney.
Kate Leigh and Tilly Devine have conquered the underworld, but when Norman Bruhn makes a bid to overturn the backstreets of Razorhurst, a war of deceit and violence erupts.
Amid the chaos stands Lillian Armfield, Australia's first woman detective who forms a strong bond with sex worker Nellie Cameron and ultimately must face the Snow Queen Kate Leigh and Queen of the Bordello Tilly Devine to earn her place on the force and change the face of women in the police forever.
RAZORHURST comes alive when you meet the characters, experience the events and battles of 1927-29 in the 200 year old crypt under St James, Church Sydney. A maximum audience of 30 will be guided through the crypt and 12 actors will play scenes before your eyes.
COVID-19 Safety Plan: Due to regulations all patrons must be fully vaccinated and show proof (on mobile or hard copy). Otherwise you cannot be admitted to the crypt and your ticket/s will be refunded. Cast and crew will also be fully vaccinated. Upon arrival please stay metre apart from those not accompanying you, use hand sanitiser as required and wear a face mask at all times. You'll be required to check into our QR code. Be prepared. Refer to details of our COVID-19 Safety Plan lodged with NSW Government.
CONTACT: Any questions? Please email Stephen scarnell@bigpond.net.au or phone 0418 255 440.
CAST
1. Donna Randall - Lillian Armfield
2. Kyla Ward - Peg Fisher (guide) / Cop 1
3. Wendi Lanham - Nellie Cameron
4. Deirdre Campbell - Kate Leigh
5. Alex Smith - Tilly Devine
6. Steve Maresca - Norman Bruhn/ Frank 'The Little Gunman' Green / Bruce Higgs / Man 2
7. Chris Miller - Big Jim Devine/ Norman (ironworks) Man 1 Samuel Freeman
8. Leofric Kingsford Smith - Inspector General Mitchel
9. Lucy Hadfield - Eileen Leigh
10. Shaun Foley – Shiner Ryan/Tom Wickham / Phil Jeffs
11. Christopher Daw - Detective Miller /Jim Taylor / Fred (Ironworks)/ Greg 'The Gunman' Gaffney
12. Liviu Monsted – Samuel Freeman/ Sid McDonald/ Man 3
CREATIVES & CREW
1. Executive Producer: Stephen Carnell
2. Producers: Amanda Asquith, Michael Dengler
3. Writer: Liviu Monsted
4. Director: Liviu Monsted
5. Marketing: Stephen Carnell
6. Production Design: Irma Calabrese
7. Props & Set: Lew McDonnell
8. Lighting & Sound Designer: Mehran Mortezaei
9. Costume: Samantha Barrie
10. Hair & Make Up: Maddison Gray
11. Head Stage Manager: Kodie Amos
12. ASMs: Aaron Smith + TBA
The Trials of Louisa Collins podcast
You may have seen this play in DEADHOUSE season 2, now we've made a podcast. Google louisa collins podbay https://podbay.fm/p/deadhouse-the-trials-of-louisa-collins-1888 Paste link into your browser.
THE RISE OF ORGANISED CRIME IN SYDNEY 1927-29
Sydney in the early twentieth century is place where drinking, prostitution, guns, betting and gambling is in full swing and you can buy 'snow' (cocaine) over the counter. Every vice is legal or is at least being overlooked by the law. A bunch of do-gooders called Wowsers start a campaign for reforms. Then in 1916 five thousand soldiers from the infantry go on an unprecedented three day bender, rampaging and terrorizing the city. New laws are enacted to combat such behaviour, including 6pm closing of pubs, but instead of eradicating crime they actually build the legal foundations on which syndicated crime thrived. Huge wealth is up for grabs for anyone with enough ruthless ambition and the foresight to capitalize on the vices Australians love.
Rebellious KATE LEIGH runs with the wildest of men and runs her own brothel she fast becomes a prize gangster gal known for her daring spunk, good looks and sexual deviancy. Determining no man will rule over her she's fast becoming the Queen of the Underworld with slashers and musclemen protecting her growing empire.
But another femme-fatale is rising up, English girl TILLY DEVINE nineteen years Kate's junior. In love with glitz and glamour and looking the part. She's the party girl of the century with 79 arrests just in her first few years. The Police Offences Amendment Act of 1908 make it illegal only for men to keep a brothel. Re-evaluating her life after a stint in gaol for slashing a man she emerges the Madam of the Bordello and bankrolls the best and biggest network of organised brothels in Sydney. Organised crime has arrived in Sydney!
TILLY DEVINE AND KATE LEIGH BECOME QUEENS OF THE UNDERWORLD
Now the equilibrium snaps, trust flies out the window and vendettas start breaking out among rival gang members. With carrying guns outlawed razors honed to deathly perfection become the new weapon of choice. Not only are they easy to conceal but they are have a psychological terror all of their own. Intimidation and the promise of disfiguration gleam on every blade. Nothing compares to the personal vendettas and rivalry between Underworld Queens, Tilly Devine and Kate Leigh. Kate's motto is to "retaliate first" and she does so with a passion and voracity. The Bloodletting begins in what quickly becomes known as Sydney's Razor Gang Wars.
A tabloid newspaper the Truth cashes in. Being the voice of social conscience one minute and a voyeuristic capitalizing trash paper the next sales skyrocket.
OUTBREAK OF CRIME WAR
Premier Thomas Bavin and law enforcer William Mackay race to bring in new laws before all hell breaks loose. Meanwhile Phil 'the Jew' Jeff's starts the Battle of Blood Alley on May 7th, 1929 as a Woolloomooloo Push gang discovers he's heavily cutting their cocaine. This battle lasts 30 minutes and Jeff's is later found shot and near death on the front lawn of his luxurious Kensington home. Believing he is done for he squeals only to survive and turn up in court in a snazzy purple suit with a different story. The code of silence is restored.
During 28 and 29 pistol packing Kate orders the slashing of Tilly's girls and spiteful Tilly retaliates by sending her boys to bust up Kate's grog shops. Kate's revenge attacks are not far behind and bodies start dropping like flies. Both women start to take advantage of the tabloids and the cat fights carry over to sell newspapers and make them the talk of the town.
On 17th July 29 Kate's man Gaffney shoots Tilly's top henchman Frank Green. Green hides out at Tilly and Jim's Maroubra house. Gaffney, Tomlinson and Dalton make a beeline there to finish the job. The Devine's are loaded to the hilt and are waiting for them. Gaffney dies and Kate's lover Wally Tomlinson is wounded. Tilly puts on a great show in court and they all celebrate Jim's "not guilty verdict". Now Tilly decides to really take Kate on especially as Kate just happens to behind bars. A few days later on the 8th August Tilly's whole gang turns up on Kellett Street at King's Cross for a good old gang war. 40 men launch into mayhem and the butchery is horrendous. Police and media stand by and watch.
Police and public all wait in terror of the coming gangland Armageddon. The gangs stockpile weapons and on the 9th November Green and Big Jim start it off by shooting Dalton and Tomlinson outside the Strand Hotel. Now things heat up as Tomlinson surviving a bullet turns evidence against Green but not Devine. Kate's house is hit a few times in the search for her lover then on the 27th March Kate makes good on her threats and blows one of the hit men away with her 303 whilst dressed in her nightie. The jury acquits her.
THE RISE OF THE POLICE
Wall Street crashes in 1929 and new laws finally come into place in 1930, both are a real kick in the guts for the gangs. The Consorting Clause gives the police a bite for once; they can arrest any criminal seen with another. The Crimes Amendment Bill gives an automatic six months for razor possession plus a flogging. The two-man Drug Bureau gets long awaited reinforcements. Frank "Bumper" Farrell creates what turns into the 21 Division. Crims now give intelligence when busted or face jail time. To top it off Australia gets one of the world's first police women, Special Constable LILLIAN ARMFIELD, AKA the "Rugged Angel"
It doesn't take Tilly long before she is in front of a judge. She strikes a clever bargain sailing to England instead of serving jail time and "saves the taxpayer the money". Tilly throws herself some outrageous farewell parties and sets sail. All in all the gals' empires run well with their absence. Unfortunately Tilly arrives back from London to find Jim cheating on her and in a rage she shoots him. Up on attempted murder charges Tilly forgives him before the court date, but that doesn't save Big Jim
NEW CRIME WAR LOOMS!
Phil Jeff's has being lying low at Ettalong after being shot. He returns and starts using his wealth to buy himself a respectable life. He aims at high end customers. So he snaps up the Fifty-Fifty Club in William Street and the 400 club in Liverpool Street. In these club patrons pay to get served, to get a drink, to use the bathroom and pay five pounds just to leave. Tilly has a brothel of her finest upstairs. Crooked cops, politician, celebrities, socialites and crime lords all flock to his stylish clubs to drink champagne and dance under the chandeliers. His dream of being a kingpin and respectable man has come true.
In 1933 Nellie and another gangster girl Dulcie Markham are working for Tilly. Up on drug charges Nellie skips to Queensland with lover Frank Green. The furious Calletti chases them and the two fight it out in Woolloomooloo with 500 spectators watching. After an hour with no winner Nellie gets to choose. Calletti wins out until he next goes to gaol and Nellie returns like a yoyo to Green. Calletti marries Nellie the moment he gets out of jail.
Kate meanwhile is having a hard time. She is getting old and fat. Her beauty is long since disappeared. Up on charges she tries to pull off one of Tilly's tricks and offers to return to her home town of Dubbo to serve out her time.
Tilly, however, is coming into her own and operates her brothels on multiple levels of quality so she can cash in on men from every walk of life. She gets her girls hooked on cocaine so they can't leave and Big Jim is their dealer. Inspired by Hollywood movies her dream of riches and fame and a bad girl image are being realized. She is a brilliant entrepreneur. But for both gals their time is running out.
POLICE TAKE CHARGE
When hardnose copper William Mackay becomes police commissioner in 1936 he marches Tilly and Kate into his office with all his senior policemen. Giving an ultimatum that unless they quit their feuding and get on with more low key business arrangements he will ensure they get twenty years each as guests of her majesty. They are to act as informers in return for keeping their "businesses," Mackay bans all slashing and shooting. The razor gals grudgingly agree to the terms. Things now go from bad to worse. Special Constable LILLIAN ARMFIELD cracks downs on cocaine hurting the drug arm of the gangs. Bookmaking is also hit. The Truth newspaper starts embarrassing the police force by proving that dirty politicians have shares in the nightclubs and other rackets. Farrell and his hard hitting straight cops start to make head way into the underworld with a network of informants, including Tilly and Kate themselves. But nothing hits as hard as the beginning of WWII.
THE QUEENS OF CRIME MARRY
Things start to fall apart for Tilly. Her cheating drunk of a husband is known as a wife basher and starts living with his lovers. He pays Tilly a visit when he wants money and beats her if she refuses. She finally goes to court to get a divorce. Then she meets Eric Parsons, the barman of the Tradesman's Arms pub across the road, and marries him. For a wedding present Kate sends her an undertaker and five fire trucks. Swell girl. Tilly and Eric fight often and he sports a bullet wound from her.
Kate also marries again but breaks up. Clubs are now licensed so her sly grog business is sinking. Jeff's who had given up the clubs dies of a septic bullet wound in 1944 from the shooting in Blood Alley in 1929. He's the only one to actually die rich. Tilly plans a grand trip to England for the Queen's Coronation. Kate and Tilly kiss for the press. . Meanwhile things get much worse for Nellie. Found crawling in an alleyway with a bullet wound, surgeons remove a bullet from her guts and find a hand full more in her heavily slashed body. Beautiful still she suffers from post operation depression and in 1953 puts her head in a gas oven. She is only 41.
THE FALL OF THE RAZOR GALS
Both Kate and Tilly live high.. Parties, charities, jewels, and furs not to mention fines and bribes and the rising costs of henchmen cut into their wealth. The newspapers estimate Tilly has the most dough and both make ten times what the prime minister does. The 50's swing around and in true Al Capone style so does the taxman. First Kate gets hit, but she can't pay. The government sues and panicking, her friends who have lent to her sue her too. She declares bankruptcy in 1954 faces humiliation in court. In 1955 the 6 O'clock swill finally ends and with it Kate Leigh's Empire. She is left renting out vegetable and fruit carts. Tilly fairs better with one empty house and one seedy brothel to her name.
Arthritic and destitute Kate Leigh comes off society's radar. Living with past regrets and complaints about how she had been given a raw deal in life she suffers a stroke early in 1964 and slips into a coma. Her dogged old ticker keeps pounding away even though her brain is dead. She dies the following Tuesday. Some reports say she chokes on her own cursed tongue. Kate gets a grand farewell party.
Tilly isn't so lucky, outliving everyone and outliving her era new crime lords Abe Saffron and Joe Borg are making names for themselves. In 1968 Borg is blown up in a car bombing in Bondi. Tilly faces threats when another bomb comes her way, possibility by the same killers. So she up and quits the crime business for good helped along by a repeal of the law that set her up in the first place. Regrets set in along with stomach cancer. In November 1970 she has a stroke and dies.
Tilly and Kate's successors bibliography:
1950s: THE RISE OF MR SIN [Abe Saffron]
1990s: THE RISE OF THE GOLDEN BOY [John Ibrahim]
Photo below: Our actors playing Nellie Cameron, Tilly Devine, Lillian Campbell, Kate Leigh and Constable Peg. Meet them in the crypt under St James' church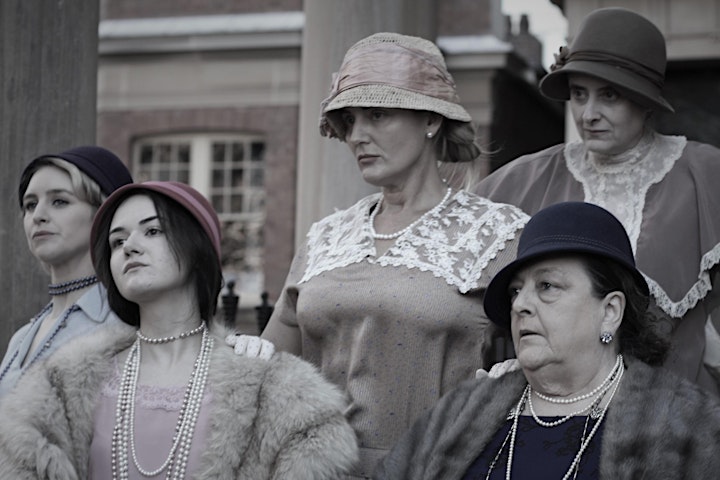 Organiser of The Razor Gang Wars Deadhouse 3