The workshop introduces the Suicide Narrative (SN) approach including the Suicide Meaning Conversation, Talking with Suicide and SN groups
About this event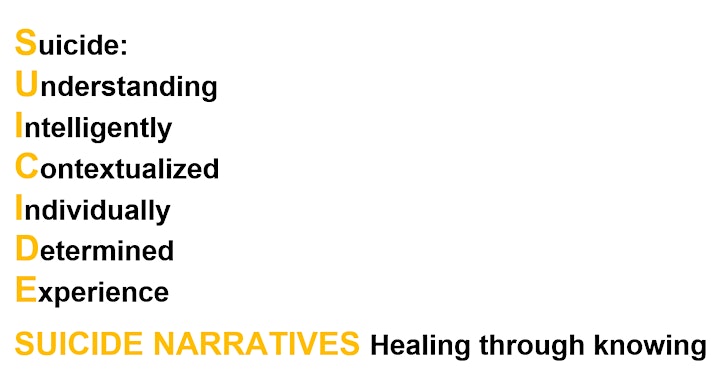 This is an online workshop runs over three days - 4 hours per session (12 hours in total)
27th , 28th, 29th September 2021 at the same time each day:
Adelaide time - 3:30 -7:30PM
UK and Ireland time - 07:00 -10:00AM
Singapore - 2:00 - 5:00 PM
New Zealand - 6:00 - 9:00PM
Suicide Narratives is a new alternative approach to experiences of suicide that places the person in distress as the wise and knowing person. It does not focus on risk and assessment.
Suicide Narratives is about healing in the whole community and provides mutuality and empowerment to both the person in distress and the supporter. Suicide Narratives recognises the distress a person experiences as the knowledge that is needed for healing in the wider community.
Suicide Narratives offers four components:
1. A response to crisis and distress - Emotional CPR and Just Listening
2. A meaning based enquiry - The Suicide Meaning Conversation
3. Suicide Narrative groups
4. Talking with Suicide approach
The Suicide Narratives approach is informed by Hearing Voices approaches, the Power Threat Meaning Framework, the Dissociachotic framework, Emotional CPR, Just Listening, and humanistic and existential ideas.
Suicide Narratives works from the view that people who are experiencing Suicide have an important message about a problem in our communities and bring knowledge through their understanding of an intelligently contextualised, Individually determined experience of living.
Suicide Narratives paper - free download: https://www.humaneclinic.com.au/suicide-narratives