A one-day virtual research symposium to facilitate intellectual exchange among PhD students, young scholars, experts, and professionals.
About this event
The 13th Research Symposium for Chinese PhD Students and Scholars in Australia: Changes and Prospects
The annual research symposium is the flagship event of CAPS Australia to foster academic exchanges and research innovations across different disciplines among Chinese (non-exclusively) scholars and professionals in Australia. Since 2007, the symposium has been hosted across universities in Victoria, attracting an increasing number of participants including renowned scholars worldwide.
Acknowledging the challenges and opportunities that the COVID-19 pandemic has brought us, the theme of the 13th research symposium is 'Changes and Prospects', with the scope to stimulate discussions about cross-disciplinary research and innovations in the post-COVID era.
To view our symposium program, please click here and visit our official website.
Parallel Sessions:
Mathematics, Physics, Mechanical and Electrical Engineering
Chemistry, Chemical Engineering and Materials
Social Sciences and Humanities
Architecture, Environment and Civil Engineering
Computer Science and Information Technology
Biomedical and Health Sciences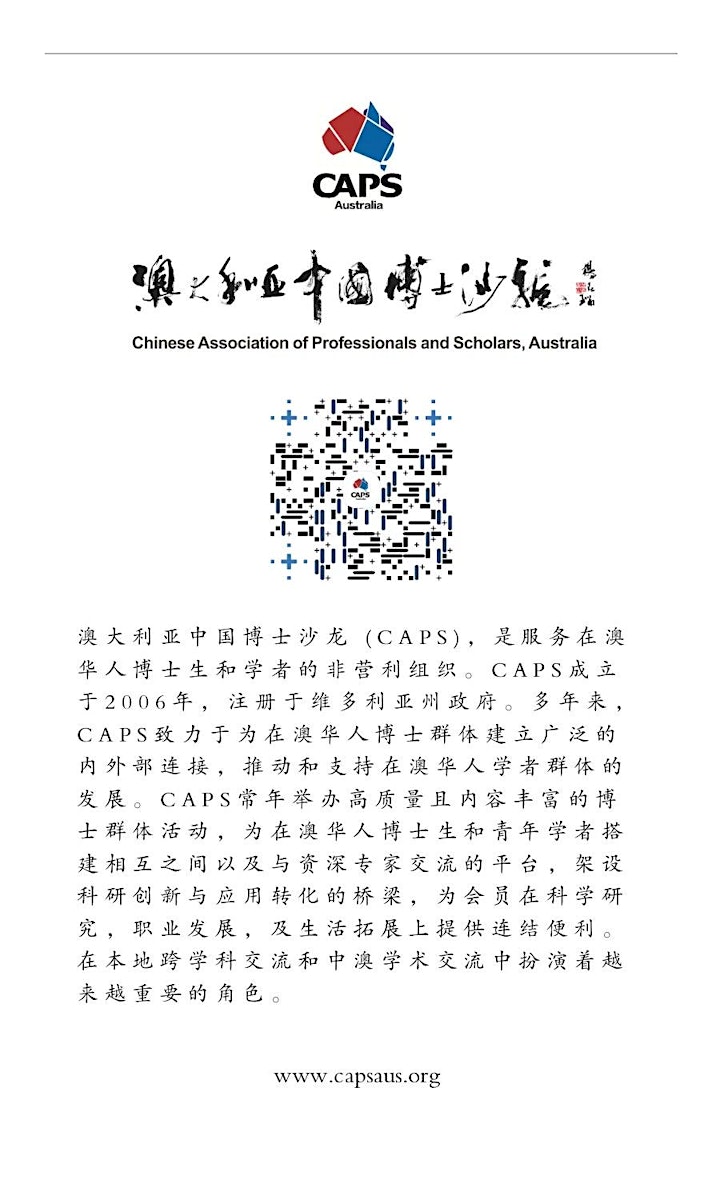 Organiser of 13th Research Symposium for Chinese PhD Students and Scholars in Australia
The Chinese Association of Professionals and Scholars, Australia (CAPS), is a not-for-profit organization active in organizing various events for Chinese scholars and HDR students, and in connecting senior academic leaders with the younger generation in Australia. Established in Melbourne in 2006 and registered in Victoria, CAPS has endeavored to provide PhD students and scholars with a multi-functional platform, including cross-disciplinary communication, assisting members in their career development, and providing online and offline interactions to advance academic collaborations and cultural exchanges between Australia and China.