Multiple Dates
1/2 Day Planning Workshop - Kickstart Your Business in 2022
In this 1/2 Day Workshop, you will learn how to identify what they want to achieve in your professional life and develop a plan of action.
About this event
Goal setting has been proven to be a more effective method of achieving targets as opposed to aspirations.
Meaning you need to know how to write your goals and action them in a way you achieve the results you want.
Goal setting can be described as a personal planning process. It helps participants to identify what they want to achieve in their personal life and/or their professional life.
Key learning outcomes:
Understand the meaning and importance of 'Goal Setting'.
Initiate the Goal Setting process.
Discuss the crucial difference between aspirations and goals.
Plan personal and professional goals.
Use time management techniques to achieve your goals on time.
Learn how to reward your success to motivate you further.
Create a 1-Page business plan.
Your biggest takeaway at this 1/2 Day Workshop is you will know where you want to go in 2022 and how to get there.
Click to attend. Limited numbers.
When you attend you will receive a FREE copy of one of Janeen's books valued at $28.95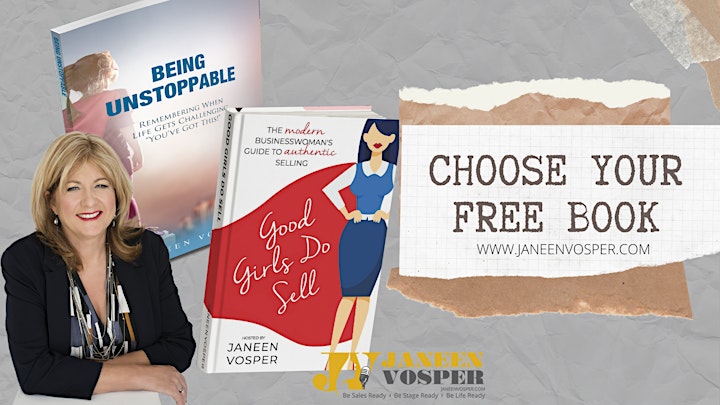 Organiser of 1/2 Day Planning Workshop - Kickstart Your Business in 2022
As an author and sales coach, I typically works with Sales Teams, Small Business Owners and Entrepreneurs in developing authentic-selling techniques and helping cure any cold calling reluctance.  With over 30+ years' experience working in sales, I have assisted countless sales staff acquire the confidence to become top earners in their fields.
My passion is working with entrepreneurial women to develop confidence enabling them to have a voice to promote their business and enjoy success in all aspects of their professional and personal lives.
Having presented to the cream of the public speaking community at international conventions in Japan, New Zealand, across the US and around Australia, I've gained the status as a Fellow of ITC & ITC Corporate Trainer (International Training in Communication) which recognises me (yeh!) as a specialist elite trainer.  My expertise in presenting doesn't stop with delivering workshops around the world though. (Now this pretty cool) As the winner of the Australian region POWERtalk public speaking contest; I was chuffed to be able to represent my country in Hawaii in 2013. (yeh again!)