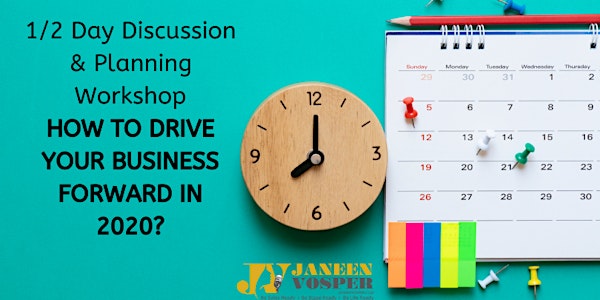 1/2 Day Discussion & Planning W/shop-HOW TO DRIVE YOUR BUSINESS FORWARD IN...
Location
Meadowbrook Golf Club
Golf Course Drive
Meadowbrook, QLD 4131
Australia
Description
Planning how you are going to work in your business is a precious opportunity.
Do you know where you are going to focus your attention to grow your business in 2020?

Don't waste the whole month of January waiting for the holidays to finish. Spend this valuable time working ON your business at this ½-Day workshop and be 100% focused and ready to go when everyone else is just starting to think about getting back to work.

After 10+ years of building my own business, I've learned that it can be difficult when you are going it alone.

Seeing your business from a different perspective and coming up with creative ideas can be challenging when you are too close to the problem. It just doesn't work as you can't get a clear picture of what needs to be done differently.

You probably have been able to help friends with business ideas but felt overwhelmed when you are working on your own. This is very common. That is why it is vital for micro and small business owners to come together with like minds to stimulate thinking.

In this ½ Day Discussion and Workshop you will:
- Gain clarity as to the 'big picture' for your business
- Write your 1-page Strategic Plan
- Complete a full analysis of what you are doing now and what improvements you can make
- Discover where you are missing out on business and how to rectify
- And much, much more…

All this for just $67. Numbers are limited though so book early to ensure you don't miss out.

This workshop is FREE for my clients in the Confident & Business Ready Support Program. Email info@speechperfect.com.au to ask about this program.

If you have ever felt you are being pulled in too many directions and there are never enough hours in your day, this workshop is 100% for you. Register today.
Oh...don't rush off after the workshop. The club has a really great choice of inexpensive food for lunch. Stay, eat & chat.
Click to register
"Don't wait another minute longer. Janeen your workshop was awesome, fun, professional I felt totally safe, supported, encouraged, challenged and inspired, shaking inside heart racing a million miles an hr it really made me feel alive. I am so excited to continue on this journey no matter what. I know I have found a gem in Janeen as a powerful and loving gift facilitator and mentor.
I am truly grateful. Thank you again, Janeen." Rachelle Carroll New Dawn Retreats