Location
Founder Coffee Co.
281 Albert St
Brunswick, VIC 3056
Australia
Refund policy
Refunds up to 7 days before event
Real-Life, Hands-on: Learn & Practice the Skill of Production Roasting. Suitable for All Levels of Experience. PREREQUISITES REQUIRED.
About this event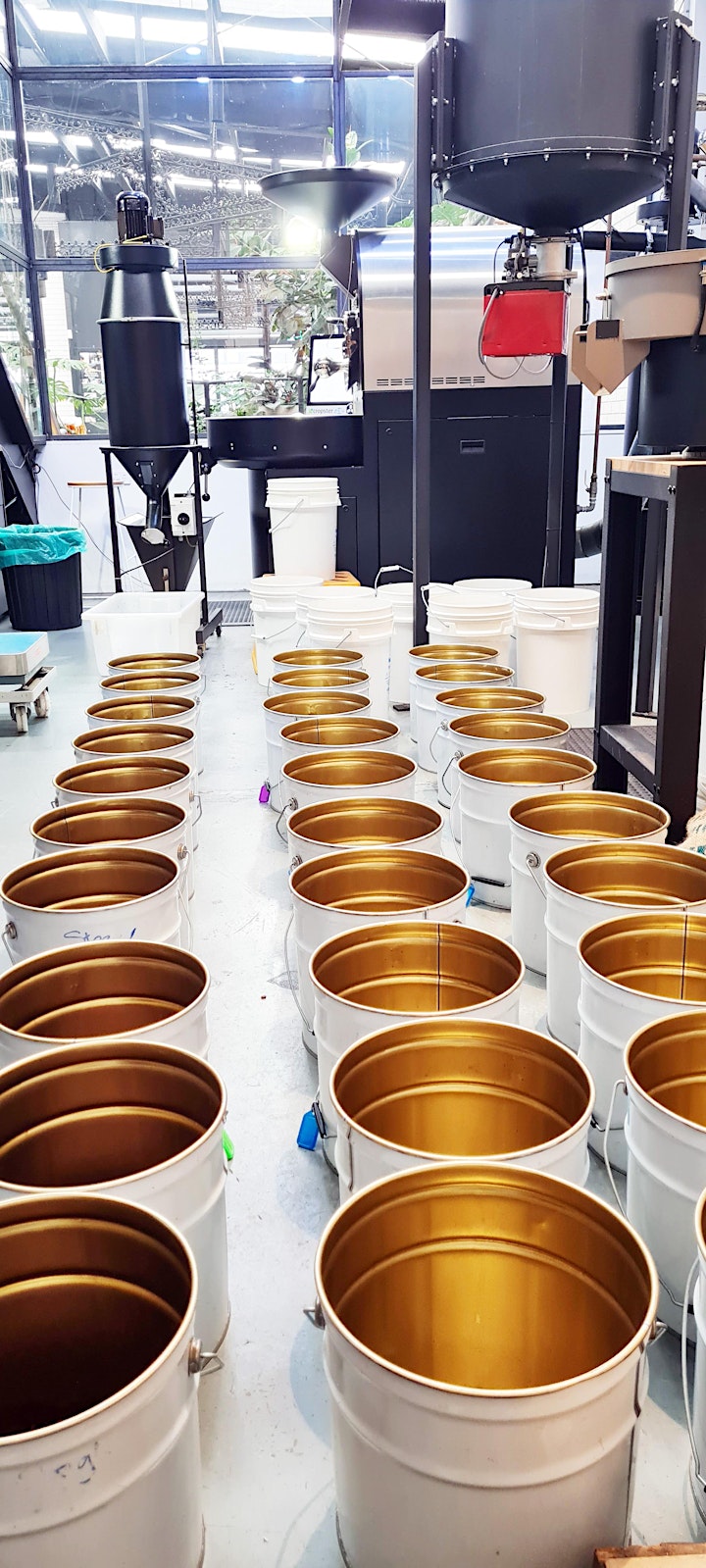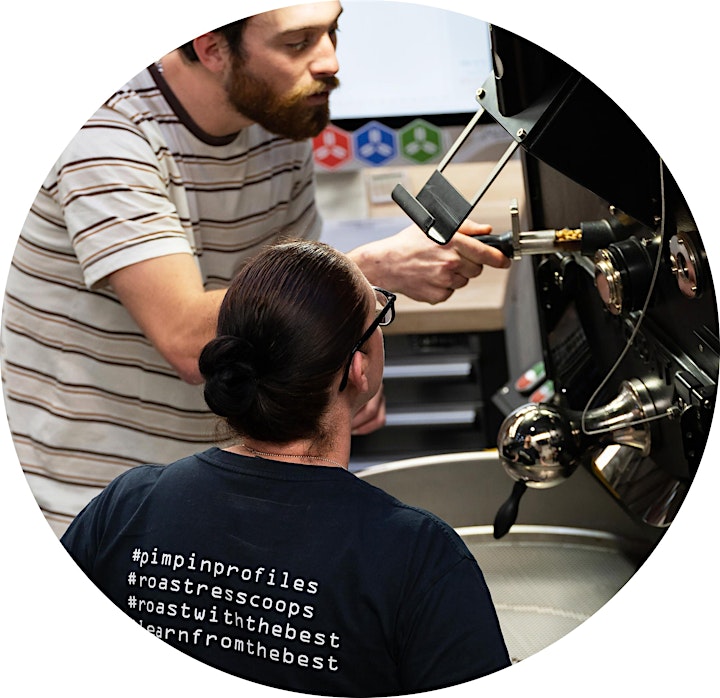 Whether you're new to the world of roasting or are an established roaster with experience, Perfect your Production Skills by Learning & Practicing the process of Production Roasting in a 1-Day, Real-Life, Hands-On Intensive Program where you will be actively part of the Roasting Production Team Preparing, Roasting & Packing coffee for a reputable Melbourne Cafe/Roastery under the supervision of Industry Roasting Expert Anne Cooper.
PREREQUISITES REQUIRED: Either completion of the EQMR Comprehensive Coffee Roasting Course OR Proven Industry Experience is a MUST REQUIREMENT for eligibility for this program.
TO ENSURE SOCIAL DISTANCING PRACTICES ARE STRICTLY ADHERED TO WITHIN THE ROASTERY SPACE, ONLY 1 ATTENDEE WILL BE ALLOWED PER SESSION.
And, as per Victorian Government Health Guidelines, a Requirement of Entry into Project 281 & the Roastery will be attendees showing their Full Co-vid Vaccination Status.
This day-long program aims to provide Solid, Comprehensive Knowledge and Practical, Hands-on Experience in the skill of Roasting & Production of coffee in a Professional Roasting Environment - skills & knowledge that you will be able to take back & instantly apply in your own workplace!
This Comprehensive Day-long program will also provide Key Roasting Solutions & Techniques that can be transferred to ANY Roasting System - an area of expertise that Anne specializes in with her research, 'Can You Taste the Roasting System', which she designed for & teaches as a workshop with the SCA - & also through her vast Consulting Experience coaching roasters, working on hundreds of different roasting systems in Australia & all over the world.
The 1-Day program will include:
Green Bean Evaluation - region/origin, variety, process, screen size, moisture, density
Roaster Operations – systems, procedures and protocols
Production Processes & Procedures - planning the day's production
Roasting Process - principles of coffee roasting – decision making, managing different batch sizes, data collection of key events/checkpoints, heat transfer & better understanding roast systems, chemical and physical reactions, RoR, profile data analysis & profile data logging with Cropster
Roast Profiles and Degrees of Roast – light, medium, medium-dark
Preparation & Packing of both Wholesale & Retail Products - Single Origin & Blends
Measuring, Cupping and Interpreting/Analyzing Roast Results
Production Workflow Design & Equipment Requirements
Daily Program Time: Monday, 7.30am - 3:00pm - early starts are a must!
 What You Learn 
Green Bean Evaluation - learning how to identify & evaluate the different grades & properties of green bean & see how this applies to roasting
Operation of a Professional Coffee Roasting Machine – Probat P12, series 2
Creating, Planning & Following a Roast Production Schedule - how to work out how much coffee to roast & set batch sizes based on wholesale & retail requirements
Preparing/Pre-heating/Managing the Roaster during Production - how to best prepare the roaster for the day's roasting as well as manage in-between batch protocols & workflow procedures
Roasting Process and Roast Profiles - how to control a roast & specific batch size in order to achieve optimum cup character for a range of coffees & products - Single Origin & Blends - by logging data both manually and with software application Cropster
Allocation, Handling & Packing of roasted beans into the various products Wholesale & Retail, Single Origin & Blends along with label & packaging design
How to 'Cup' and Evaluate in a Production Environment - best practices for cupping/evaluating production roasted coffees as an intended end product as well as tasting roast qualities, faults and differences between various roast profiles – light, medium, medium-dark
How Best to Design & Set up your Production Roasting Space - ideal production roasting workflow design & equipment requirements
What You Get
Equilibrium Master Roasters Certificate of Completion
Practical, Hands-on Experience in production roasting coffee using professional coffee roasting equipment and techniques. 
Key Industry Production Knowledge and expert advice from a Coffee Roasting Professional
 A Great Learning Environment where, through collaboration and teamwork, you can vastly improve your Production Roasting Skills as you work through the production roasting & analyzing tasks individually and together!  
OH&S requirements
Due to the production and roasting environment ensure you are prepared for warm, dusty and noisy conditions.
There are hot, moving parts on the coffee roasters. Participants must be attentive and aware at all times – especially when operating the roasting equipment.
Attendees must not arrive for the day hungover, tired or under the influence of drowsy medication, drugs or alcohol.
There will be some lifting and light physical activity involved.
Covered in shoes must be worn and long hair must be tied back
Dietary Requirements
Morning/Afternoon Tea and Lunch will be provided. If there are any dietary requirements please advise the organiser.
 FAQs
 What are my transport/parking options getting to the event?
Catch the train on the Upfield Line to Brunswick Station. Walk toward Albert St and turn left. Project 281 is approx. 100m down the street from the train station.
Catch the Number 19 Tram down Sydney Rd and get off at the Albert St/Sydney Rd stop. Turn left down Albert St and walk approx.50m down Albert St to Project 281 Cafe which is on the right hand side of the street.
 What can/can't I bring to the session?
If you have a particular green bean you wish to roast then by all means bring that along.
Can I update my registration information?
Yes
Do I have to bring my printed ticket to the event?
Yes, or at least have access to your confirmation email on your phone.
What is the refund policy?
I appreciate your choice of Equilibrium Master Roasters for your coffee education, and the course pricing reflects the following:
The quality of the training provided. Pre-class preparation. The quality of the equipment & the cost of materials used. Small class sizes. Spots are deliberately limited to ensure an optimum, practical, hands-on learning experience. Once your booking is confirmed and your payment is cleared, I begin the process of preparing your class. However, I understand events or illness may require that you reschedule or cancel your booking.
Refund Policy: Course fees are fully refundable if training is cancelled by the trainer at least 7 business days prior to course commencement.
Reschedule Fees: No fee is applicable if rescheduling is requested
The name on the registration/ticket doesn't match the attendee. Is that okay? This will be accepted only with a written/verbal confirmation from the person whose name is on the registration stating that the attendee is eligible to use that ticket.