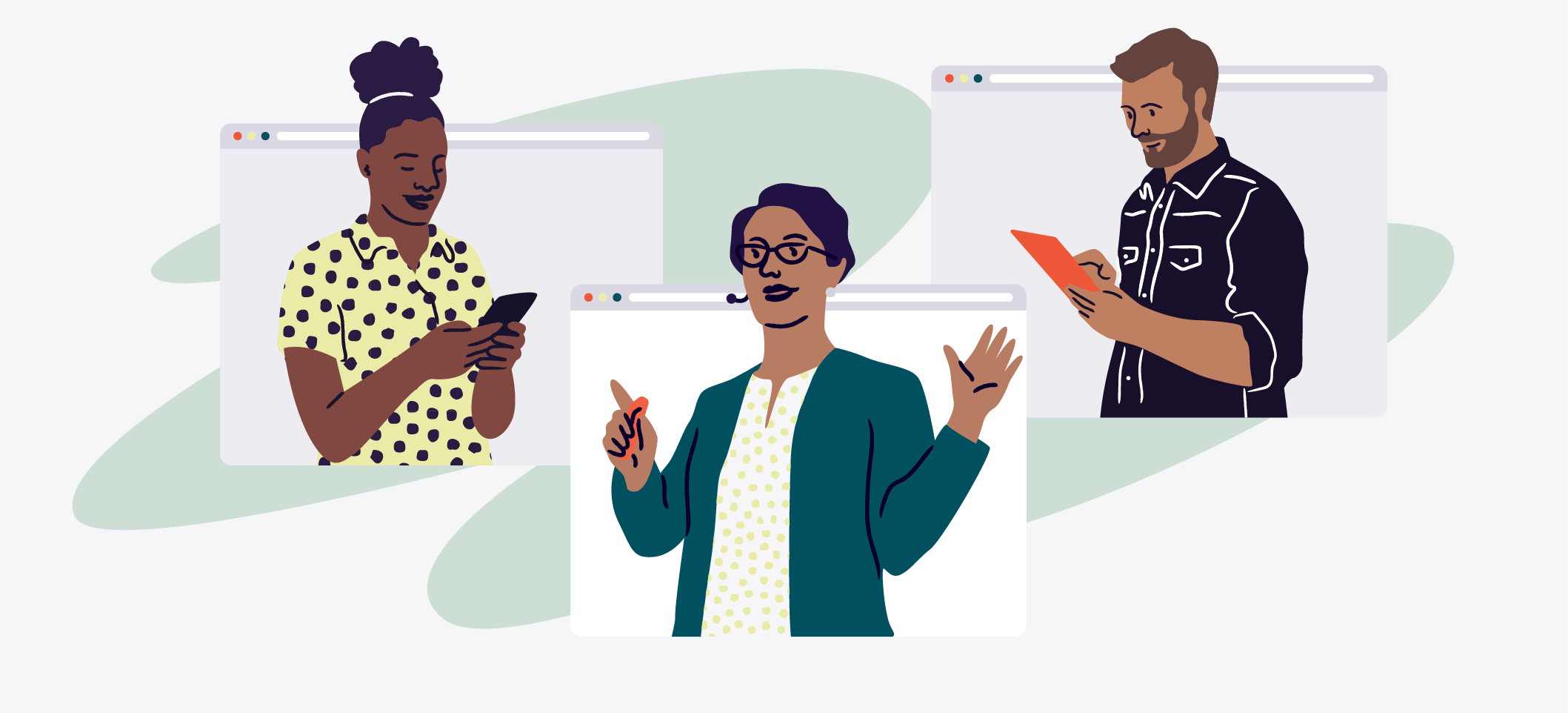 Creating Your Seminar Plan: 16 Steps to Success
Whether it's your first or your hundredth, planning a successful seminar or webinar is always easier with a checklist on hand. With COVID-19 sending more seminars virtual, online webinars and hybrid events are also part of the new normal. Successfully bring your creative or corporate event online with our 16 step guide to a successful webinar or seminar plan.
Timely planning is key
Whether an in-person or virtual seminar, being prepared with a well-thought-out seminar plan will save you stress leading up to your event or hiccups on the day. Once you've got the green light on your event, answer the below points as best you can before you go any further. For webinars, aim to start at least two months before the event. For seminars hosted at a physical location, a four to six month lead time is essential.
1. Establish your goals and objectives
Is your event online or in-person (or even both!)? If you're planning an in-person event, consider an online backup. For inspiration, find out how Ladies Get Paid's hybrid event strategy built a bigger audience. Complete these steps so you can pinpoint what you want to achieve from hosting your seminar or webinar:
Write down your seminar's purpose and seminar topics you want to cover at the event.

Check out our guide to

creating a compelling agenda

which has tips on how to host a seminar. Remember that

virtual events or webinars

need agendas tailored to maximise attendee comfort and engagement.

Set a profit target and goals for how many people you want to reach (both through physically attending and/or watching your live stream remotely). This will help you decide whether to make your event in-person or virtual – in-person events may be impacted by capacity restrictions or extra costs related to COVID-19 safety.
2. Put together a rough budget
Set your ticket prices

– borrow similar figures from past seminars for a baseline and

master your event budget

.

Hosting a webinar remotely? You can still

monetise your online event

. Research webinar best practices for your industry and topic to assess typical ticket types and pricing structures.

Create a complete list of all costs associated with your event. Even if you're not sure exactly what you'll need, add all possible expenses and an estimate of the cost.
3. Select a date
Choose two dates so you have your preferred date and a backup – you may have to be flexible to get your venue of choice.

Decide if your webinar will be live-only or available after the event on-demand; research how to create a webinar with these requirements.
4. Choose a location, venue, and vendors
Even webinars need vendors like technical support, merchandise suppliers, and venues – especially if you want your webinar team to present together. To make the process easier, you should:
Select your ideal geographic location and

identify venues

in the area.

Determine how many people will be attending your seminar to set your capacity needs.

Check if your chosen venue has a COVID-19 safe plan that complies with public health guidelines in your state or territory and any capacity restrictions that might be in place.

Ask each venue if they provide WiFi, AV equipment, live streaming equipment, and any stage sets you might need.

Find out if your venue of choice has preferred vendors. If not, identify local vendors you can rely on for technical support, catering, and other support services.

Review your contract with these

must-ask questions

in mind before signing.
5. Research speakers
Start by identifying speakers who have spoken at similar seminars or events. Watch recordings of their talks and compile a list of ideal seminar topics.

Put together your offer (date, compensation, type/length of talk, etc) and

reach out to potential speakers

.
6. Start your sponsor search
7. Find the right technology for your virtual event
Start testing a

virtual events platform

so you know how to get a crisp, professional outcome for your event.

Include back-up options in your seminar plan with links, just in case you need them.
The halfway point: time to get detailed
At the halfway point of your planning phase (one month out from a webinar or two-to-three months out from an in-person seminar), it's important to keep budgets updated as you receive estimates and quotes. That way, you can get a clearer picture of your expected revenue. This is also when you need to begin your event marketing efforts.
7. Finalise speakers
Finalise speaker fees and contracts, and get bio info and photos. Arrange any travel and accommodation – remember to check any travel restrictions that may be in place.
8. Organise financials
Choose a ticketing or registration technology. For webinars, check out how to set up a webinar with ticketing in

this guide

.

Finalise sponsorship contributions.
9. Build your seminar website
First, decide whether you'll need a website to direct traffic to

your registration page

.

If you need a website, get sign-off from stakeholders on design.

Once you have stakeholder approval, update your site (if you have one) or build a new site.

Double-check that your site infrastructure can handle increased traffic when your event tickets go on sale.

Make sure your website is

mobile-optimised

.
10. Start promotion
Develop a messaging strategy aligned with

your brand

.

Incorporate your seminar promotion into your email and

social media

schedules.

Don't forget to create your

Facebook Event

.

Distribute your seminar across online event calendars.

If you have the capacity,

create promo videos

to use on social media (great for larger, public seminars).

If you need help scheduling,

use one of these templates

to plan your marketing calendar.

Develop an early bird offer or other incentives to encourage early ticket purchases – the sooner you know how many people to expect, the sooner you can make any necessary adjustments.
11. Finalise venue and/or streaming details
Work with a caterer on the menu.

Secure AV equipment.

Review security needs and plan and apply for any special permits,

licences

, etc.

Create

signage

and an attendee communication plan.

Create a COVIDSafe event plan that complies with public health guidelines in your state or territory.
12. Finalise your seminar or webinar agenda
Confirm your seminar's final schedule and decide the order of speaker – don't forget to give your attendees breaks!

Once you've completed a draft, share it with decision-makers for approval.
Almost there! Time to finalise details
When you're two weeks out from your webinar event or one month out from your in-person event, focus on these points in the lead-up.
13. Convince interested event-goers
Send targeted emails with limited time offers or incentives to encourage those still on the fence about attending to register.

Use

retargeting ads

to target people who started the registration or purchase process, but failed to complete the process.
14. Finalise schedule and scripts
Make sure everyone has the same schedule.

Get the sign off on any scripts from speakers.
15. Update your stakeholders
Email your company stakeholders, speakers, and sponsors with final registration numbers
16. Confirm timings and test equipment
Confirm with caterers, AV and technical support, merchandise suppliers, stage or set designers, speakers, and any other vendors you've enlisted for help.
T-1: the day before
With the tactical advice in this post, you're set to plan a successful seminar or webinar. Even if something doesn't go to plan on the day, you'll be across all the elements of your event so you'll quickly be able to find the best solution. Want more tips from the Eventbrite team? Check out our conference management and registration tools to simplify your seminar planning effort.