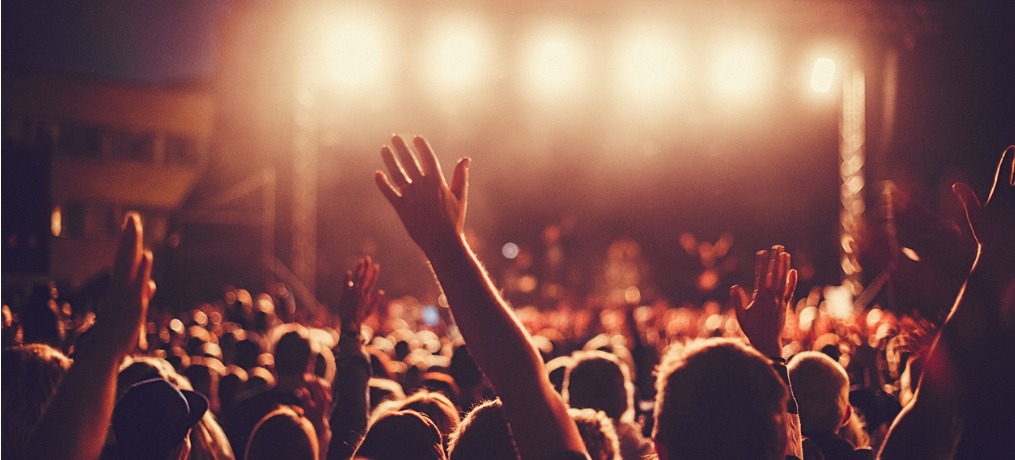 How to Sell Tickets to a Show or Concert in 5 Steps
The live music industry is getting tougher and more competitive than ever before, especially for independent venues and promoters. Make sure you're taking on the big guys by using proven techniques to sell more tickets. Here are five strategies for sell tickets to a show or concert that you can action today.
How to Sell Tickets to a Show, Step 1:
Make buying tickets as easy as possible
Some fans may be on the fence about attending your show. Don't give them another reason to close their tab instead of buying.
Nearly 25% of music fans that reach your show's ticketing page won't complete a purchase if they're required to make an account. And for every extra field in your ticket purchase form, 10% of buyers abandon the process.
So keep your purchase process simple. Follow this must-have checklist for your ticketing page:
A "Buy Tickets" button visible at all times, even as visitors scroll
The entire ticket purchase experience on just one page
Fees visible upfront, so fans know exactly what to expect
No required login
How to Sell Tickets to a Show, Step 2:
Promote shows on fans' favourite sites and apps
The fans most likely to attend your shows are the ones actively looking for something to do. Make sure they find your shows by promoting them on the go-to sites and apps for live music fans, such as Spotify, Songkick, and Bandsintown, as well as social networks like Facebook and Instagram.
But don't just post your event and risk fans dropping off when you redirect them to your ticketing page. Instead, you can sell tickets right on the site or app without pushing them to a separate ticketing page. Letting fans directly purchase tickets in whatever app or web page can double your sales. This tech will give you a competitive advantage now now, but fans will soon come to expect it.
Independent Melbourne music venues, Cherry Bar and Yah Yah's have a combined Facebook following of over 96,000 fans. Thanks to the Eventbrite integration with Facebook, these fans can buy tickets as soon as they hear about an event — without leaving the platform. Cherry Bar calls this as a "game-changer" for ticket sales, selling out more shows than ever before. The venue sells more than 12% of all tickets through Facebook Checkout and has seen an average increase in pre-sales of 20-30% per show.
How to Sell Tickets to a Show, Step 3:
Zero in on your best Facebook and Instagram advertising audiences
Ad campaigns are the most effective when you're targeting the right audience. You can create highly relevant audiences in Facebook's Ad Manager. Once you create these audiences, you can also target them on Instagram.
Start with the audience that's highly likely to buy tickets: fans who've attended a show at your venue already. To target this group, create a Custom Audience in Ad Manager by uploading your fans' e-mail addresses. Facebook will match your data to existing users. Be sure to periodically update your Custom Audience with new data from future shows.
Then, to reach even more live music fans, create a Lookalike Audience, which Facebook generates by matching the interests and behaviours of your Custom Audience. Aiming your ads at both Custom and Lookalike Audiences will give you a potent audience mix.
How to Sell Tickets to a Show, Step 4:
Track ticket sales conversions to optimise your online marketing spend
If you understand the behaviour of your ticket buyers, you will be able to make better marketing decisions and sell more tickets. You can identify your top performing channels for sales conversions in three different ways:
1. Adding UTM codes to your links
UTM codes are bits of text you can add to a link (URL) that tell tools like Google Analytics a little bit more information about each link. When someone clicks this link, the extra information will give your analytics tool more specific information such as where the user came from and via which marketing medium, such as banner ad or e-mail.
So how do these links sell tickets to a show or concert? By tracking ticket buyers' behaviour. In Google Analytics, you'll be able to identify which marketing channel, advertisement, or keywords are doing the best job selling tickets, so you can shift your investment accordingly.
To get started, you can use Google's Campaign URL Builder to create links with UTM tags. To learn more about using UTM tags, see this detailed guide from Buffer.
2. Promotional tracking links
Setting up unique tracking links for your promotional partners can help you figure out who is pulling their weight. Particularly if you're using social media influencers (accounts with a large/engaged following), you need to carefully select people that are the best fit for your shows and venue.
Brisbane craft beer event, Beer Incider, partners with a number of local food and drink bloggers. They use promotional tracking links with Eventbrite reporting to see exactly who is driving the most site visits and converting to ticket sales. By seeing the effect an individual has on ticket sales, they can determine who to partner with again in future.
3. Marketing pixels
A marketing pixel is a snippet of code or a 1×1 transparent image that lets you gather valuable information about your customer's journey. Using pixels, you can measure ad campaign performance, track purchase conversions, and retarget customers who didn't complete the ticket purchase. 
There are few basic things to know before you get started with pixels:
Where to find pixels: Pixel code is usually generated in the "segments" or "audiences" section of your ad platform manager. In Facebook Business Manager, it's under "Tools."
How many pixels you need: Some platforms, like Facebook, Twitter, and AdRoll, can do conversion and retargeting in a single pixel. Others require a separate retargeting pixel placed on your ticketing page, and conversion pixel on your order confirmation page.
How to get it on your site: Copy the code generated into the header of your web page. Choose a partner like Eventbrite that makes it easy for you to embed a pixel on your ticketing page.
How to Sell Tickets to a Show, Step 5:
Advertise to customers who didn't complete the purchase
Retargeting is everywhere. You might not know the term, but you're definitely familiar with the technology. You look something up online, and days later, you're seeing ads for it on a completely different site.
People who weren't ready to buy the first time are often grateful for the reminder to sign up before it sells out. Eventbrite organisers have seen an average of 6X return on investment using ad retargeting.
To get started, you will need to use a retargeting platform such as AdRoll.
Reach more fans, sell more tickets
Supercharge your live music marketing with Eventbrite. We take a radically open approach to event discovery and join forces with industry-leading partners to help you reach attendees in the right places. Learn more about how Aussie music venues are growing their business on Eventbrite here.