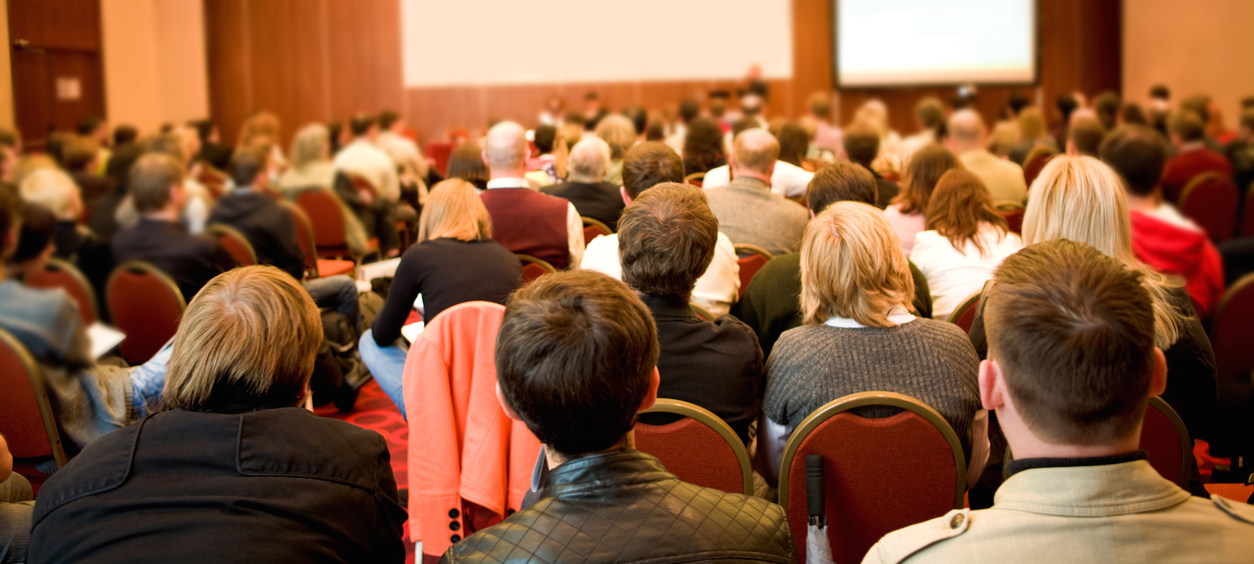 Select Speakers for Your Next Business Event
Are you struggling to find talent for your conference? You're not alone. This is one of the biggest challenges for event creators. If you don't know how to find speakers for your event, these strategies will help.
Your speakers and panellists are an important part of your conference. For many events, the keynote speaker is the star of the show. But if your sourcing strategy starts stagnating, the quality of your speakers will begin to decline.
Not sure how to find a keynote speaker or create a speaker sourcing strategy? We've got you covered. Your team can use this list of common sourcing methods to find conference speakers that help your event to stand out from the crowd.
Call for speaker proposals or abstracts
Finding conference speakers starts with a call-out for speaker proposals and abstracts, and you have several platforms you can take advantage of. Your local Chamber of Commerce is often loaded with talent. Social media sites are another place to start your search. Don't forget about other industry-specific publications and internal talent.
Get started with this step-by-step guide to promoting your speaking opportunity:
Post a quick blurb about RFPs (requests for proposals) on your chosen channel. Include the information that is most important for potential speakers to submit. This can be something as simple as their sample presentation title or as detailed as their entire slide deck. Your followers and target audience are a great pool of potential candidates for adding value to your event. Use your list to connect with everyone that you have a relationship with.

Go through your proposals with care. Combing through the proposals and abstracts is easier when you take time to ensure the speakers are knowledgeable in the topic or industry. Your goal is to

choose the best conference speaker

to convey your message, add a unique perspective, or provide expertise.

With your shortlist of possible conference speakers, start holding brief interviews. You want to ensure your speakers get your message across to your audience. Ask questions about their knowledge and experience in the field.
Even if you've already got a fantastic keynote speaker locked down, using an open call is a good way to fill your roster with other fresh, up-and-coming speakers who won't cost an arm and a leg.
Attendee surveys
Using an open call is one way to find speakers, but how about finding out who your attendees want to see at your conference? Surveying attendees lets them know you care about their experience and want them to play a role in shaping the content. They may even know someone who's an event speaker. You can also ask attendees key questions to gather speaker information. Get feedback on the best types of social gatherings, schedules, meals, entertainment options, or event venues. Use platforms like SurveyMonkey or Typeform to make it easy to administer the survey online.
Then use the survey data to find your conference speakers. Adding surveys to your event marketing strategy can also increase interest and event attendance. And don't forget to survey attendees after your event to see how your speakers went.
Internal members, partners, and sponsors
Your event will typically include internal employees and organisation members as speakers. You can build even more interest and a bigger audience by inviting external partners and sponsors to speak as well. External partners can be organisations whom you frequently collaborate with or other notable players in your space or industry.
Sponsors provide support, usually financially, in exchange for free advertising. They tend not to have a say in event operations, unlike partners. Internal members are responsible for every aspect of the event. Internal members, external partners, and sponsors all have an interest in the event's success.
A word of caution: while it may be easier to rely on internally sourced talent, having too many sponsors or employees in your speaker lineup makes it look like you can't find or pay reputable external speakers.
Speaker lists and databases
There are many professional organisations that can connect you with top speakers for your event. Websites like Professional Speakers Australia, SpeakerHub, and many others allow you to find top talent for your topic.
Professional Speakers Australia
Professional Speakers Australia (PSA) helps connect event creators with speakers, while helping emerging talent to build speaking skills and experience.
Benefits:
Thousands of available speakers, organised by specialty, event type, and location

Experienced speakers with detailed profiles and ratings
SpeakerHub
SpeakerHub is a fast-growing international community of professional, independent, and amateur public speakers and trainers.
Benefits
No commission fees for events, training workshops or schools

Detailed profiles for a large pool of speakers
Speaker networks are a fast and effective way to find talent, but you're also competing with other event creators. You can increase your chances of landing top talent by placing your open call on multiple lists or databases. You will have more proposals and abstracts to comb through, but you can also discover exciting new talent. When reviewing available options, pay careful attention to any additional fees or terms.
Publications
Academic journals, news sites, bestseller lists, and blogs are great for discovering industry- and topic-specific speakers. You also want to look through LinkedIn profiles and Facebook Groups. Both can be invaluable resources when you want to find a keynote speaker. And many experts will see your speaking opportunity as a way to gain recognition and find new audiences.
Look at your local and industry publications. Most have keynote writers that are also conference speakers. Even if you don't find a speaker for this event, you are making contacts for the next one.
Keep a running list of publications relevant to your industry and add authors to your list of potential speakers. Better yet, use a tool like Buzzsumo to find the most shared articles and blog posts for any given topic.
Social media
Social networks like YouTube and LinkedIn are goldmines for professional speakers. On YouTube, for example, search for topics relevant to your conference to see who's talking about them. Then narrow your search by filtering by the number of views to help identify the most popular content. You can tailor your open call for a specific audience to reach a variety of new talent.
You can also mine social media insights to identify speaking candidates. Facebook Audience Insights, for example, allows you to build a profile of your audience and see who they follow on their social networks. The results can help you find your ideal speaker.
Prioritise your speaker wishlist
Remember: your goal at this stage is to create a wishlist of potential candidates. So don't worry about whether or not you can afford them or how they'll fit into the agenda. The decision-making process, in which you evaluate speakers and ultimately choose who to reach out to, comes next.
Once you've found your ideal speaking talent, time to start promoting your event. Write perfect speaker bios to appeal to your most diverse audience yet with Eventbrite.