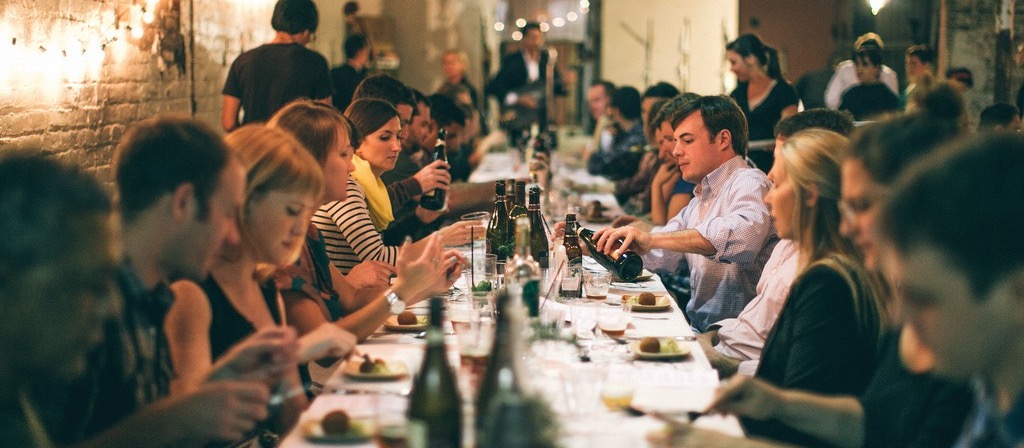 The Rise of Pop-Up Dining Events and Why You Should Host Your Own
Recent challenging times have taught businesses to become adaptable, agile, and willing to explore new possibilities. In the restaurant and catering sector, the pop-up dining experience is just one example of a unique way to promote your new or existing business and expand your customer base, whilst hosting a memorable event that's sure to be a talking point.
Pop-up dinners are once-off or short-term food events that offer guests a taste of something different. Whether it's an unexpected location, a unique menu or theme, or a personal interaction with the chef, your pop-up event will need to have a selling point that attracts attention.
In this blog, we showcase the benefits of pop-up dining experiences and share some ideas for your own pop-up event from five of our Australian creators.
Why you should host your own pop-up dining experience
More people than ever are looking to form a personal connection to their food. You can meet this demand by hosting a pop-up event that provides an intimate and informative atmosphere, giving guests the chance to get to know the makers and ingredients behind their meal.

Pop-up events are a big driver for word-of-mouth marketing – some experiential diners are leaders and influencers in their social circles. They often plan group outings for their friends and people frequently come to them for restaurant recommendations. This type of guest can be a strong advocate for your restaurant or project – if they have a good experience, they're likely to talk about it – including posting online reviews or sharing photos on social media.

The shift towards ticketed experiences has also created a new kind of entrepreneur – up-and-coming chefs are turning to

event marketing strategies

such as pop-up fine dining to build their brand and highlight their creativity without necessarily being tied to a brick-and-mortar restaurant. Lower start-up costs and more flexibility are some of the benefits of this business strategy.

Pop-up dining events attract guests who are willing and eager to pay more for a unique dining experience. Because there's the added value of a special location or extra service, your diners will be willing to spend more than they would at a regular restaurant. This means you can splurge on high-quality ingredients and still have something left for you at the end of the day.

It's also common to sell tickets for a pop-up experience in advance, much like a concert or sporting event. Ticketing your event with us will help you get funds locked in upfront, so you don't have to chase down tables for payments at the end of the night. Guests don't have to worry about the bill looming at the end of the meal, and you'll know exactly how many seats you need to fill to turn a profit – while avoiding food waste and lost revenue due to no-shows. Using our ticketing platform, you can even offer the option of paying for add-ons or alcohol pairings at the time of ticket purchase so that the focus of the experience is the food and atmosphere, not the bill.
Ideas for pop-up dining events from Australian creators
How do you plan a pop-up dinner that stands out? Here we highlight event creators and their innovative pop-up dining experiences to help you plan your own pop-up events.
Long-table dining for a worthy cause
Under the colonnades of the iconic Melbourne GPO building, A Melbourne Moment was a charity long-table dining experience held by A Good Plan Group. The dress code was 'generously formal' to set the mood for a fancy night out among the city lights, surrounded by the picturesque portico.
With $100 from every ticket donated to the Cancer Council, guests were encouraged to feel charitable on the night and participate in a live auction and other fundraising initiatives. The menu was curated by Hugh Allen, executive chef of Vue de monde, and the generosity-inspiring cocktails were mixed by the Melbourne Gin Company. Turning your pop-up experience into a charity event is always a great way to push attendance, as guests are more likely to dig deep when they know it's for a good cause.
A culinary collaboration between two restaurants
Hidden in the suburban neighbourhood of Surry Hills, Sydney, Jazushi is a creative and modern Japanese restaurant with live jazz acts every night and a focus on the complete dining experience. This unique culinary event brought their multi-course tasting menu and live music performances to nearby Japanese eatery Nakano Darling as a one-time special occasion.
The Jazushi x Darling collaboration was just one event in an out-of-the-ordinary series held at Nakano Darling. Nakano Darling regularly invites chefs from other restaurants, including other Japanese, Spanish, and seafood restaurants, to take over their kitchen and present their own take on Japanese cuisine. Judging by their popularity, these innovative hybrid events are here to stay. Think outside the square – you're sure to find other businesses you can creatively partner with and create some hype.
Celebrating native flavours with a renowned chef
Showcasing regional produce, the Long Table Dinner with Indigenous Chef Clayton Donovan was presented as a feature event of the North Coast Festival of Flavour. Held in Taree, NSW, it was also a major event of the Barrington Coast bEATS Festival, which is a month-long celebration of community and culture through local food, music, and art. With only 80 guests, this bespoke event was an intimate affair, featuring local wine and beer alongside the fabulous produce of the region, accompanied by impressive local entertainment.
This unique long-table dinner was curated by Indigenous and hatted chef Clayton Donovan. Clayton has a passion for showcasing native flavours in Australian cuisine and defines his cooking style as contemporary with an Indigenous twist. Local apprentices, trainees, and hospitality students served and cooked at the dinner, affording an invaluable training experience. Involving local trainees is a great way to give back to your community, and a pop-up experience is the perfect context to do this.
A wine n' dine tour with multiple venues
Wine n' Dine Melbourne tours, presented by Neighbourhood Events Co, are premium food and wine tours featuring four different venues for guests to enjoy in the form of a self-guided, four-course progressive lunch.
During the carefully curated, all-inclusive tour, 20 guests have the opportunity to try a signature course with a wine pairing at each venue. Participants can enjoy an unforgettable food and drink experience, all within comfortable walking distance. You could partner with three other venues in your area to do the same thing – once you have it set up, it could be a reliable, easily manageable income stream.
A night of murder, mystery, and dinner
Prognosis Murder is a night of murder, mystery, and food, presented by Managed Mischief. Every guest has a role to play, and one week prior to the event, every guest receives their character name, background, and costume ideas. The ticket price includes pre-dinner nibbles, a main course, and dessert.
A great murder mystery night needs a fun theme and an interesting plot. Set your scenario in a specific time or place that ensures your guests have plenty of easy costume ideas, such as the 1920s for flapper dresses and opulent suits. Your food and drinks menu could also fit the theme. For the mystery, you could look to old books or movies for inspiration, or get creative and design your own.
If you'd like to stage your own murder mystery party and explore pop-up restaurant themes, we have hints and tips to help you. You'll find everything you need to create and plan a memorable event, including a murder mystery party planning checklist.
Ready to jump on the pop-up events trend?
The food and beverage industry is cooking up more events than ever before – the number of food and drink events on our platform is constantly growing. With so many possibilities, including tours, local food and wine showcases, and theatrical, immersive events, you are sure to find an idea for a memorable pop-up dining experience that will allow you to have fun while growing your business.
Host your pop-up dining event with us and join millions of event organisers who use our market-leading event technology to power impressive live events. Our free services make attendee registration and ticketing easy to track and manage, leaving you with the time and energy to fully focus on creating fantastic dining experiences.