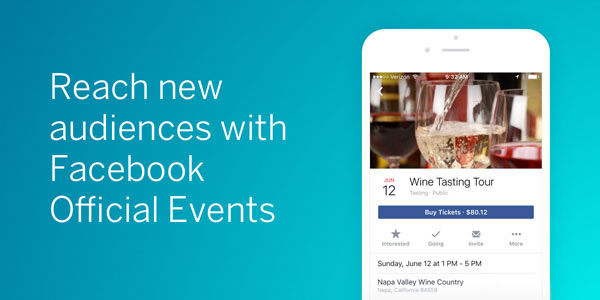 Reach More People in Less Time with Facebook Official Events
Let's face it: we all spend too much time on Facebook. But perhaps not in the way you think.
You may be relying on Eventbrite for event ticketing, insights, and promotion, but you could be vastly expanding your marketing reach with half the effort.
Eventbrite's partnership with Facebook makes it easy to expand your reach and make your event "official," with Facebook Official Events.
Being official matters
Facebook Official Events can only be created through a custom Facebook integration, like Eventbrite's tool. Official Events contain important details like event date, time, venue, and a link to buy tickets, sent directly from the ticketing partner to Facebook.
As a result, Facebook Official Events may be more likely to show up on search and News Feed recommendations where people are spending most of their time. This means your event can get in front of more people, and help you boost your event registration.
Save time creating and promoting events
Eventbrite's free integration with Facebook automatically creates a new Facebook Official Event. The 'Publish to Facebook' tool simply pulls in your event image and details from Eventbrite. Your Facebook event will also include a link to buy tickets on Eventbrite. Finally, all Facebook Official Events are added to your Page's Event tab, so people can easily register for your events.
This saves you time from manually creating a separate event on Facebook every time.
It's also easy to coordinate with your co-hosts (such as artists, promoters, venues) to promote the same Facebook Official Event, avoiding duplicate Facebook events from being created. Together, you can expand your reach to all your audiences. You can find more tips to expand your promotion in this handy guide and webinar with Eventbrite and Facebook's Events Team.
Checking the progress of your event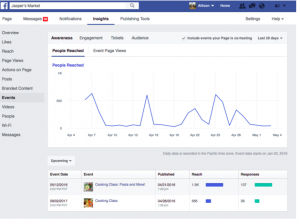 In your Eventbrite account, you can see how much traffic and sales you get from Facebook. Facebook also provides an easy way to see your how much your event is viewed, its reach, and ticket sales. As a Facebook Page admin or co-host, you have access to this information through your Events Tab within Page Insights. Hopefully you'll start to see this work pay off.
Whether you're looking to save time or reach more people, the good news is that Facebook Official Events gets you both. To get started with creating your Facebook Official Event, all you need is an event on Eventbrite and a Facebook Page. Check out this article for more information, including links to watch our on-demand webinar with Facebook Events.