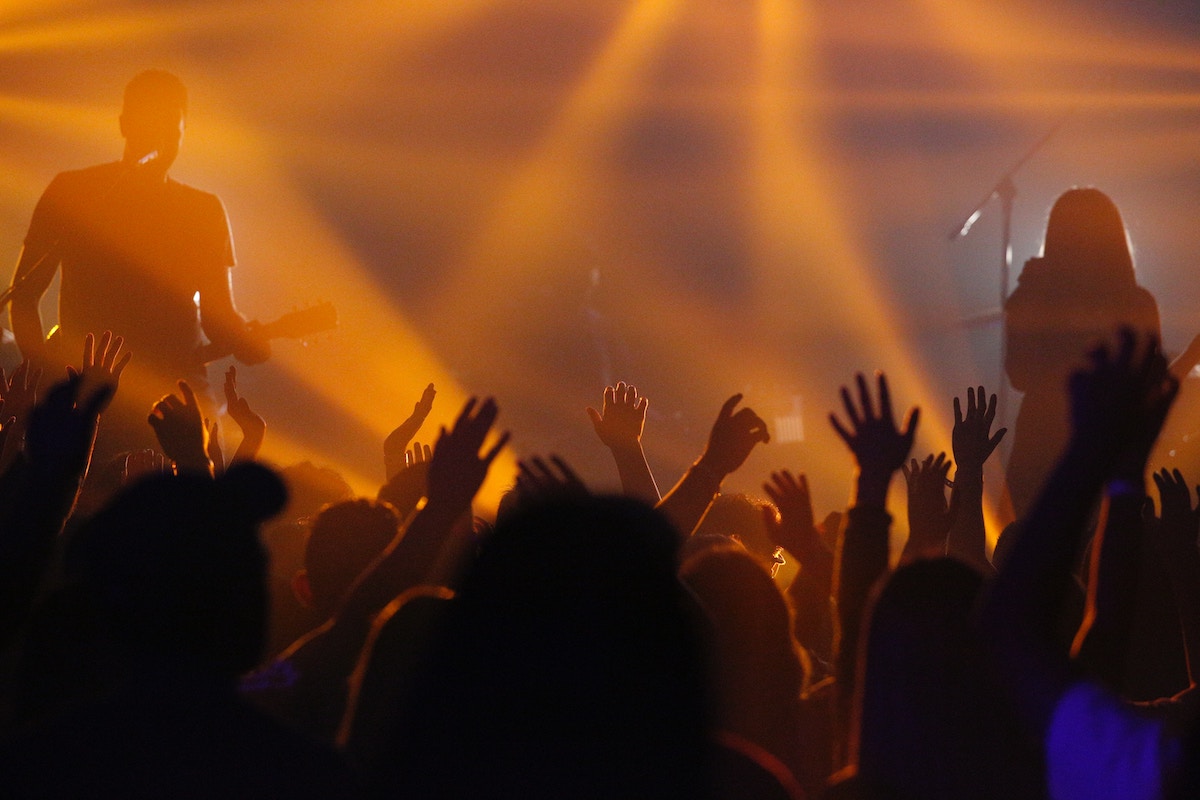 How to Promote a Music Venue: 9 Ideas to Put into Action
Whether you host intimate acoustic evenings or all-night EDM ragers, there's one thing all music venues have in common: the need to drive people through the door.
To survive and thrive as a live music business, here are 9 ideas for promoting a music venue.
How to Promote a Music Venue Idea #1: Ask artists to help with promotion
It used to be that all promoters could ask of an artist was to show up on the night of a concert and give a great performance. Nowadays, promoters and venues are deepening their partnerships with artists by getting involved in the marketing of shows.
You can do this by:
Working with the marketing team of your artist or booking agency

Target the artist's social media audience, asking for promotion by the artist or requesting "Advertiser" access to promote to fans

Booking acts that take promotion seriously, by checking out their online engagement
How to Promote a Music Venue Idea #2: Create a venue profile on Spotify
If you run a live music venue or host gigs, you likely lean on Facebook and Instagram for promotion. But did you know that you can also use Spotify as a social media channel to reach music fans? A Spotify account for your venue can help to define your brand, create shareable content, and reach highly engaged music lovers.
How to Promote a Music Venue Idea #3: Sell tickets where fans are found
As music consumption has moved online, so have marketing budgets. It makes sense to promote your shows where fans are discovering music — but what about selling tickets? Selling through integrated checkouts on other sites is known as 'event distribution'. This tech will give you a competitive advantage now, but fans will soon come to expect it.
Event distribution will help more fans discover your shows on social media and buy tickets instantly, without being redirected to your website or third party ticketing platform. For example, a fan could see a listing for one of your shows on a social media site or app like Facebook or Instagram, a streaming music app like Spotify, an event discovery app like Bandsintown, or one of many other websites or apps. They can then buy a ticket right there on that site or app, without clicking or tapping to a different page.
How to Promote a Music Venue Idea #4: Diversify your programming to introduce your venue to new audiences
Don't be afraid to step outside your comfort zone by running unique events that help to build a community for your venue. Non-traditional shows and events can be a risk, but they often take less production that a typical concert or multi-band show.
For example, an event that is taking off in the US is "deep house yoga", a yoga class set to a deep house soundtrack from a live DJ. It's proven a hit, allowing clubs to book programming on weeknights while providing a glimpse of the venue experience to audiences outside their usual.
Where to start: If need to reinvigorate your venue brand, or are new to these kind of events, consider offering your space at no cost to an experienced event creator to co-host an on-trend event. Partnering with an event that already attracts your target attendees will help to define your venue brand and give you a base to start marketing activities. Start by reaching out to events that appeal to your target audience and see if you can strike a deal with the organisers.
How to Promote a Music Venue Idea #5: Tell stories with video
With Stories features a mainstay of both Snapchat and Instagram, and live video huge on Facebook and YouTube, in-the-moment storytelling is hot. Engaging your fans with insider stories is an intimate way to make people feel connected to your event and inspired to attend.
Or go one step further by live streaming concerts on YouTube or Facebook Live. Doubters may think that offering a livestream of performances will erode ticket sales, but in fact, the opposite is true: livestreams grow ticket sales.
67% of live video viewers are more likely to buy a ticket to a concert or event after watching a live video of that event or a similar one. For annual events like music festivals, 30% who watch a livestream will attend that same event the following year.
How to Promote a Music Venue Idea #6: Try podcasting
A creative venue promotion idea that people don't always think of is podcasting. Australia is the fourth largest consumer of podcasts in the world — it's the country's fastest growing medium.
To reach fans, you could launch your own podcast with a theme that's relevant to your venue's brand e.g. unearthing new talent, hip-hop artist Q&A. Or, for less effort, become a sponsor or guest speaker for an existing podcast that draws a similar target audience.
How to Promote a Music Venue Idea #7: Step up your email game
If you're blasting to your entire mailing list every time you announce an event or book a performer, you might be missing the mark.
Instead, segment your email lists into categories such as people who have bought tickets in the past versus those who haven't, or different demographics within your target audience. Then create email campaigns that speak to those smaller groups with specific messages. This is called email targeting, and it's made easier with the use of email marketing platforms like MailChimp or Emma.
How to Promote a Music Venue Idea #8: Master Facebook advertising
There's a lot more to Facebook advertising than just posting an ad and hoping for the best. To make the most out of your venue promotion, you should be building a strategy that targets the right audience, provides them relevant ads, and hones in on similar demographics to attract new fans. Mastering how to structure an effective ad campaign on social media will not only reach more attendees — it will also save you money.
How to Promote a Music Venue Idea #9: Collect data to make smarter marketing decisions
Music may be an art, but running a live music business is also a science. Particularly if you're running multiple shows in a week, you need to move quickly. The key to making informed decisions on promotion, fast, is data.
Using simple technology such as promotional tracking links and guest check-in apps can make a huge difference in discovering where your venue's marketing budget should be focused for success.
For example, if you run online ads to promote an event at your venue, analytics will only tell you how much traffic is being sent to your website. Tracking links will show you which advertising or artist promotion is converting to sales, helping you spend more on the right channels.
Focusing on getting pre-sales can pay dividends in not just promoting your venue, but also the long-term success of your business. Nicholas Jones, Director of Cult Leader (Melbourne venues Cherry Bar and Yah Yah's) explains. "Online ticket sales mean a lot to the success of a live music venue. We get more customer information, allowing us to increase future sales with opt-in data. You don't get that selling tickets at the door. Fans with tickets are also more committed to coming regardless of the weather or other events, which supports our planning and profitability as a business," says Jones.
Partner with Eventbrite Music
Whether your venue's events are free or paid, partnering with Eventbrite Music can amplify your reach. Supercharge venue marketing with automation tools and integrations across hundreds of partners including Facebook, Spotify, and more.