Eventbrite Research Reveals The Most Popular Events in Australia
Victoria a state of music lovers; New South Wales crowned the 'Sporting State'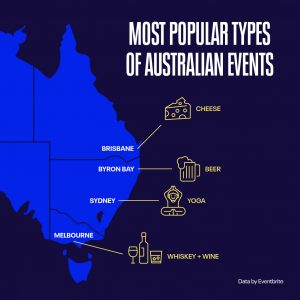 MELBOURNE, AUSTRALIA — AUGUST 21, 2019 — New research conducted by Eventbrite (NYSE: EB), a global ticketing and event technology platform that has powered more than one million events in Australia, has revealed Victoria to be the nation's events capital, hosting more than 124,000 events and live experiences between January 2018 and June 2019, including more music, health and wellness events than any other Australian state.[1]
Running a close second, New South Wales may have finally settled the long-running argument over which state is the nation's home of sport, with Eventbrite platform data revealing NSW hosted over 2,900 sports and fitness events in the 18 months to June 2019 – more than any other Australian state. New South Wales has also claimed the mantle of Australia's festival state, with more than 3,000 festivals celebrating everything from food and wine to music and science. 
A review of Eventbrite data from more than 450,000 Australian events held between January 2018 and June 2019 revealed: 
Sydneysiders' love of lycra runs deep: In the 18 months to June 2019, the Harbour City hosted almost 1,600 yoga events – making it Australia's yoga capital. 

When it comes to choosing a tipple, different states have different tastes. Events celebrating gin are most popular in Sydney; those who favour whiskey or wine are best served in Melbourne, while drinkers who prefer a cold brew should head north to Byron Bay, home to more beer events than any other Australian city.

Singles are more likely to find a speed date in Brisbane or Sydney, while those seeking spiritual guidance should head to New South Wales, the location of more psychic events than anywhere else in Australia.

Cheese connoisseurs will get the most for their cheddar in Brisbane; while those who prefer a plant-based diet will find their tribe – and the nation's most vegan events – in Melbourne.
Emerging event trends spotted in other Australian states include 'drinking yoga' experiences like 'Yin and Vin' in South Australia, where attendees practice traditional yin yoga poses in a picturesque vineyard before indulging in a glass of locally-produced wine; or 'Beers and Yoga' in Hobart, where yogis combine asanas with a refreshing ale. In Perth, fried chicken battles are proving popular with local foodies, while astronomy tours are trending in the Top End.
Josh McNicol, Acting General Manager, Eventbrite Asia Pacific, said he was excited by the diverse and growing number of live experiences Australians are creating and consuming.
"Having powered more than one million Australian events, Eventbrite is the go-to for some of the most unforgettable live experiences the country has to offer," McNicol said. 
"This research points to the wealth of experiences to be had beyond the bustling hubs of Australia's major cities. From speed dating with pets to cheese masterclasses and even 'Beer Yoga', communities across Australia are brimming with unique events designed to help people get out there and try something new – and we're proud to be the platform powering these experiences."
# # #
About Eventbrite
Eventbrite is a global ticketing and event technology platform that provides creators of all shapes and sizes with tools and resources to seamlessly plan, promote, and produce live experiences around the world. Eventbrite's powerful platform, which can be accessed online or via mobile apps, scales from basic registration and ticketing to a fully featured event management platform. Customers in the Australian market include The Corner Hotel, Pinot Palooza, The University of New South Wales, and The Noosa Food and Wine Festival. Eventbrite was founded by Julia Hartz, Kevin Hartz, and Renaud Visage and launched operations in 2006. The company has more than 1,000 employees in 14 offices around the world. Learn more at www.eventbrite.com.au. 
[1] Based on Eventbrite platform data: events located in Australia with an event start date between January 1, 2018 and June 30, 2019.