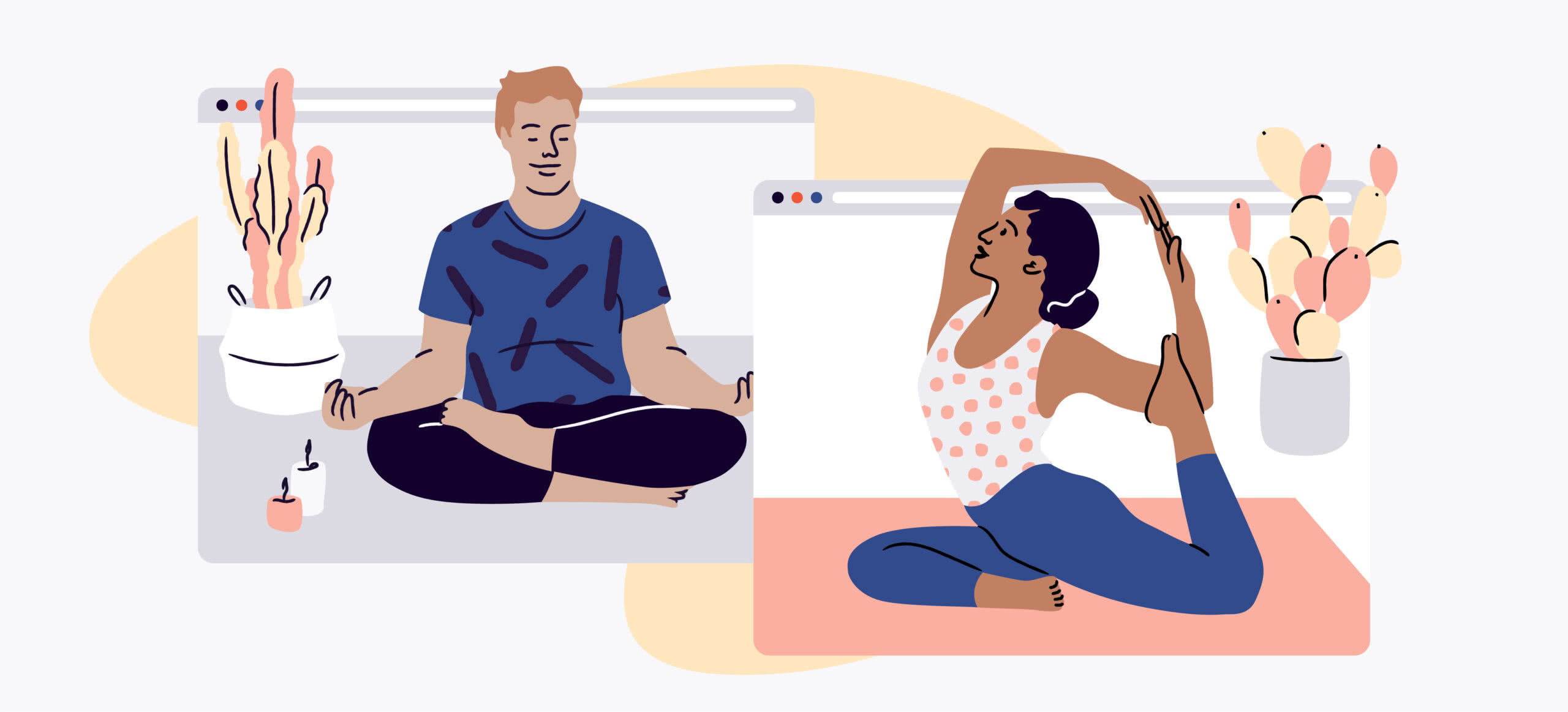 Om at Home: Wellness Has Found Its Place In Quarantined Lives
Stop what you're doing, close your eyes, and take a deep breath in for four counts. Pause. Exhale for another four counts. Try the entire cycle five more times. Congrats! You've just had a taste of the benefits of meditation.
Relaxing, right? So much so that you may have forgotten about the fact you're stuck at home amidst a global pandemic. At least that's the hope of wellness practitioners around the world hosting meditation, mindfulness, and fitness classes that you can practice in the comfort of your own home.
As fitness centres and wellness studios close their doors to help slow the spread of COVID-19, wellness instructors have stepped up to keep their communities calm during this challenging time. Many have shifted offerings to the virtual world and expanded their business models to adapt to social distancing restrictions. While you may miss the gentle adjustments of a yoga teacher or the scent of aromatherapy oils during a group meditation class, livestream classes, webinars, and virtual events help foster a daily routine to keep students engaged, calm, and connected. Nothing can replace the energy exchange of in-person events, but shifting to a virtual space has its own unique benefits you don't get from a physical studio.
After some technical guidance and encouragement from fellow yoga instructor Sara Silberstang , Oakland-based yoga instructor Jody Hahn has set up live stream "Let's Shine" vinyasa classes five times a week to connect with her students. Not only is she able to teach more people than in a studio class, she has welcomed attendance from new students all over the world as well as former students who had moved from the Oakland area. "It is such a blessing to see my former students and get the feedback that they're excited to take my class again," says Hahn.
The switch to virtual also means she no longer has to worry about overhead costs and can offer accessible options through donation-based classes. "If your income is disrupted due to this pandemic, your stress is a lot higher and one thing that can help offset that is yoga," said Hahn. "I want to be able to give as much as I can."
The added layer of anonymity in virtual classes also inspires students to speak up in class, or to even try a yoga or meditation class for the first time. "I couldn't believe the willingness of people to click the link and join my guided meditation class; the eagerness to come together," said Dan Petrie, founder of San Francisco-based mindfulness training centre Mind EQ. Petrie also noticed that participants are more vulnerable about how current events are affecting their daily lives. "I start my classes asking people to describe how they're feeling in one or two words, and it's remarkable what people are willing to say because they feel a bit safer behind the screen."
Eventbrite has seen a spike from online wellness events — roughly 25% of Eventbrite's online events are health and wellness-related. The shift to virtual has been so beneficial to both creators and consumers that many wellness creators have decided to offer virtual classes as a permanent option. In Petrie's case, the attendance spike in his donation-based Monday and Friday meditation classes was so high that he's decided to continue both as livestream classes, with students having the option to attend in person on Mondays when quarantine is over. Virtual class options remove the stress of scheduling a workout or dedicated time to your mental health because you no longer have to worry about fighting traffic to get to your studio, outfit changes, and all the other minor nuances that can force you to skip it altogether.
Of course, that's not to say that virtual classes will make in-person classes obsolete. One fact that has come out of this global pandemic is how much we took for granted human-to-human connection, both in wellness communities and beyond. But everyone is feeling grateful that technology allows us to see one another, stay connected, and remind us that we'll get through this tough time together. "Now that we can see each other through a screen, it feels like a warm, virtual embrace when there's so much anxiety," says Hahn. "It feels like a very dark time but there is some light. There will be good that comes from this."
Find inspiration from other event creators who are finding new ways to bring people together here.