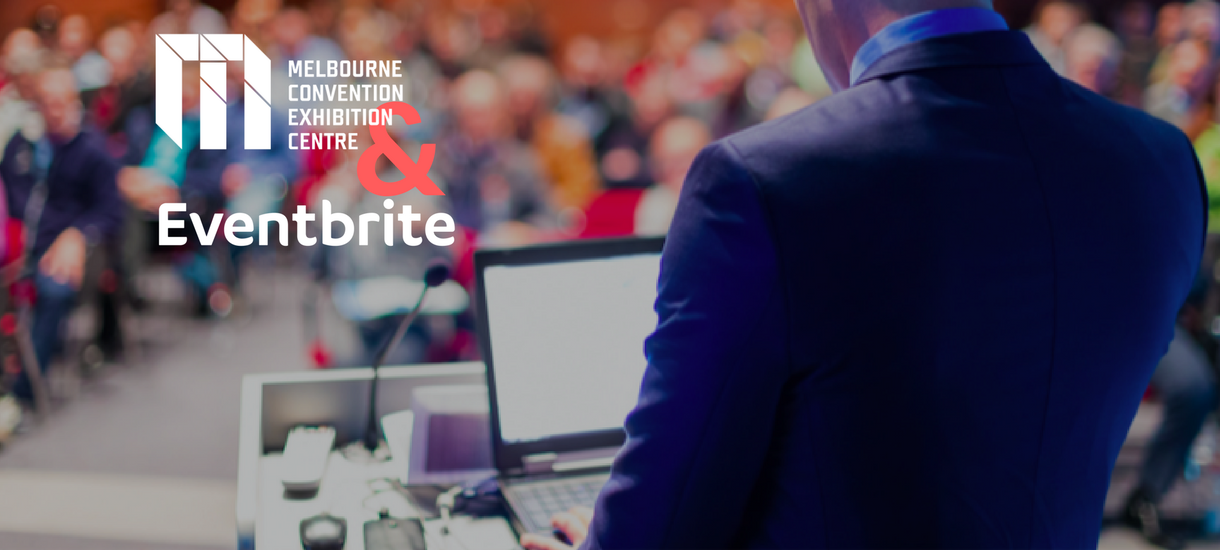 How Conferences Can Provide An Unforgettable Attendee Experience Year After Year
You're reading Part 1 in our four-part interview series collaborating with the event experts at Melbourne Convention and Exhibition Centre.
Event conferences are a great opportunity to give your guests a holistic experience of your company, industry, or brand. Whilst conferences may have once had a reputation for being tests of endurance, a more modern approach is seeing both international and local conferences become unexpected and engaging.
With emerging event technology and the right balance of information and entertainment, you too can turn your next conference or exhibition into an exciting meeting of minds, and a networking hotspot.
Learn more about streamlining your conference experience with the 2017 Guide to Event Technology for Conferences & Exhibitions.
Farai Chigwedere is an Events Planner at the Melbourne Convention and Exhibition Centre, and has worked extensively in the exhibition and conference space, with both local and international clients. She recommends putting a particular focus on sourcing high energy speakers that will bring life to your topic or brand.
"Standout events that I've seen have all had really engaging entertainment and speakers – that's the one thing I've noted when people seem interested," says Chigwedere.

"Conferences have a notorious reputation for sometimes being boring – and when you've been sitting in the same room for three days, that can easily happen! But it's how you shape that content, and how you shape your program, that gives you the chance to engage your delegates and let them have fun."
Here are her top tips to ensuring your next conference or exhibition runs smoothly, and encourages the best possible audience response.
Offer a personalised event app for attendees
Smartphone apps are an excellent way to engage your attendees, says Chigwedere, as well as being a direct source of important information and networking opportunities.
"One of the biggest trends I've noticed is the offering around technology – there's been a big push for conference apps to give delegates more information regarding the event, to equip them before them come on site."
This can come in the form of timetables, speaker information, event updates, maps, city information, and even surveys during the event. Chigwedere remembers a specific conference she attended in which delegates were asked to submit and answer questions during the speaker sessions; a move that kept the audience alert and engaged – but not distracted.
The Entegy Suite is an Australian-developed technology that enables conference and exhibition event professionals to streamline attendee communications, drive stronger engagement, and simplify logistics on your event day. You can set up live audience polling, Q&A and discussion, and check out the attendance tracking data to monitor, report and manage your guests.
Your run sheet can NEVER be too detailed
When bumping in and bumping out of an event space, organisation and efficiency is key. Chigwedere has seen hundreds of events over her seven years with the MCEC and says that the trick is having a detailed 'run sheet' for the day.
"A detailed run sheet with session information and pack up times means everyone knows what they are working towards. If you could organise it down to the minute and seconds – that would be ideal!"
On this run sheet, include specific contacts for every facet of the event – session speakers, stage managers, lighting, food, equipment, and more. By having a direct phone number for anything that may go awry, you won't waste time trying to find the right person.
Download a run sheet template here.
Get creative with space and themes
Aside from having a large main room to hold all of your attendees during talks, conference organisers should look to  include more intimate break out spaces for people to meet with fellow guests and speakers.
Themes and visual cues are also important for giving your delegates a sense of branding and engagement with the topic being discussed. In 2014, MCEC hosted the International AIDS Conference, which saw 14,000 attendees from around the world visit their venue. Chigwedere remembers this as a particularly memorable event thanks to their creative use of decorations, even outside of the conference space itself.
"It stood out as it was such a 'different' event' in the sense that it literally took over Melbourne city with red lights – the official colour for AIDS – with the whole community out to support it. They used a consistent theme the whole way through, in everything from food to decorations."
If travelling, engage a team member on the ground
Hosting a conference overseas or interstate can mean dealing with an unknown environment. If you are hosting delegates who will also be travelling, you will need to be able to provide them with detailed information about everything from their accommodation, public transport to and from the venue, and maybe even visa advice.
Chigwedere recommends that you employ a person on the ground who knows the area well, and who can liaise with your team from a local perspective.
"Operating within another country can be a real challenge in the planning and execution stages. For example, if you're organising an event in America, you will find they have a completely different set of OHS rules and regulations."
By working with a local representative, they will be able to catch any possible discrepancies with your event setup early into the planning process.
Finish with a bang
Leave your guests on a high with a fun finale. Whether it's at the end of each day, or the grand finale that closes your conference, be prepared to leave the heavy education behind and have a little fun instead.
"There was a conference I attended earlier this year," says Chigwedere, "where as part of the closing ceremony they stopped focusing on the actual contents of the conference (a financial event) and chose instead to feature inspirational guests from Orange Sky Laundry (Young Australians of the Year), Consentino the magician, and more."

"They worked really hard to wrap it up in a really fun and exciting way."
Don't feel like you need to cram your guests with information right up to the eleventh hour. Your branding and messages will resonate a lot more effectively with an engaged and entertained crowd who will leave with a positive experience of your event.
By employing exciting new event technology, engaging entertainment, and a space that encourages your audience to network, you can craft a conference event that will be both memorable and effective.
You can find out more about creating an unforgettable conference event in our free download, the 2017 Guide to Event Technology for Conferences & Exhibitions.