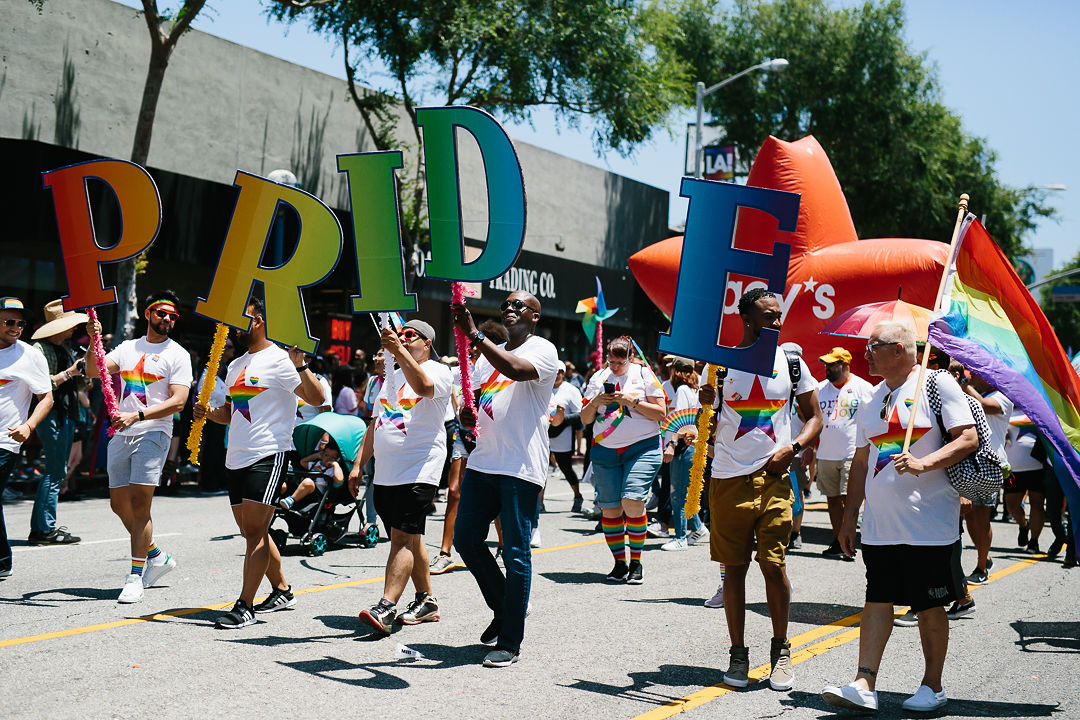 Unique LGBT Pride Event Ideas to Kick Off Pride Month
Since signature Pride events like the Sydney Gay and Lesbian Mardi Gras first started in the 1970s, Australians have embraced a full calendar of events that champion LGBTIQ+ diversity and equity. The celebrations kick up a gear during Pride Month every June. You'll find everything from the month-long Sydney Pride Festival to the Brisbane Pride Queens' Ball, which is the longest-running queer event in the world.
Pride Month is an ideal time to host your own event that celebrates LGBTIQ+ life. While Australia has long been at the forefront of social change for LGBTIQ+ communities, there is still more to do. A unique Pride event can not only promote social inclusion for LGBTIQ+ people, but it's also a great opportunity to get the party started again after many events around the country were cancelled or postponed during COVID-19. We're here to share some of the top ideas for Pride events from our community of creators and help you creatively promote them.
The Queens' Gala
Event creator In The Dark Presents hosted the signature event on the Adelaide LGBTIQ+ calendar in 2021. The Queens' Gala brings together the queer community and their friends to raise money for a chosen charity. This kind of black-tie event is perfect for guests who love glamour and plenty of Insta-worthy photo opportunities, with a red carpet arrivals area, a champagne reception, canapés, and exciting entertainment.
Better Together National LGBTIQ+ Conference
The Equality Project – Australia hosts its annual Better Together National LGBTIQ+ Conference to provide a space for LGBTIQ+ voices to be heard and to promote collaborative action. With a clear list of goals that they want to see achieved in the community each year and themed sessions to discuss solutions, the Better Together National LGBTIQ+ Conference is a perfect example of an event delivering direct social impact.
Pride Fair Day
Australians love markets, so a market dedicated to celebrating LGBTIQ+ communities is one of our top picks for inclusive Pride month party ideas that everyone can enjoy. Event creator Brisbane Pride transforms one of the city's biggest parks into an energetic, fun-filled, loud-and-proud playground for their annual Brisbane Pride Festival Fair Day event. Guests can enjoy live performances, exciting stalls, and delicious street food – making it the perfect event for families.
Pride Drinks
Looking for an easy way to celebrate pride and the LGBTIQ+ community? Look no further than Pride Drinks for inspo. Tasmanian event creator North West Pride found a friendly venue and a bunch of talented local volunteers to deliver a community-oriented night of entertainment, food, and relaxed vibes. One of the easiest Pride event ideas for work or a community organisation, pride-themed drinks nights are a casual way to show your support for LGBTIQ+ friends and colleagues. Don't forget to take another leaf out of North West Pride's book and make your event listing inclusive to get as many people as possible attending.
Lip Sync Duels Fundraiser
During Pride Month, Sydney Gay and Lesbian Mardi Gras keeps the party going to raise funds for its signature event in March. One great example is the Lip Sync Duels Fundraiser, which invited prominent LGBTIQ+ community members to lip-sync through a roster of classic songs to raise money and awareness of LGBTIQ+ issues. Follow Sydney Gay and Lesbian Mardi Gras' example of a year-long calendar of activities to increase awareness of both LGBTIQ+ issues and your key events.
The Running Joke Comedy Show
Looking for some Pride-filled laughs? LGBTIQ+-friendly comedy shows make great Pride month celebration ideas, offering a way for everyone to comfortably mingle in a friendly and vibrant atmosphere. Running Joke Productions hosted a special Pride-themed edition of its flagship The Running Joke Comedy Club in Sydney to champion LGBTIQ+ talent. Like the team from Running Joke Productions, make sure to use your event platform to promote a roster of LGBTIQ+-identifying artists as well as queer content.
Queer Trivia Night
North West Trivia is here to help again with another idea for a relaxed and accessible activity popular with Aussies everywhere and easily themed for Pride Month. Queer Trivia Night brought together the LGBTIQ+ community and trivia buffs to win prizes and increase awareness. Each round had a queer influence, and there was a dedicated queer round of questions. Find a celebrity LGBTIQ+ host or invite prominent members of your LGBTIQ+ community to lead a round to build more hype for your own event.
2022 Pride Events Happening Around Australia
Feeling inspired by past events but wondering what the event creator community is doing for Pride Month this year? Here are a few of our top choices, from unique venues to activities for niche communities.
Drag Queen Bingo
Overnewton Castle, a Scottish baronial castle built in 1849 and just a 26-minute drive from Melbourne, is getting ready to host a truly unique event this Pride Month. Drag Queen Bingo brings a talented and hilarious troupe of girls to host six rounds of bingo with live performances, a French Martini on arrival, and plenty of laughs. Guests will also be raising money for a chosen LGBTIQ+ charity.
Open Mic Night
Crystal and Stone in Perth is collaborating with Perth Open Mic this Pride Month to bring emerging queer talent to the centre stage. Open Mic Night invites local queer musicians and their supporters to enjoy queer camaraderie while surrounded by crystals. There are also food trucks and drinks so guests can snack and sip while watching performances and mingling.
Pride Party South Australia (SA)
Want to host a party for a community with a specific interest? Take inspiration from Climbing QTs, an LGBTIQ+ friendly social club based in Melbourne where both new and experienced climbers have the opportunity to mix and socialise. During Pride Month, they're hosting Pride Party SA where guests can enjoy a social bouldering party as well as complimentary drinks, snacks, and special door prizes for members and their families.
Feeling inspired by these Pride Month celebration ideas?
Our talented community of event creators is celebrating Pride around Australia this June with a range of unique events designed to appeal to every Australian. If you're ready to join them to champion LGBTIQ+ inclusion in Australia, we've got everything you need to get started.
We're here to help you find the perfect venue for your unique Pride event, as well as provide tips to make your events as inclusive as possible. Once you're ready to start promoting your Pride Month event, Eventbrite Boost's automated event organisation and promotion tools can help you reach out to an even bigger audience with ease.