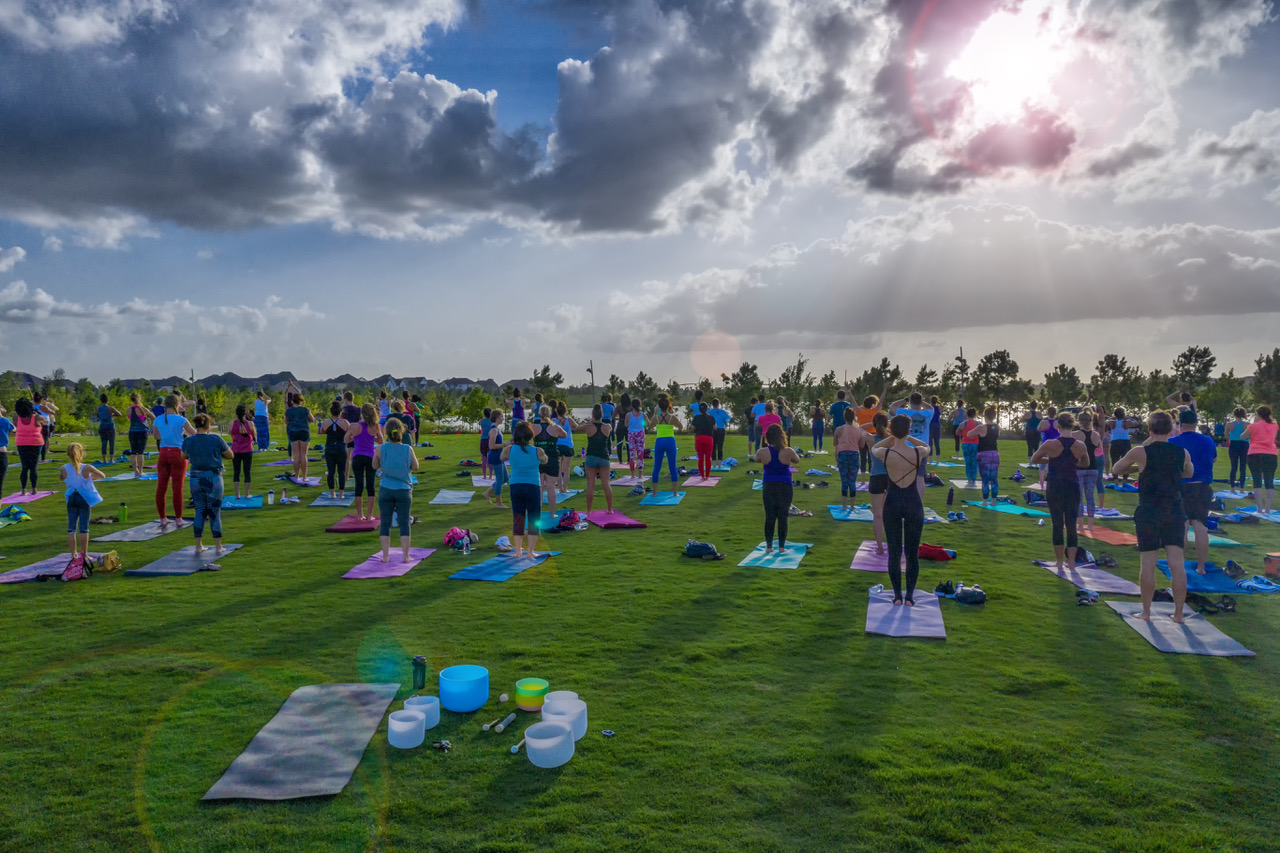 How Creators Around the World Are Celebrating International Day of Yoga
The
International Day of Yoga
is held each year on the winter solstice. Even though it's the shortest day of the year, it's the perfect time to grab our mats and get moving. The past months have been isolating and stressful for many, and yoga can be a wonderful way to create community, practice awareness and focus on our wellbeing. This gives International Day of Yoga 2021 more importance than ever.
Yoga first emerged as a discipline in ancient India, and today there are several different schools centred around different practices. And it only
continues to grow
in popularity.
We spoke with
three
creators from different parts of the globe who are celebrating International Day of Yoga on June 21. Read on to get some
outdoor yoga ideas
and find out what these creators hope to bring to yogis in their
communities
.
Sunset yoga by the Thames
Amanda York of Gymanda
remembers when she first celebrated International Day of Yoga in 2015
,
by teaching classes at London's famed Alexandra Palace. She sees this year's event as especially meaningful — the celebration falls just as England is mere weeks from ending its COVID-19 lockdown. That definitely calls for an outdoor outing.
To properly mark the occasion, she'll be setting up alongside the legendary Thames River at sunset. "We're going to start with a fire ceremony, where we write down all the bad habits we picked up in lockdown on a scrap of paper, and we're going to burn them," York explains. "Then we'll celebrate the elements fire, air, water and earth. Really just celebrating life and the end of lockdown through yoga."
While York is excited to get outside with her classes again, she's also holding an online celebration the day before, on Sunday. "Online opens you up globally. I just did a wellness presentation to Google, and it makes my job so rewarding when it can be spread around their whole team online," she says.
But when COVID-19 first hit, York admits she was reluctant to jump online. "It took me a few months. I'm very much a people-person, so when I went from being fully booked to having to cancel and clear my calendar, I went into shock. But when I finally did, I got it. I no longer had to cancel because of the rain, and in winter I could still teach online. It's funny, we're coming out of lockdown now, and I'm actually going to pursue more online. I've done it in reverse."
She encourages other creators looking to establish their own
successful yoga events
to stay organised, working out costs and resources in advance so that business concerns don't impact the event. And when
marketing your event
, she also suggests heavy use of imagery, such as photos of prior events. "People love images, so if you've some images of a prior experience, that's great."
Poses in the sun
Jenny Normand of Shaka Power Yoga
in Houston, Texas will also be celebrating this year's International Day of Yoga under the sun, surrounded by the waterways and beautiful trails of Josey Lake Park. Normand first fell in love with the outdoors when she obtained her yoga certification from Power Yoga Hawaii, and she credits the island paradise with inspiring her current practice. "I fell in love with the culture. It made me want to share my practice with others." Among her unique Hawaiian inspirations is offering stand-up paddleboard yoga, which emphasises strength, balance and flexibility.
For the International Day of Yoga, Normand will stick to land, with a theme proclaiming, "It's time to socially reconnect." She and several of her studio's instructors will lead a day focused on meditation, grounding and centring. "It's a great way to be outside, and to be with others, enjoy Mother Earth, and do this wonderful practice of yoga."
For those unable to be there in person, Normand will be streaming on Facebook Live. She's found that including an online option lets her reach a global audience, with people joining from New York, Ireland, the Philippines and California, among other places. "As much as last year limited us in a lot of ways, it also enabled us to reach more folks." Thanks to online events, "Shaka Power Yoga is now a global brand."
Bending in the ballroom
For
Sabine Christelli
in Adelaide, South Australia, this year's International Day of Yoga is an opportunity to put her current Ph.D. studies in sleep health research to use. "My studies are focused on how breathing patterns can be used to enhance sleep quality and onset." She draws on her more than two decades of experience teaching meditation, her 10 years of teaching kundalini yoga, and her studies in neuro-linguistic programming and hypnotherapy to offer a day of physical, mental and spiritual enhancement.
Christelli started Kundalini Studio with the mission of educating people on how to enhance their own wellbeing. "I love to see women shine their light — this is my focus in my coaching business. And they always do!" she says.
Christelli has a long-standing relationship with the beautiful Burnside Ballroom in Adelaide, where she's been leading free meditation and yoga classes for her community. It'll be the site of her International Day of Yoga event, too. "We will be enjoying yogic stretches in the chair to connect with our physicality and to release stress held within," she says. Next, she plans to lead her class through meditative practices including relaxation visualisation, grounded deep breathing, intention setting and more.
In Australia, the recommended protocols in response to COVID-19 require QR codes for tracing as well as physical distancing, so Sabine will be spacing chairs out to help maintain distance. And though such measures are a bit of an inconvenience, she does appreciate how COVID-19 encouraged the adoption of online events. "As much as live events are truly special, not everyone has transport or child-minding." Many creators have noted the same perks, and hybrid and online events will likely keep their allure even after things get back to normal.
Celebrating together
2021 is shaping up to be the biggest International Day of Yoga yet. Thanks to reopening, and to the connections that online events make possible, more people than ever will be able to move, breathe and enjoy the centring effects of yoga.
Ready to plan your own
yoga events
?
Get started
with Eventbrite.