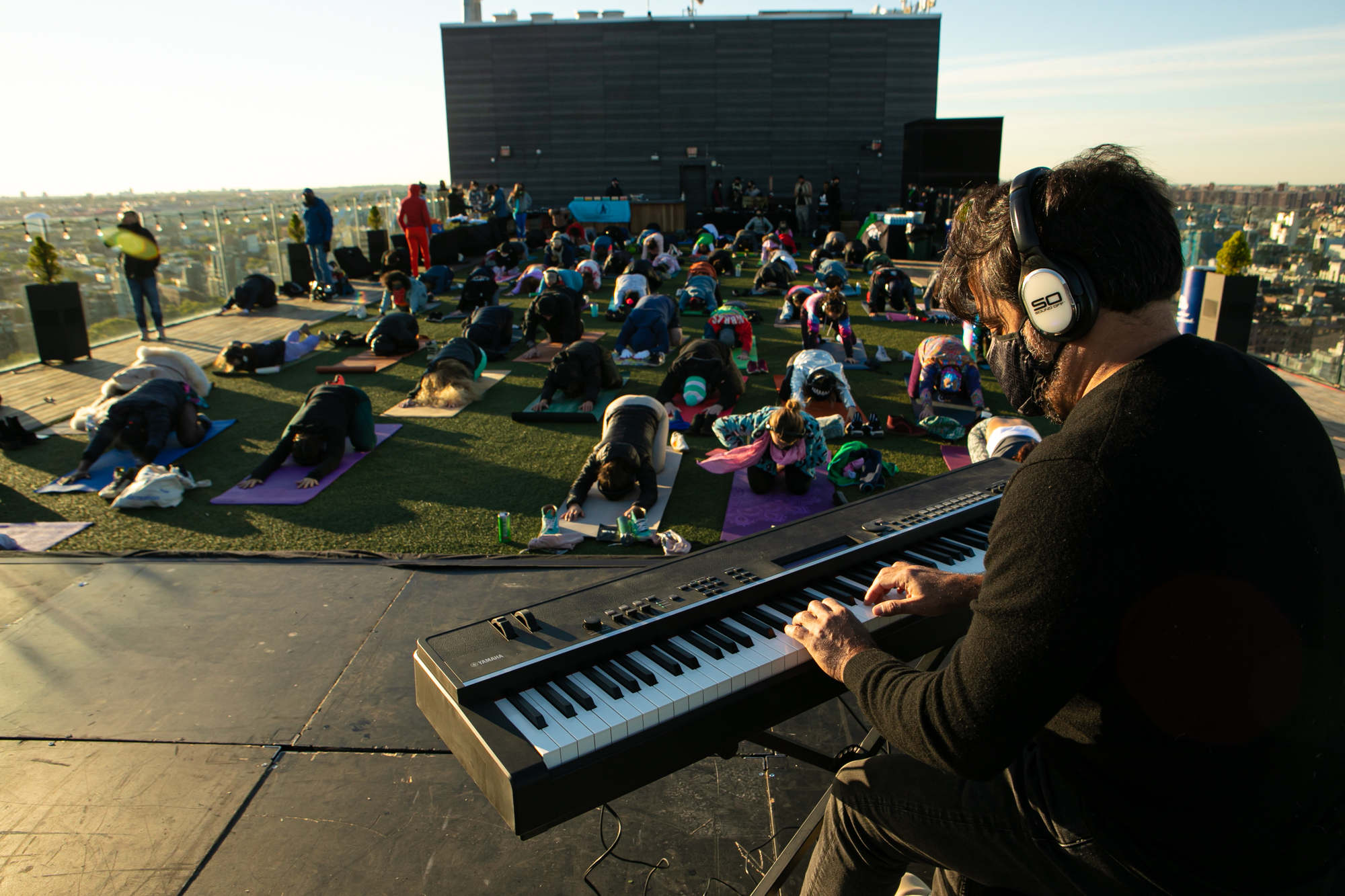 5 Reasons Why You Should Still Run Hybrid Events (Even After Restrictions End)
Virtual and hybrid events became the default event format for many creators during the height of COVID-19. In adapting to social distancing requirements and rolling lockdowns across the country, event hosts were forced to take their events online to engage their audiences and keep their businesses alive. Now, even though COVID-19 restrictions are slowly lifting, many event creators are keeping the cameras on. After investing in event technology and learning to livestream and host compelling events online, event producers are realising why hybrid events are worth keeping.
Combining an in-person event with a virtual option for guests who can't make it to the venue, hybrid events offer a unique opportunity to grow your audience beyond your normal geographic reach. They can help to increase your event revenue while reducing costs. Plus, you can book smaller venues or host fewer guests and have more space for social distancing.
We've compiled five reasons why our creator community is getting (and staying) behind hybrid events, and how you can get started and reach your biggest audience yet.
Why hybrid events work for creators
For many creators, virtual and hybrid formats have helped to grow their businesses, with many planning to continue exploring hybrid events' benefits, even after the return of in-person events.
Paola Alejandra Randazzo, co-founder and director of Chess and Language Academy, first started their business more than 6 years ago, long before the challenges of COVID-19. Offering one class a week, language learners can either attend in-person or jump in online to be a part of a relaxed and fun small group atmosphere.
Randazzo says that successful hybrid events have helped them to substantially grow Chess and Language Academy's audience. "With COVID-19, we were forced to close our previous location in Bangalow NSW and move our classes online until we could start again in person, now in East Ballina."
Since the start of COVID-19, however, Chess and Language Academy has gone on to attract a national following. "Since we started offering our classes online we have had more interest from people all over Australia and we are so glad we can share our knowledge and experience with students from Perth, Adelaide, Melbourne, and Sydney too."
"We will definitely continue offering both in-person and online classes as this is convenient to many people who for different reasons can't join in-person classes, or for those who are used now to learning online but appreciate having someone real on the other side of the screen," explains Randazzo, who intends to keep hybrid events in Chess and Language Academy's calendar. "Students now have the option to continue online or come and see us in person."
Why you should run hybrid events in 2022 (and beyond)
From reaching a larger and more diverse audience to saving money and being more sustainable, here are the top reasons to stick with hybrid event production in the future.
1. Reach more people with hybrid events
The biggest drawcard of hybrid events? You can reach an even bigger audience and increase your event revenue without substantially increasing your costs. Investing in event technology that allows you to creatively host events online or present live in-person events to remote attendees can help you attract people from all over the world. You'll get this added benefit at most kinds of events, from hybrid conferences to workshops, without having to worry about social distancing or other increased COVID-safety requirements in a physical venue.
2. Learn more about your attendees
The popularity of virtual activities during COVID-19 has led to rapid innovation and improvement in event technology platforms for hosting events. The benefit to event creators? You can collect data about your event's performance, including when attendees are most engaged and when they're switching off, to make changes to your event's format and improvements to your overall event calendar.
3. Hybrid events are more sustainable
If you're looking to run sustainable events, going hybrid should be front of mind when planning your event calendar. Hybrid events can have a lower carbon footprint if the majority of your attendees choose to attend online. These eco-friendly benefits include reduced consumption and waste, and little or no travel time for your online attendees.
Reducing consumption and waste means reducing your event expenses, too – providing that you have an accurate idea of in-person attendance. Think fewer swag bags, lanyards and marketing materials like booklets and brochures. You'll also spend less on food, drinks and other basic resources. Even if you're providing promotional gifts, learning materials, or food and drink packages for virtual attendees, you can still make your event more sustainable by exploring carbon-neutral postage options or using suppliers closer to your guests' locations to reduce carbon emissions related to travel and delivery.
4. Hybrid events are more accessible and inclusive
In-person events are a great way for most of your community to connect, but for some guests, they pose a different set of challenges. If your event audience includes attendees with accessibility requirements, you may be unable to find the right venue to accommodate everyone, particularly during COVID-19 recovery where social distancing restrictions add a layer of complexity.
Adding a virtual option to your next event means you can reach out to a more diverse audience. Hybrid events offer a better experience for those with hearing issues – most event technology platforms come with closed-captioning that can add subtitles to your videos. Some hybrid event platforms will even provide subtitles in other languages for events catering to a multicultural community. Hybrid and virtual events also allow you to accommodate guests who find in-person events uncomfortable or overwhelming, whether because of anxiety or a sense of caution about physical closeness in times of COVID-19.
Going hybrid also gives you the opportunity to be more socially inclusive. Tickets to in-person events can be expensive for some members of your community, particularly in the wake of COVID-19 job losses and changes. Attending virtually can be a cheaper option for those who can't afford the in-person ticket cost or the travel expenses to get to your event location.
5. Hybrid is the new normal
You've probably heard the term "hybrid" applied to more than just events since the start of COVID-19. Hybrid working – spending part of your working week in an office and part working from home – has become the new normal for companies and employees around the world. Similarly, there's a current expectation that some event creators should offer an online version of their events and experiences so that those who can't or won't attend in-person events can still experience community, entertainment and connection.
Hybrid events are here to stay
After being forced to adopt virtual and hybrid event formats to survive, many event creators are now embracing the many benefits of online events in 2022 and beyond. Ready to become part of the future of virtual events in 2022 and beyond? Find out more with top tips from our expert community on how to reach more people with your hybrid event.