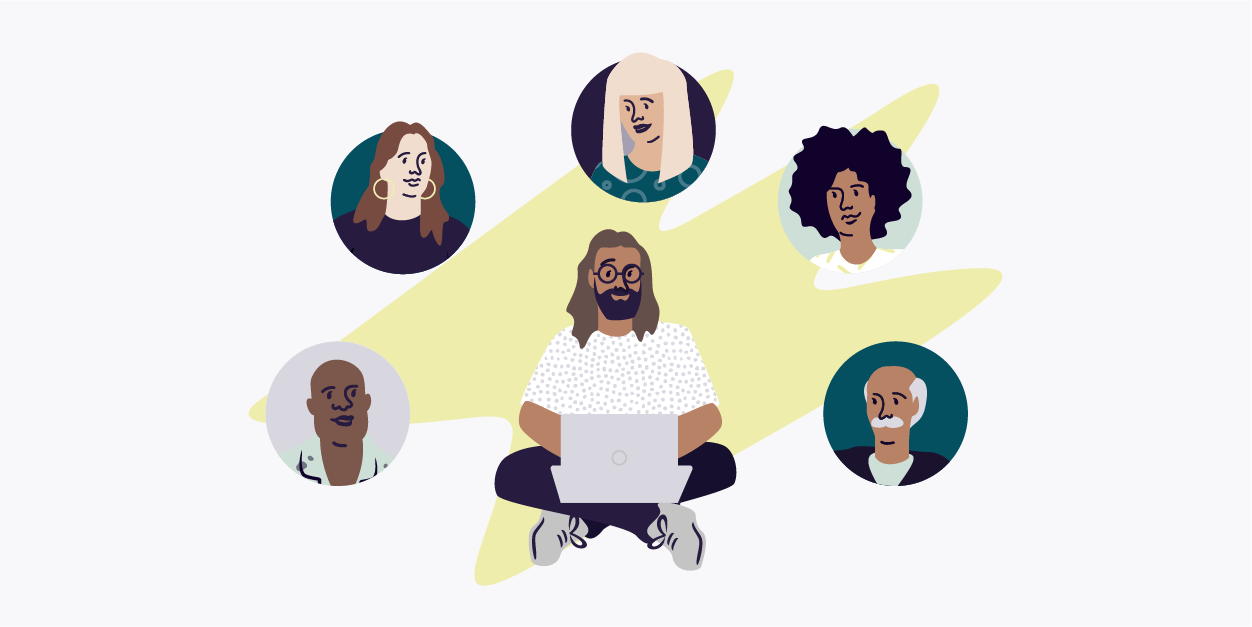 How to Promote Your Event on Social Media and Generate Clicks
Have you ever felt anxious about whether your personal social media posts hit the mark? Posting social media updates for your event can feel similar, only with a bigger audience and with more at stake. Choosing the right time to post about your event on social media can be the secret to increased ticket sales, trending content, and event success. But when is the right time and, just as importantly, which is the right social media platform? Our team of experts shares their top tips for how to promote your event on social media with event social media posts that generate clicks and boost ticket sales.
Choosing the right channels to promote your event
There are a lot of social media channels that will let you post and promote your event for free, but are they the best option for you? And how do you choose the best platform? The answer is in your intended audience and the channel they're most likely to respond to. While posting on every channel might seem like a sure-fire way to maximise your promotional effort, it can end up costing you a lot of time and energy that would be better focused on one or two dedicated platforms that are likely to reach your target audience faster.
Once you understand your target audience, you'll start to understand where to post events for free to reach them. Check out Eventbrite case studies for successful events to use as inspiration. You can also search for previous event listings from creators attracting a similar audience to you and see how they've promoted their events online.
To help you find your perfect platform, we've summarised some of the key benefits of each channel below as a starting point.
Facebook
While choosing the optimal channels for your event promotion is always important, it's pretty much a given that all events should have a Facebook event strategy that takes advantage of Facebook's huge reach and seamless integration with Eventbrite. Facebook also delivers the added benefit of being able to target paid advertising to the exact audience you're chasing, so you can boost clicks from your intended audience while keeping within a set budget.
Instagram
With around one billion users, Instagram has a massive social media reach surpassed only by Facebook and YouTube. If you have quality images and/or video content to share, Instagram is a must for promoting your event. Your Instagram strategy should deliver visually impactful content that aligns with your brand and sets the scene for your events so your audience can gauge what to expect.
YouTube
YouTube is the second-largest search engine after Google: Creators load more than 100 hours of content a minute to the video platform. The secret to event promotion on YouTube? For starters, your videos can be embedded into ticketing pages, like Eventbrite – make sure you take advantage of this when you're creating your event listing. If you're promoting a music event, you can sell tickets directly to gigs and concerts from artist channels and their official videos.
Other social media channels
There are other more specialised social media channels that let you post to targeted communities where your desired audience might be reachable for free, like LinkedIn (for professional networks) or Twitter Events (for networking). Find out whether your desired audience has a large presence on a specialised social media channel and look for opportunities to post on your own account or engage with a community influencer with a larger reach.
Promoting your event on blogs and community websites
As with other social media networks, blogs can be a great way to reach out to prospective attendees.  You can post to your own blog if you have a following, or ask supporters with blogs already popular with your intended audience to give your event a shout out (you could offer them a free ticket). Content is critical, so if you're using your own blog you'll need to create compelling posts with interesting content – for instance, interviews with upcoming speakers or investigations into topics your event will cover. Alternatively, leverage your past success with our guide to how to write a blog post about an event that you've already hosted to attract attendees to your next event.
Maximise your reach with a social media promotions calendar
Once you've decided where you're going to promote your event for maximum clicks, it's time to turn your attention to when you're promoting on each channel. Keep track of everything in one place by putting together an event communication plan that lists each type of channel, when you're posting updates to each channel, and the content you're posting in each update.
You can reuse content across multiple channels to maximise efficiency and keep your event messages consistent – just make sure that the content is appealing to the audience. Post regularly to each channel after publishing your event: You should aim for no more than one post a day and no less than three a week to keep your audience engaged. You can post about the event acts or content and use each channel to promote special offers in the lead-up to the event, especially if you want to boost your ticket sales.
Eventbrite provides simple tools to publish your event directly to Facebook when you list your event, as well as valuable resources on how to schedule Facebook event posts. Remember that you can share posts to an event on Facebook to automatically update your guests and attract new ones. Make sure to add a "Buy Tickets" button to your event listing so that your buyers can get their tickets with ease.
To pay or not to pay: when to use your event budget for paid ads
Channels like Facebook, Instagram, and YouTube will offer paid advertising opportunities that allow you to target a specific demographic or location that you think will be most interested in your event. If you're competing with other events in a busy event category, getting in front of your target audience in your local market can be a valuable use of your event promotion budget. Before exploring paid advertising, make sure you're maximising the opportunities you get for free on each channel. Get across how many tickets you need to sell per day or week so that you can measure the effectiveness of your paid advertising strategy on each platform.
Your go-to events guidance
Now that you've taken the stress out of posting about your upcoming event on social media with Eventbrite, it's time to think about the big day – we can help here, too! If you're hosting an online or hybrid event, we can guide you on building an even bigger audience online with Facebook Live's tips for what to do before going live. If you're hosting an in-person event you can increase guest engagement with these 11 brand activation ideas attendees will love. And the best bit? You can join the Eventbrite community of event creators by listing your event on our platform and reach even more potential attendees.