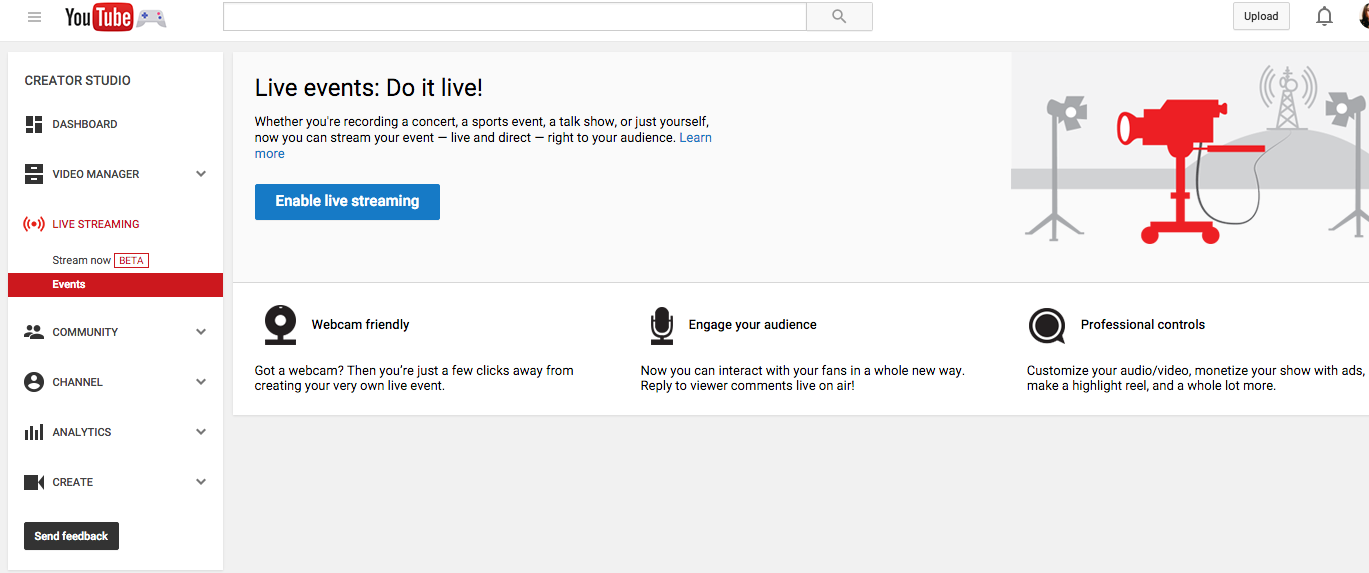 How-to: 3 Simple Ways to Stream Live Events, Free
Online broadcasting makes it possible to stream live events free. And stream you should, because every viewer is a customer of your event brand and a potential attendee for your next event. To show you how to stream live events, we've put together a how-to guide of three top channels. Read on to find out how you can use YouTube, Google+, or Periscope to showcase your event to an online audience.
Create online event hype: Get the Ultimate Guide to Using Facebook Live at Events
To get started with YouTube's live feature, you'll need a YouTube channel for your brand or event. Once your account is up and running, you'll need to enable live streaming.
Step 1: While logged in to your YouTube Channel, enable live streaming at https://www.youtube.com/my_live_events
Step 2: Once enabled, you have the option to start streaming immediately or schedule a live event.
We suggest scheduling a live event ahead of time for your event. This allows you to preview your video, change privacy settings, and set up manual start and stop.
Check out the video below for a demonstration.
If you're not familiar with Google's 'Hangout' feature, it allows you to host meetings live. This is ideal for business events — broadcasting large meetings, discussions, webinars or presentations.
With a well-placed webcam, you can broadcast sessions or keynotes from a live event, enabling people to watch via your Google+ page. This option is also available through YouTube Live Events as a 'Quick' option.
Step 1: Go to plus.google.com/hangouts/onair
Step 2: Select 'Create Hangout On Air'
Step 3: Enter a name and description for your live stream
Step 4: Select a time. You can broadcast immediately, or schedule your event
Step 5: Select your privacy settings to either broadcast publicly, or create an unlisted event for specific attendees
Step 6: Click Share and invite away! People can RSVP to your Hangout on Air through the Google+ event page and view on desktop or smartphone devices.
Step 7: If you scheduled your event to broadcast immediately, it will start automatically. If you scheduled your event ahead of time, navigate to your Google+ Events page and click 'Start Broadcast' to go live.
Hot Tip: The host can control the video and audio for all other participants with the 'Cameraman' feature. This will come in handy if you're hosting a presentation and need to eliminate interference! To activate, click the Cameraman icon and select 'Yes' for all options to hide their audio/video and automatically mute new guests.
Need more help? Check out the Google support page.
Facebook Live is a content feature on Facebook that allows you to share live video with your followers and friends on Facebook. These videos will then appear in your News Feed and on your event's Page while you are live. Once your livestream has ended, live videos will appear under Videos on your Page.
Try to avoid filming too much of the 'white noise' such as people getting settled into their seats or waiting for a speaker to hit the stage – keep it to the best bits to maintain the attention of your online audience.
Before you begin, you will need to use video encoding software, such as OBS, Wirecast, or XSplit to create your stream.
Step 1: Select which live streaming software you want to use.
Step 2: You can go live from a profile, Page, group or event. Login to Facebook and select 'Create Live Stream' to begin.
Step 3: Copy the stream key to your software's settings when you create a live stream.
For more help, check out the Facebook Live FAQ page. 
Livestreaming concerts
Got an upcoming gig that you want to broadcast? Read 4 Things You Need To Know About Livestreaming Concerts.