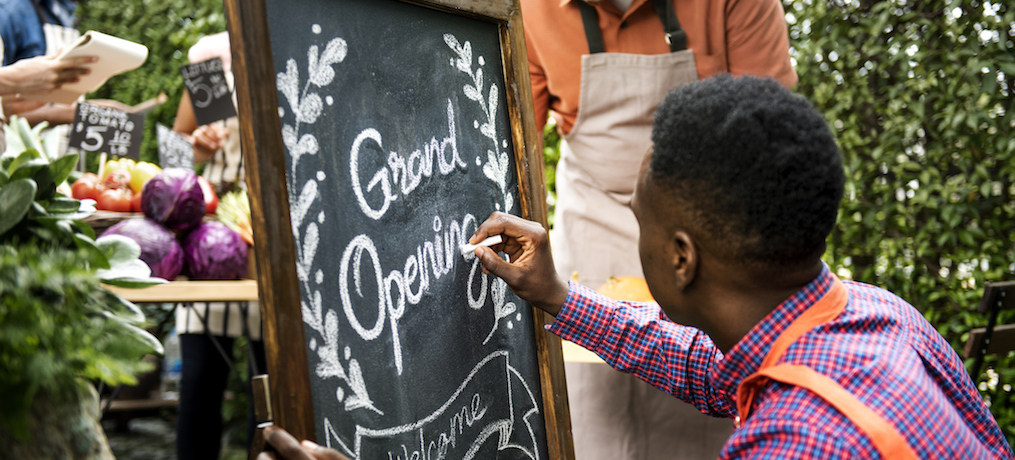 Begin with a Bang: Your Grand Opening Event Checklist
First impressions are everything. If you're launching a new business, a grand opening ceremony can provoke excitement, curiosity, and a sense of community. If you're looking for open day ideas that beat the classic ribbon cutting, follow our grand opening event checklist to create and market your event effectively and execute it with style. Remember, it's vital to check the latest government guidelines before going ahead with your event.
Zero in on your goals
A grand opening isn't just any event. It should relate to your specific business goals. For instance, you might be looking to:
Create awareness around your brand
This is your first big marketing effort, and you can only do it once. Make sure you have a tight, unified brand message to help customers understand who you are and what you offer. All of your staff should know exactly how to talk about your event – and your brand – right from the start.
Make a positive first impression
Beyond awareness, you want to create an authentic connection with your local community and get potential customers excited about your business. Yours might not be the first store of its kind in town, but your grand opening event can help your business stand out.
Build relationships with the community
Your grand opening ceremony can accelerate your relationships with customers, but also with business partners and vendors you'll interact with in years to come. Get these relationships off to a good start by inviting them to a grand opening party that will genuinely excite them.
With your business goals in mind, it's time to explore some grand opening options.
Brainstorm your grand opening ideas
Every successful launch starts with a great idea. Here are just a few grand opening ideas to make your launch an affair to remember.
Break a record
Attempting to break a Guinness World Record can not only be fun, but can be entertaining enough to attract a large crowd – and it makes for unique social media content.
Create a publicity stunt
An attention-grabbing stunt can allow your grand opening idea to generate great PR. Consider choreographing a flash mob, creating a human billboard, or launching your own annual race or parade to catch people's attention.
Hire a cover band
You might not be able to book a famous artist, but cover bands that hark back to a specific musical era can draw a surprisingly large crowd. To strengthen your brand image, choose a band that matches the vibe of your business.
Hand out gift bags
Everyone loves a freebie. Explore grand opening gift bag ideas – such as a swag of product samples or branded materials like pens, magnets, or notepads – to remind the customer of your brand and prompt them to return to your business, even after the grand opening event is over.
Dress it up
Aussies love a costume party, so inspire attendees with a thematic costume challenge. If you're opening a store devoted to luxury items, for instance, a Great Gatsby party makes for a great time and Instagram-worthy photos.
Hold a competition
Entice people to attend your grand opening ceremony with the opportunity to win an exciting prize, such as one of your business' products or services.
Offer a virtual component
For those who can't attend personally or are wary of in-person events, a live stream is a fantastic way for ticketholders to attend your event without having to leave their homes.
Remember to give an opening speech
Make everyone feel welcome and like a true VIP by making a personal opening speech. Be sure to thank them for attending and reiterate any COVID-19 safety measures for your event, such as social distancing and mask-wearing.
Pinpoint your marketing channels
Marketing grand openings will be slightly different from promoting other events because your brand or space is new. That means you might not have an existing audience to market to. To reach new people, you'll need to adopt some specific tactics:
Social media
Build awareness and get people interested by setting up social media pages for your business before your event. Use platforms like Facebook, Instagram, and Twitter to spread the word. Add your own unique hashtag and other popular hashtags to your posts and follow other local businesses to build connections.
Create a separate Facebook Event page for your grand opening event so that you can post the latest updates to keep people engaged. A Facebook page can also be easily searched for.
Reach out to influencers in your industry, as they may be willing to post about their experience – and your business – in exchange for a sought-after grand opening invitation or the promise of a gift bag.
Local PR
Don't forget more traditional forms of media, such as advertising on radio, television, and in print. These outlets are an effective way to reach local audiences and pique interest. You could also invite media personalities to cover your grand opening event in person.
Advertise online
If you have the budget, take advantage of paid advertising options, such as Google ad campaigns and Facebook and Instagram ads. These platforms allow you to set a budget and zero in on a specific target audience, helping to boost awareness of your grand opening event.
If you've created an event page with Eventbrite for your grand opening, you can use the email addresses gathered in the registration process to send attendees marketing updates. Consider emailing event-goers after your event to thank them for attending and ask for feedback. You can entice them to do so with a discount for your next event.
Support a not-for-profit organisation
Is there a charity that's closely aligned with your business' theme or goals? Is there a local cause you could support? Partnering with a not-for-profit can give them a boost in publicity (and hopefully donations) while expanding your network and brand awareness. Fundraisers, sponsorships, and simple donations are all great ways to establish your brand as charitable and to attract a generous crowd.
Be prepared for the worst-case scenario
Once you have your creative opening ceremony planned, it's important to consider safety procedures regarding the ongoing COVID-19 landscape in Australia. Make sure you enforce social distancing and have hand sanitiser and personal protective equipment (PPE) available. Be sure to let attendees know beforehand what screening and/or contact tracing procedures they may have to follow, like QR code check-in.
With unpredictable snap lockdowns and ever-changing government restrictions, you must also be ready to make alternate arrangements and have a backup plan. Live streaming your event is a great alternative if in-person events are restricted.
Celebrate your hard work
A grand opening event may only happen once, but it's an important moment that can help your overall business goals, build your social media presence, connect you with your community, and lead you to worthwhile partnerships. It's also a time to celebrate your hard work and dedication – you've earned it, after all.
Now that you've followed our grand opening event checklist, you can continue to grow your business and reach a larger audience with continual events. Find out how to create your next event experience on Eventbrite.