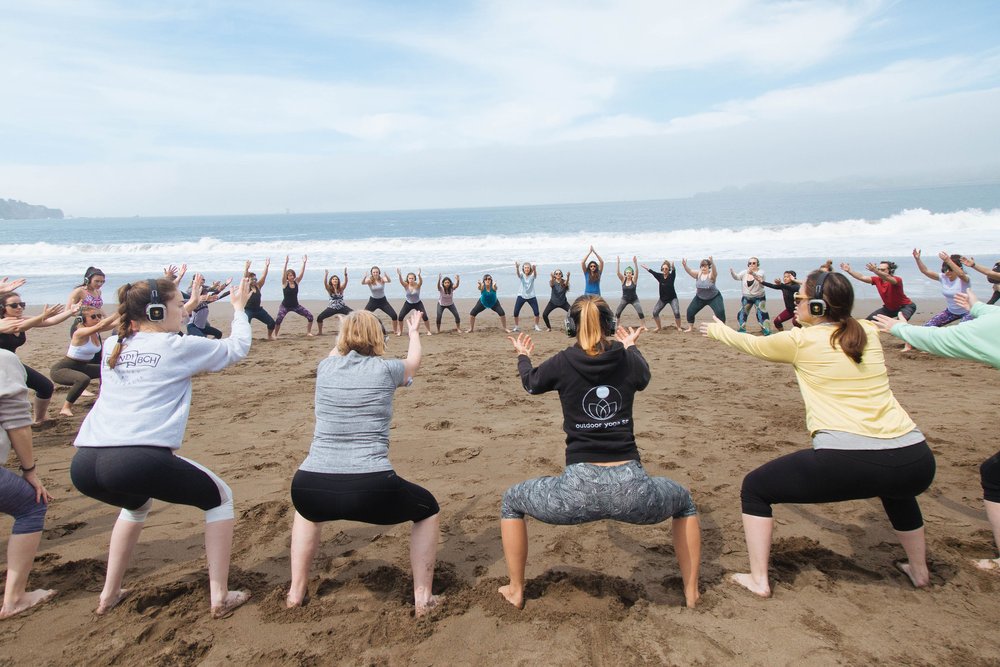 How Global Event Creators Are Adapting With COVID-19 Friendly Activities
COVID-19 has upended the event world, and creators have had to adapt to deliver safe events in new and interesting ways. Read on for some inspiration for new online event ideas, plus tips on designing in-person events that will appease a COVID-19-weary public. Plus, get some insight on how your fellow event professionals in Australia and New Zealand have started reopening safely as COVID-19 restrictions have eased overall.
Create safe outdoor events – even in the cold
Socially distanced events were relatively easy during the summer with some ingenuity from event creators. Wet autumn days and colder winter nights might seem to make outdoor events more challenging, but if you ran out of safe event ideas as soon as summer ended it's time to rethink your strategy.
Think of events that keep participants warm by keeping them moving, like a 5K run or a winter nature walk on a local trail. Even through a wet autumn, a little rain can even be a relief when you're sweating it out on the track. QLA Yoga's outdoor yoga series and hEARTHum's hiking series for women allow people to gather outside while staying apart, and getting some exercise outside is a great way to warm up on cooler days.
Lean into the cooler weather with cosy, seasonal treats. Heat lamps situated on an outdoor patio may allow you to host COVID-19-friendly activities like trivia night or wine tasting. Or invest in some fire pits and let small groups gather around them to listen to a live music performance under the stars. Be sure to check your local regulations about live music performances and food and drink events before you start planning.
Back to the office? Run safe events at work
Across Australia, workers are increasingly returning to on-site work, although it's becoming clear that remote work flexibility is here to stay. While many are thrilled at the chance to head back into the workplace, you can also expect a level of anxiety or uncertainty to arise among staff. After such a long period of isolation and heightened awareness of safety protocols, it will be some time before everyone feels at ease in shared spaces again. You may even find teams take a little warming up to being physically co-located again, especially where there are new members getting to meet the wider team in person for the first time.
Making sure your event communication is clear and comprehensive and can help reassure attendees that you understand safety the protocols required to ensure safe events and workspaces. Plan some icebreakers to help strengthen connections between team members who've gotten used to communicating solely online. It's also worth bearing in mind that the pandemic has been a stressful and hectic time for many, and burnout and maintaining focus are real challenges. When planning your events, ensure your attendees' wellbeing and health are taken care of in any event you run. 
If you're working with a group that still has a strong work-from-home component, you'll be well aware that Zoom fatigue has hit even your most loyal event attendees. It's time to shake things up. Think of creative virtual events for Australians that will get your participants engaged, moving, and talking. Plan some interactive events around merchandise and packages that participants pick up or receive by mail before the event. Host an at-home cooking class and have the ingredients prepped and ready for pickup before you go live, or show off your new coffee blends or local brews by hosting a virtual tasting where participants can enjoy your latest offerings and learn about their backstories. Having something physical to accompany the online event makes people feel more connected.
Organise safe events for the whole family
Rather than targeting just one demographic at your next event, design family events that everyone can enjoy. Families who've spent months adapting to working from home, online schooling, and reduced opportunities for socialisation are keen to get out and about and enjoy some hands-on activities once again.
Outdoor movie nights are a popular option for the whole family. The City of Greater Dandenong has organised a series of outdoor family-friendly screenings, with trained staff and PPE to ensure safety requirements are adhered to. A big screen and open space are all you need to welcome participants in a COVID-19-friendly way. Bring in food trucks and other vendors if your state's regulations allow, or encourage guests to bring their own picnic to create a dinner and movie event.
Consider building your brand by hosting a socially distanced scavenger hunt in your city or town. Create a list of local landmarks and sites that families can discover and check off their list, and then arrange for them to redeem their completed checklist for a prize – whether that's coupons for your business or a branded t-shirt.
Lots of kids love getting involved with fundraising events, and there are plenty of organisations in need of extra support after a rough 2020. Look for ways to combine kids interests with a worthy cause (often, this will also combine outdoor events with family events so it's a win-win for everyone). Paws for Mental Health, for example, brought together the whole family (including four-legged friends) for an outdoor day of dog-centric fundraising to boost mental health awareness and raise funds for Mindfull Aus.
Grow your brand with engaging, safe events 
If event creators have learned anything from COVID-19, it's that adaptability is essential when planning an event. This creativity will benefit your brand even as restrictions are lifted because you can broaden your reach by offering in-person, hybrid, and virtual events in Australia.
As COVID-19 restrictions continue to ease and regulations allow larger in-person safe events, you'll have to continue to adapt and identify lower-risk ways for people to gather.Offering engaging hybrid and virtual events Australia-wide for those who've come to love live streaming events from home (or may be in a snap lockdown when the event is held) is a great way to show you're flexible and dedicated to the needs of attendees. For more information, check out our 2021 event marketing guide to discover the best ways to promote your next COVID-19-safe event during these ever-changing times.