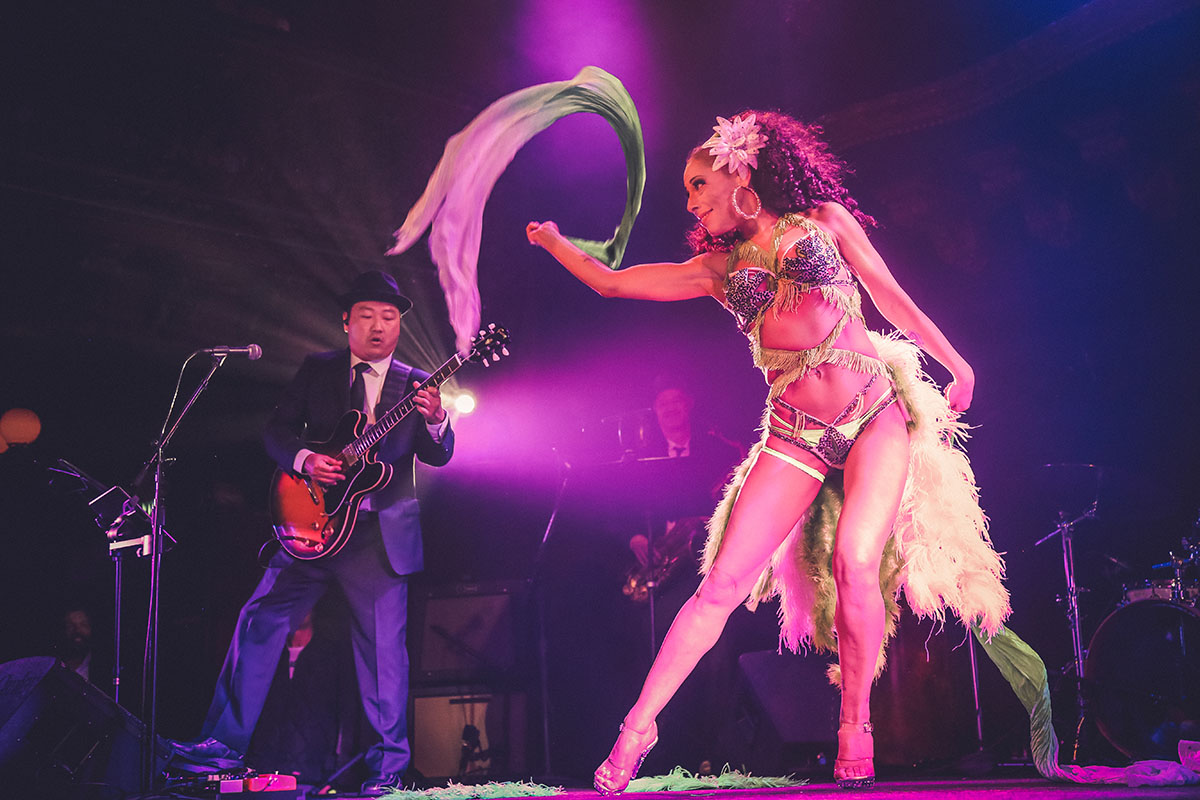 Frills, Feathers, and Phone Screens: How Burlesque is Thriving Online
Burlesque dancers and teachers are virtually shimmying into living rooms around the world for a little celebratory sparkle during these challenging times.
Experiencing a modern burlesque performance, whether you're on stage or in the audience, is something to remember. Most performances happen in intimate quarters, allowing the dancers to truly connect with their viewers. It's this intimacy that makes a burlesque performance so much more than just stripping behind feather fans: It can be an intimate act of connection between performer and viewer. It can inspire people on both sides of the stage to embrace their truest selves.
So what happens when that physical connection is severed?
The lights are out at thousands of nightlife venues across the world while we attempt to slow the spread of COVID-19. But burlesque performers are still bringing all of the glitz and glam — with none of the germs — to virtual shows and classes.
Kellita Maloof, an American performer and instructor with over 20 years of experience in the world of showgirl dance, is fully embracing the digital burlesque landscape. Her Showgirl Awakening classes, which she's now offering online at Eventbrite, teach psychological and spiritual wellness through the lens of burlesque. Participants practice empowering themselves in the comfortable, contained space that burlesque can provide—a stage, music, a costume, a routine—and then are encouraged to use that power in the rest of their lives.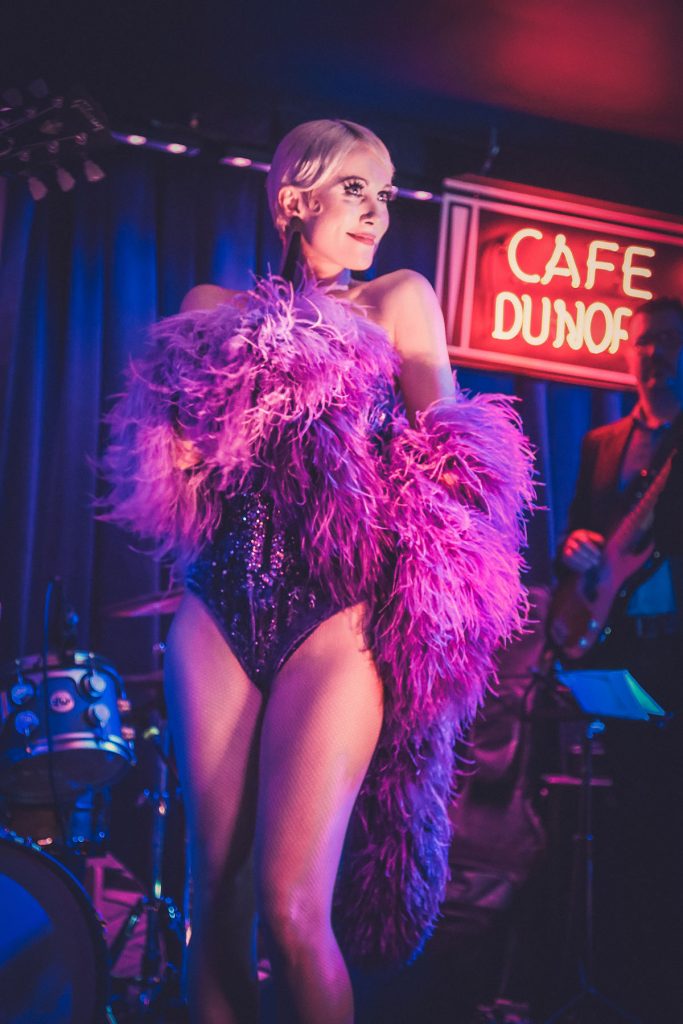 It's a safe practice that might be ideally suited for self-isolation, when millions of people are struggling with feelings of uncertainty, discomfort, and fear. "It starts when the music starts, it ends at the end," she says. "It's contained, it's very specific, and then after it's over, [students] can take [their new-found confidence] out somewhere."
Maloof has taught digital classes on and off over the last decade and believes there's something particularly special about online burlesque classes: the camera. More specifically, turning off the camera.
"The whole thing behind burlesque, for me, is being seen on your own terms," Maloof says. If you've ever been intrigued by burlesque but feel too self-conscious or anxious to go to an in-person class, joining an online class and turning off your webcam can be the perfect way to dip your toe into the burlesque pond. "You can't go into a room and put yourself on invisible, but you can do that online," she says.
If you prefer to be in the audience, tons of burlesque groups and long-time dancers are going online, too. In late March, variety shows like Bootleg Bombshells and Haus of Olive moved to Instagram, showcasing glamorous acts over live stream. Instead of handing out dollar bills between acts, viewers were encouraged to tip performers via cash apps like Venmo. If performing is more your thing, San Francisco's Kind of Blue Revue hosts hashtag-based dance challenges for anyone who wants to whip up a routine to their song of the week.
While long-standing club acts and tenured teachers are transitioning to live stream platforms, cheeky performers are applying that signature burlesque sense of humour to bring new experiences to a challenging situation. You can sign up for online classes encouraging you to "shimmy, shake, and shelter in place," or sit back for the "Quarantine Cabaret" by Los Angeles-based producer Michelle L'amour
During an international crisis, it's easy to lose track of the importance of art and creation. We're worried about the health of our friends and family, the viability of our livelihoods, and the future of our societies.
But it's times like this when burlesque and other forms of expression become invaluable in lifting spirits by inspiring movement, self-love, and sheer joy. Maloof thinks online burlesque events can do more than just help performers pay their rent: they help the entire world cope with grief. "We're helping people come alive, and by helping people come alive, I believe we can help them figure out the big stuff."
Find your event success online
Taking inspiration from the burlesque industry, there are endless opportunities for you to find event success online. You can see how other event creators are making their virtual transition here, and get started with your plan today.