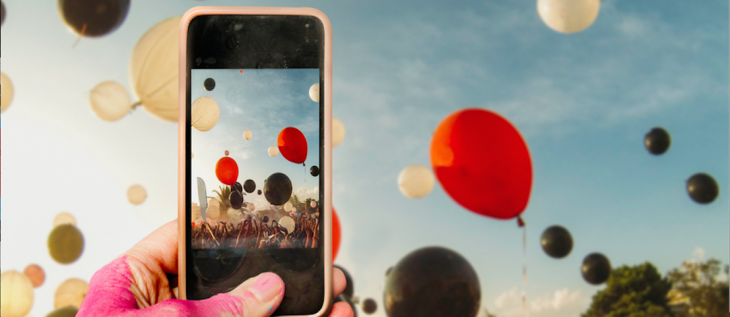 Experiential Marketing: Q&A with Ayni Raimondi of Airbnb
"My philosophy at Airbnb for experiential has always been 'lived by some, shared by many.'"
Experiential marketing. If you're an event organiser, you've heard it a million times. But what does it actually mean? How you can use experiential strategies to throw more engaging, impactful events?
If you're the slightest bit unclear on the answers, you're not alone. There are lots of definitions for experiential marketing and it's sometimes used interchangeably with "live marketing" or "event marketing". At its core, experiential marketing is all about immersing consumers in memorable live experiences.
Sounds a lot like what you already do, right?
In fact, you might already be an experiential marketing pro — because "experiential" and events go hand in hand. Events can be part of a larger experiential campaign — for example, the grand opening of a pop-up shop. Experiential activations can live within a larger event, for things like on-site sponsorship opportunities.
In Part II of our series on Experiential Marketing, we sat down with Ayni Raimondi, Global Head of Brand Activation at Airbnb, to get her take on what experiential means to her and her brand. Read on to find out how you can use her experiential marketing insights to make your events more engaging and impactful than ever.
What is "experiential marketing", in your words?
Experiential marketing typically shows up in three ways, all creating personal interactions with your brand. The first is a branded event focused on engaging people offline, in the real world. This is the brand talking directly to the consumer 1:1, or 1: a few, which often results in increased product trial or word of mouth.
The second is when you create a brand presence at an offline event to earn attribution but generate less of an actual interaction with consumers; for example, if you were to sponsor an event and have logo placement.
Finally, experiential can leverage a crafted experience for just a few people, with the goal of creating content that scales engagement by sharing via advertising or social distribution. In this way, an intimate experience becomes above-the-line advertising that engages the masses.
How long have you been in experiential marketing, and how has it changed?
About 12 years ago I started doing experiential marketing, but we didn't call it that at the time — we called it "event marketing" and "influencer marketing." We were thinking about ways that you can bring your brand to life for consumers outside of advertising. I've never worked in sampling, so the idea was that people who experience that moment you've created can then leave with a brand story to tell on their own. The biggest outcome for experiential a decade ago was word-of-mouth and social proof — which is difficult to track and really hard to sell internally. It was challenging to convince executive stakeholders that experiential marketing had value. My team had to demonstrate that experiential really does cut through the noise, as opposed to a passive experience where people feel "talked to."
Experiential marketing has grown from a hard-to-sell marketing tactic to a red-hot trend. What do you think caused this change?
Experiential really used to just be sampling products — through street teams and field marketing. Then it came to mean parties and events, where someone could have a "brand experience". I think that is still part of what experiential is, but increasingly, it's about crafting experiences for real people — not just so they can have a great experience, but so you can capture content of them having that experience, and share it through advertising or social. My philosophy at Airbnb for experiential has always been "lived by some, shared by many." Today that "many" you reach through the experience you build for "some" increasingly scales; every consumer has the megaphone of social media to speak to their networks through. Social also has finally given us a means to track ROI.
What are some of the things that you learned as your brand expanded globally?
All brands have to make a choice: Is it more important to show off deep local insight, or to have global consistency? Our constant challenge is how to do both. Unless your budgets are massive, you can only scale globally with consistent assets. But without deep local insights informing your experiences and content, you lose the resonance in market of feeling like a local brand. With events, there's an opportunity to show up on the ground in a way that's informed by local insights, but ladders up to global campaigns. Experiential can be a key channel for finding the balance between global and local.
Can you give an example of a blooper or a win you experienced as Airbnb went global?
Oh yes, I have a blooper! I was doing an event in Seoul, Korea. Terrariums were a huge trend in our North America and EMEA markets at the time, so I assumed that terrarium-making stations for Airbnb hosts to beautify their space was a tactic we should keep consistent for our Seoul event — but we would localise with local seeds and native plants. As it turned out, at events in Korea, attendees are not likely to go up and just self serve because it's considered rude. So we had this beautiful station (that I spent a chunk of budget on!) that we expected people to help themselves to at their own time…and nobody used it. Afterwards, we found out through feedback from attendees that they would have loved to, but needed someone to actually walk up to them and invite them to participate. So it could have worked, but since we didn't look for the local insight first, it was just a flop.
How do you measure the impact of experiential marketing?
First, the easiest way to measure and show off a number is through the social expressions you earn. What are people sharing from the event itself? This makes introducing a hashtag or handle to attach to the event key in your messaging.
The second is by surveying people who've attended an event or tracking their behavior with your brand following the experience. Surveys, in my experience, are best for tracking sentiment, and product use for tracking lower-funnel intent. We use surveys to some extent, and then we also track how event attendees are engaging with our product.
Finally, if we created shareable content capturing someone's experience, we look across engagement metrics. If the distribution is via social, we look at:
How many people are engaging with that content?

How many people are sharing that content with their friends and in their feeds?

How many people are talking about us organically on the same topic?
Do you think we're peaking on the experiential front, or will it get even cooler next year?
It will definitely get cooler next year, for a few reasons:
Companies and brands are investing less in traditional advertising and traditional media and more in ways that they can cut through the noise.

I think that experiential will continue to grow, but in partnership with social. You can't just create events anymore; they have to carry word of mouth and create conversation on social media.

Technology is getting so cool

and one of the ways to experience technology is through events, by making things that people don't normally have access to available. Virtual reality is becoming more popular and a bigger part of experiential, as film and offline experiences come together.
Experiential marketing will show up more and more at moments of mass congregation. Even for events like SXSW or Sundance — places where people traditionally went for one reason — brands and their experiential offerings have actually become a part of the event's reputation; they can potentially add as much value as the event programming itself for the consumer.
New to experiential marketing? Check out how Spicers Retreat's recreate their regional dining experiences with Chefs in the City.