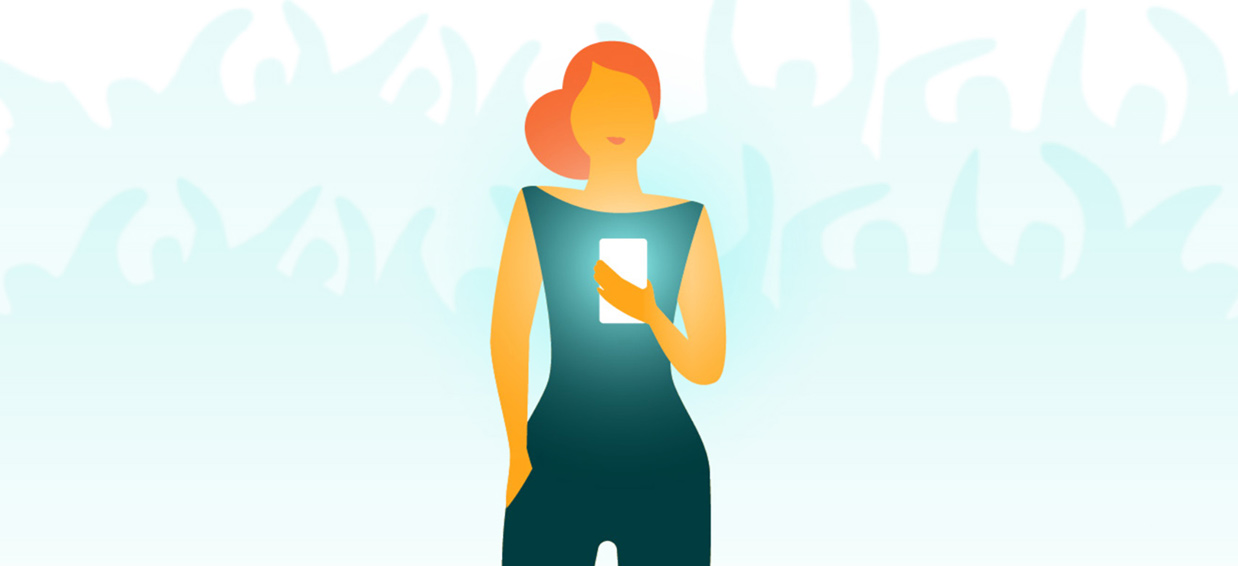 The Secret Sauce to Increasing Mobile Event App Engagement
Nearly all your attendees downloaded the mobile event app. But when the doors open and the event begins, no one is using the app — and you're left wondering what went wrong.
A mobile event app can help your attendees feel connected, informed, and confident at your event. However, the benefits of an event app are directly related to how much time and resources you and your staff put into yours.
To drive meaningful engagement and increase the amount of active users of your mobile event app, use these five tactics.
1. Encourage conversations and interactions
Events are inherently social — both in real life and online. There's plenty of buzz, content, industry news, and more to inspire discussion. So make sure your app makes it easy for attendees to share interesting content and socialise with one another.
For example, if your mobile event app has an activity stream or news feed, that's where your attendees will look for recent announcements and interesting posts from other attendees. For this to work, though, your activity feed needs to be populated with content.
Pro tip: To ensure your app's feed isn't a desert wasteland, make sure to appoint a staff member to post content and engage with attendees before, during, and after your event.
2. Provide relevant updates and reminders
Another gem of mobile event app engagement? Push notifications, which allow you to send important updates to attendees' home screens, even if the app isn't active. These can be anything from an alert reminding them of an upcoming session to a notice of any changes.
For push notifications to be effective, though, you need to find the sweet spot between too many notifications and just enough. To do that, you can measure engagement and map it against frequency, which will help you determine the frequency at which engagement starts to drop off.
Pro tip: Use a mobile event app that allows you to send push notifications to the entire audience, specific groups, or even individual attendees. If, for example, you want to remind VIP guests about the networking event later in the evening, this would let you to send it directly to attendees with a VIP pass.
3. Create personalised networking opportunities
75% of event attendees identify themselves as having a 'strong interest' in networking. So make sure your mobile event app has networking functionality.
Networking and messaging features offered by mobile event apps, however, can differ wildly. Some offer matchmaking algorithms or proximity sensing to help attendees make connections, while others leverage established social networks like LinkedIn. Some even help attendees book meetings before your event begins or provide attendees with a searchable directory.
But don't get lost in a sea of networking features. Instead, find ways to encourage attendees to connect with others. A sponsored lounge where attendees can enjoy a cup of coffee, for instance, can incentivise your attendees to rest and connect with like-minded individuals.
Pro tip: Because most attendees are looking for a simple way to swap contact details, your event app should provide that at the bare minimum.
4. Invite attendees to join the conversation
Live polls and real-time Q&A are a powerful way to boost audience interaction and gain valuable feedback about whether you've succeeded in providing the experiences attendees want. But if you want to get the most out of asking your audience what they think, timing is everything.
Q&A tools, for example, are appropriate for panel discussions. Polls, on the other hand, can be sent out anytime during your event to gauge how people feel in general or after particular sessions. And remember to keep you questions succinct and easy to complete.
Tip: Get buy-in to use Q&A features in your event app from session moderators, so the experience between attendee and speaker is seamless.
5. Gamify your event
A common misconception about event apps is that attendees will be too busy looking at their phones to network or engage in sessions. The truth is, if done right, your event app can encourage participation — via the app and in person, all in a seamless way.
Games and contests can be a fun way to get people engaged because they build excitement and encourage interaction. Most games created for events utilise some sort of rewards-based system, whether that's the glory of making it on the leaderboard or a prize from a key sponsor.
Tip: For gamification to work at your event, it needs to provide value for attendees, so don't include a game for fun's sake.
How to get the most out of your event app
A mobile event app can be your secret weapon for driving engagement with your audience, but it also requires a significant investment. Discover why industry pros think it's worth the budget in Beyond the Features: Getting the Most ROI Out of Your Mobile Event App.