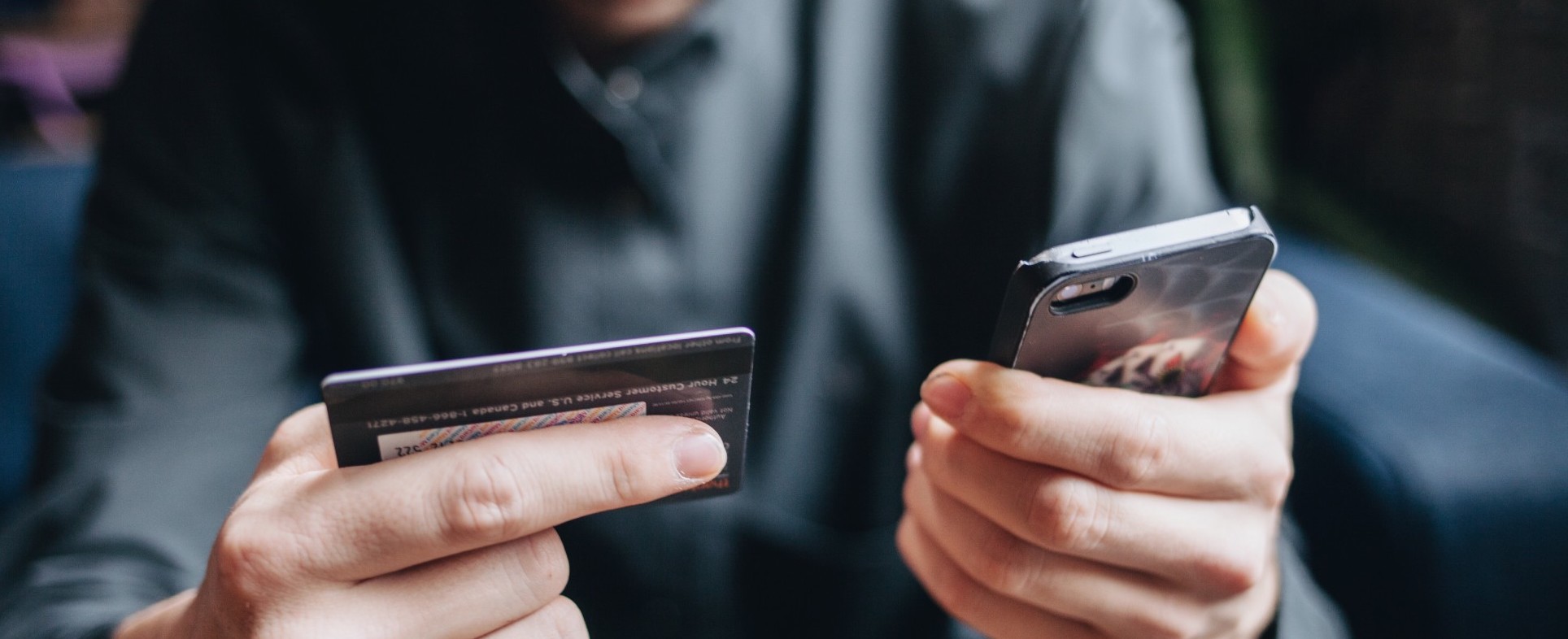 Ticketing Ecommerce: 3 Trends That Can Improve Your Ticket Revenue
This post is authored by Brad McIntyre, Country Manager for Eventbrite in New Zealand
Even if you have a sell-out event, there are ways to increase your ticketing revenue in 2018. What if, instead of spending more money on marketing, you looked at ways to convert the existing traffic your event already attracts? The higher your conversions, the more money you make — without forking out any additional spend.
There's a lot event organisers can learn from trends in ecommerce, because although we often view retail and ticketing as separate types of transactions, online purchasing behaviour influences how people buy event tickets and registrations. In fact in New Zealand, entertainment is one of the top five categories that dominates online shopping spend, with Kiwis spending up big on tickets to live experiences and shows (source: Nielson).  
Online retailers know that to stay profitable, there needs to be a strong focus not just on driving traffic to your site, but to increase the opportunity to convert to sales at every chance possible. Here are some current trends in ecommerce and the take-home advice you can use to increase ticket revenue in 2018:
1. The rise of m-commerce
When searching for things to do or buy, most people start with mobile search. Until recently, conversion into sales has been poor, because mobile shopping experiences have been clunky and unreliable. Today, mobile commerce (or m-commerce) is experiencing rapid growth and those that are providing a hassle-free experience are being rewarded.
Here are some staggering statistics from the recent online sales that show the global trend in mcommerce:
During China's record-breaking Singles Day sales, online retailer Alibaba said

90% of sales were made on mobile

. This is up on 82% for 2016 and 69% in 2015 (Source:

TechCrunch

)

In the US, mobile sales had its first $2 billion day on Cyber Monday. The conversion rate on smartphones was up 10.1% to a rate of 3.5% (source:

Adobe Digital Insights

)

Ecommerce platform,

Shopify

, said

66% of orders on Black Friday were made on mobile phones or tablets

, pushing desktop orders down from 42% last year to 34% this year
Take away for event organisers:
Mobile use is ingrained in our everyday habits and increasingly, people are more comfortable using their devices to make purchases and complete transactions. The more mcommerce increases in the retail sector, the more likely attendees will be to adopt this habit as "the new normal" and seek to buy tickets on mobile too. In fact, airline app ticketing is the most established in terms of user adoption on mobile, followed by events ticketing (Source: Juniper Research). It's estimated that nearly 23 billion transport and events tickets will be purchased globally using mobile devices by 2020, double the rate from 2016.
2. Reduce the path to purchase
The more sophisticated ecommerce and mcommerce becomes, the higher the expectations people have that their transaction should be smooth and hassle-free. There's a reason why successful retailers like Amazon and Apple have 1-click checkouts. Studies have shown that each additional step in a checkout process results in a 10% decrease in transactions. The easier it is to buy, the more likely people are to complete a purchase.
In ecommerce, around seven out of ten people start but don't complete their purchase. The top three reasons for abandoning a sale are:
Unexpected costs (such as high shipping or hidden fees)

Being forced to create an account

Too long/complicated checkout process
The takeaway for event organisers
All of these issues apply to ticket purchases — and they can be easily overcome. Ensure your website or ticketing page has a simplified checkout process that minimises the steps taken to complete a ticket purchase. You should also ensure that any additional fees from your ticketing provider are communicated upfront, as the number one reason for abandoning a purchase his hidden costs discovered at the end.
We have seen first hand the difference reducing the checkout process can make for event organisers — Eventbrite's simple, two-step checkout leads the industry with 4x the average conversion rate for e-commerce.
3. Selling on social media
The latest trend increasing ecommerce sales is not driving more people to your website — but rather selling to your audience where they are already browsing. The practice, known as distributed commerce, describes the 'Buy Now' buttons on platforms such as Facebook and Pinterest.
Take away for event organisers:
We all know likes on Facebook don't always translate to sales, but they could if you used your Facebook fan page to sell tickets directly to interested fans.
Music Festival Rhythm & Vines are trialling the Facebook Checkout integration for their upcoming 'Road to Rhythm' events (pictured below). They sold 50% of their early bird tickets directly through Facebook, instantly capturing their engaged social media fans who were eager to snap up a bargain.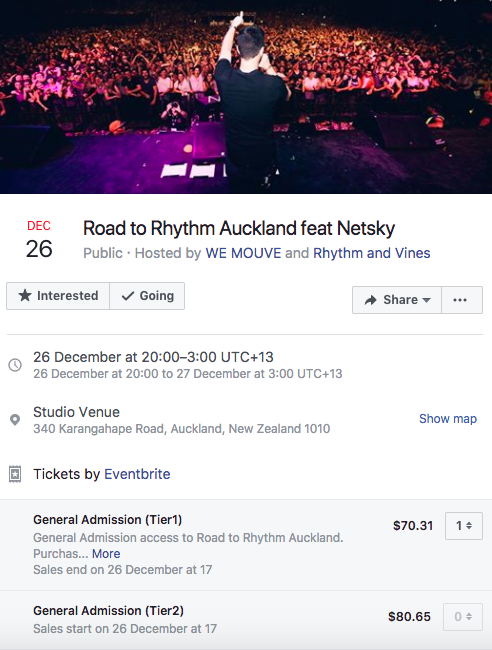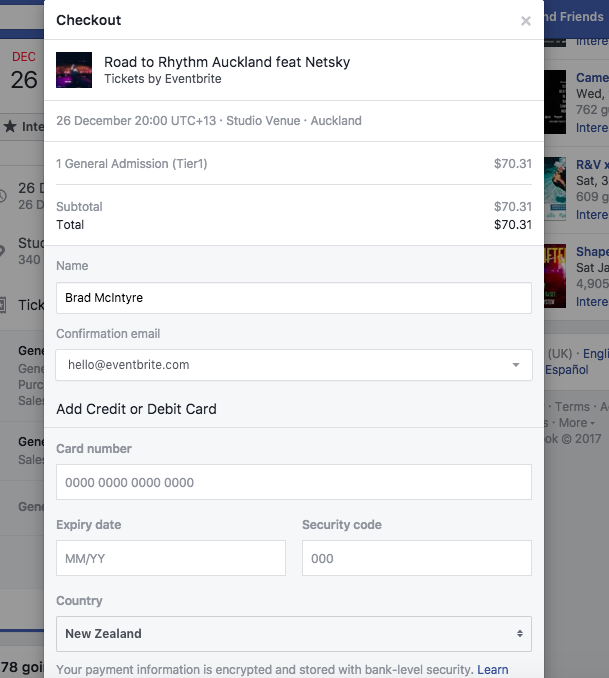 As you can see, this is also a simple, two-step checkout process that starts instantly from the Facebook Events page — reducing friction and driving revenue without spending any extra money.
Where to learn more
If you would like to learn how to reach more people and sell more tickets, you can learn more about event distribution here, or connect with me on LinkedIn.