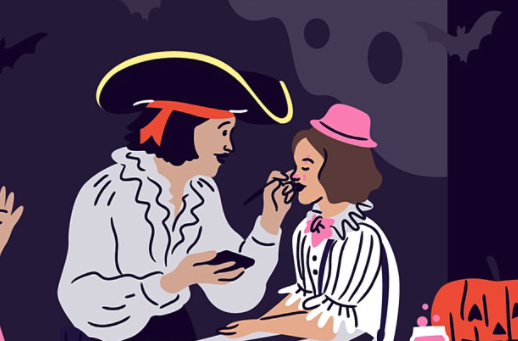 19 Halloween Party Ideas: It's Not too Late to Plan Your Spookiest Event Yet
Engage your audience with festive
Halloween party ideas
, even if you don
'
t have a lot of lead time to organise a complicated event.
People are eager to get back to events, so it doesn't take a lavish or expensive idea to attract attendees. Focus on
Halloween events
with an activity that brings people together and would most excite your target audience.
Halloween is a social holiday, so make sure you give your attendees the opportunity to mingle and enjoy their time together. This is true for
virtual Halloween events
as well; don't forget to give your attendees opportunities to connect via chat features or video. Crafting activities work well for virtual events. They give your attendees the experience of participating in something with others even when connected by their computers instead of in person.
If you still need some help coming up with
Halloween theme party ideas
, we've gathered19
Halloween party planning
ideas that can fit your budget and your timeline. Whether you're entertaining children, adults, or both, we have
Halloween party ideas
that will help get your creative juices flowing.
Halloween party ideas
for children and families
Family-friendly events can sometimes be tricky (pun intended) because you are often trying to balance the needs of both children and adults. Some of the best
Halloween party ideas
for kids include activities that encourage adults and children to interact — or those which give parents and guardians a little time to relax while the kids are burning off their Halloween sugar high.

1. Kid-friendly movie screening
Halloween events
for kids don't typically lean into the scary aspects of Halloween, so it's great that there are lots of Halloween movies that have been made with children in mind. Throw an intimate movie night with some close friends and enjoy Halloween cocktails or your favourite horror film in one room while the kids take in a fun movie written for them. If you're throwing a larger event and the weather is warm, consider setting up a projector screen and encouraging families to bring their own chairs and snacks for an outdoor movie night.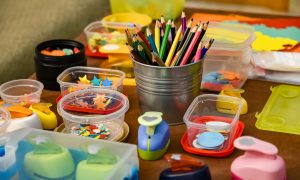 2. Themed arts and crafts
Crafting activities are versatile — they can be the central part of an event or they can be just one option for your attendees to enjoy. These are also the kinds of
Halloween events
that can easily be taken online. When hosting an online crafting event, decide whether you'll be mailing the necessary materials to your attendees beforehand or giving them a list of what they need to pick up. Crafting also isn't age restrictive; you're sure to find projects that appeal to whatever demographic you're targeting.

3. Cooking events with a Halloween twist
Appeal to budding and experienced chefs with a spooky cooking or baking class. Teach your students how to make homemade versions of popular Halloween candies or get creative with Halloween-themed meals and snacks. Cookie and cake decorating classes are easily adapted for any holiday or theme and are a great hands-on experience for all ages. This is another kind of event where you will want to either give your attendees a list of materials to collect or arrange to have the ingredients provided for your attendees.

4. Have a pumpkin carving station at your
Halloween block party
For some families, carving pumpkins together in the fall is a yearly tradition. Host an in-person or
virtual event
where you provide tips and tricks for carving and help your pumpkin artists create the gourd lantern of their dreams. If you're throwing a
Halloween block party
this year, encourage your neighbours to bring their own pumpkins out so they can carve while they socialise. There are lots of free carving patterns available on the internet that you can print bring to your party for attendees who need some inspiration.

5. Autumn-themed farm tour
Did someone say hayride? Enjoy the autumn weather with a trip to a local farm. Families can pick pumpkins and apples and snap pictures together as they make memories. Some farms have animals that the children can meet and feed, and many orchards have wineries and breweries attached for the parents. Support farms near you by encouraging attendees to browse the fresh produce and homemade products many farms sell at their shops before heading home.

6. The classic Halloween event idea: a costume party
The most classic of all
Halloween party ideas
is simply to throw a great costume party. Encourage children and their families and friends to dress up and come out to enjoy food, dancing, and other activities. Organise a parade or fashion show for children where they show off their costumes and have fun doing it. Give out costume prizes at the end of the event for things like best group costume, most creative, funniest costume, and whatever other categories you can think of.

7. Spooky scavenger hunts
Is your
Halloween party planning
for a group of kids with endless amounts of energy? Send them on a Halloween scavenger hunt that will have them looking for spooky clues, and that will tire them out in the process. These kinds of
Halloween events
are great for outdoor or indoor events where there's lots of space, so you can place your clues father apart and allow your guests to run around as they race to find each one.
We're saying this is a Halloween event for kids. But let's be honest, who doesn't love a party you can bring your pet to? Organise a pet costume party where children are encouraged to come in coordinating or matching costumes with their pets. Similar to a typical costume party, consider incorporating a parade or fashion show where the children can show off their looks. Provide snacks for both the humans and the pets attending so no one goes home hungry. In order to keep everyone safe and happy, encourage pet owners to keep their pets on a leash at all times.

9. A creative classroom celebration
Even if Halloween falls on a weekend, children and teachers alike can enjoy celebrating the holiday with a classroom party. Ask parents to send their children to school with some pre-packaged, themed treats to share with the class, encourage costumes, and plan activities or crafts for the students to complete. A holiday party gives both students and teachers a break from their normal studies.
Halloween party ideas for adults only
Lots of
Halloween party hosting ideas
for adult-only events include themed cocktails and some scarier elements that wouldn't normally be incorporated into kids' parties. It's important to think about your particular audience when you're planning a grown-up event. Not all adults are fans of horror movies or costume parties, so get creative and consider the kinds of activities that will delight attendees.

10. Creepy cocktail night
Get in the mood for some witch's brew. Throw a Hallo-
wine
event and organise a wine tasting with a Halloween theme. If wine isn't your potion of choice, you can host tasting events for beer or your preferred spirit. If your attendees love cocktails, plan a mixology event where guests learn how to make Halloween-themed cocktails, and then get to enjoy them.

11. Horror movie double feature
Refresh your list of
scary Halloween party ideas
. Horror movie enthusiasts love to watch scary movies on and around Halloween. In-person parties can take place outside with a projector after dark or inside if you have the right venue. Consider planning a double feature where you play a classic horror movie and a newer movie that has similar themes. Virtual watch parties are a great way to connect attendees who are unable to or choose not to attend in person.

12. Not-so-scary singles night
Dating can be scary, so embrace the fright and throw a Halloween singles night for your attendees who are looking for love. Help your daters break the ice with themed cocktails and party games that create a spooky, but not frightening, environment. Organise a speed dating portion of the night if your daters are shy, put together a costume contest, or just let your attendees mix and mingle.

13. Murder mystery dinner party
Plan an interactive murder mystery event for true crime enthusiasts and guests who love solving riddles. If you're trying to come up with
Halloween party ideas
for a particularly outgoing crowd, a murder mystery can be a fun alternative to a regular dinner party. Send invitations to attendees that specify the characters they will be playing at the dinner and include any information or props they need beforehand. Enjoy the intrigue as the mystery is solved over the course of the event, and come up with a prize for the attendee or team of attendees that figures everything out first.

14. Haunted houses and hayrides
If your guests love a jump scare now and again, check out local haunted houses and hayrides for an in-person experience that will get their adrenaline pumping. Encourage attendees to come in couples or groups to add to the fun, and so they have someone to grab onto if things get too scary!

15. Ghost tours
A ghost tour could be just right for your guests who like history, storytelling, and a little bit of fright. Historical towns or landmarks often host tours, especially around Halloween. Some tour guides will wear period dress and assume a character depending on the tour location or the era the ghost stories are from. Arrange to decamp to a bar or restaurant with the group afterward to discuss the spooky tales.

16. Connect with spirits through a séance
If you're planning an event for an intimate group that is interested in slightly
scary Halloween party ideas
, reach out to local mediums who would be able to facilitate a séance. You can host this event in a home, restaurant, or perhaps a local historical site that will allow it. Serve themed drinks and food while your attendees try to make contact with the other side.

17. Zombie race
Turkey Trots aren't the only holiday-themed races out there. Organise a Zombie run for charity and give guests the opportunity to do good, exercise, and have some fun. Encourage runners to come in their best Zombie costumes so they can shuffle their way across the finish line and refuel with some brains…or candy.

18. Local pub crawl
When it comes to Halloween social events, pub crawls can work in a surprising number of situations. Hopping between local bars and restaurants in a particular town or city can be appealing to visiting tourists, locals, and people who have recently moved to the area and are looking to make new friends. Work with
local vendors
who are interested in participating and generating some extra holiday revenue and introducing their business to potential new customers.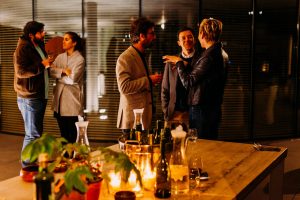 19. Team building at the office party
Halloween office party ideas
don't have to be boring. Whether you're working in an office or meeting on video calls, encourage employees to wear a costume or other festive Halloween attire. Organise a virtual costume contest and have participants send in photos of their costumes. Do some Halloween-themed team-building with a trivia contest. Different departments or teams can work together to answer questions about scary movies, historical Halloween facts, and popular trends.
Ready to sell some last-minute Halloween party tickets?
If you've got your event planned out but you need to start selling tickets yesterday, consider Eventbrite's
ticketing service
. We make it easy for you to offer different ticket types, sell your tickets right on your website or Facebook page, and more.
Many creators want to plan a virtual Halloween event but don't know where to start. Or they want to step up their approach to virtual events. Our
virtual events platform
can help you make your Halloween event idea a reality. With our platform partnerships, ticketing system, and analytics, we can help you pull off a successful and spooky event and learn how to make your next one even better.