How ARC @ UNSW Uses Eventbrite To Create a Thriving Campus Community
How ARC @ UNSW Uses Eventbrite To Create a Thriving Campus Community
Arc @ UNSW is an not-for-profit organisation that coordinates student activities at Sydney's University of New South Wales. On the team for over a decade now is Shelley Valentine, Director of Student Services. Shelley has witnessed a shift in the type of events her members are wanting – and needing – during their time at university, and has worked to remain connected with emerging trends in the student space. As the UNSW student body diversifies, so must the type of events Arc puts on offer. At present, they run everything from the much-hyped student parties, to trivia nights, Orientation Week tours, information sessions, Sydney city tours, 'How to Adult' sessions, and fundraising events. These events vary from just a handful of people with free ticketing, to large-scale events with tickets selling for $500.
In a world where much of a student's social life is lived online, Shelley and the team at Arc are working hard to ensure UNSW maintains a vibrant student social space. Arc moved their ticketing across to Eventbrite in mid-2016 and have been amazed at how much more it could offer from streamlined organisation alone. Thanks to the detailed data on offer, they were also given brand new insight into who attends their events, and what events they are searching for.
So whilst beer-chugging pool parties might not be extinct just yet, Arc is realising that students are actively looking for more out of uni events – such as mentoring, city tours, and even legal advice.
Eventbrite has allowed Arc @ UNSW to:
Streamline their event technology across all categories
Collect and analyse rich attendee demographic and behavioural data
Streamline event-day management
Identify shifting trends in event popularity
Take event interaction online
Foresee inconsistencies or issues with crowd type or size
Remain relevant with the mobile-native student population
Want to use Eventbrite to power your campus events? Contact us by 

getting in touch here

 or calling 1800 820 172 (AU) / 0800 448 422 (NZ)

Save time and optimise marketing ROI
Shelley says that before migrating the entire Arc organisation across to Eventbrite, they were using up to four different ticketing providers. This included different solutions for sporting events, their onsite bar, and their campus events. "It was confusing for everyone!" says Shelley.
Operating several different systems wasted a lot of time, and trying to compare results was like apples and oranges. Arc struggled to pinpoint exactly what was driving their ticket sales.
Solution:
Deciding to use Eventbrite for all Arc activities meant that they were able to evaluate the data holistically, and identify trends that would affect their budget as a whole. For example, Arc was able to see that the majority of their ticket sale conversions weren't actually coming from their email campaigns as originally thought, but from their social media channels. Using a single ticketing program also gave the Arc events a great sense of cohesion. Students were no longer confused about how to buy tickets, or what was required for an event – it was all set up with a uniform structure.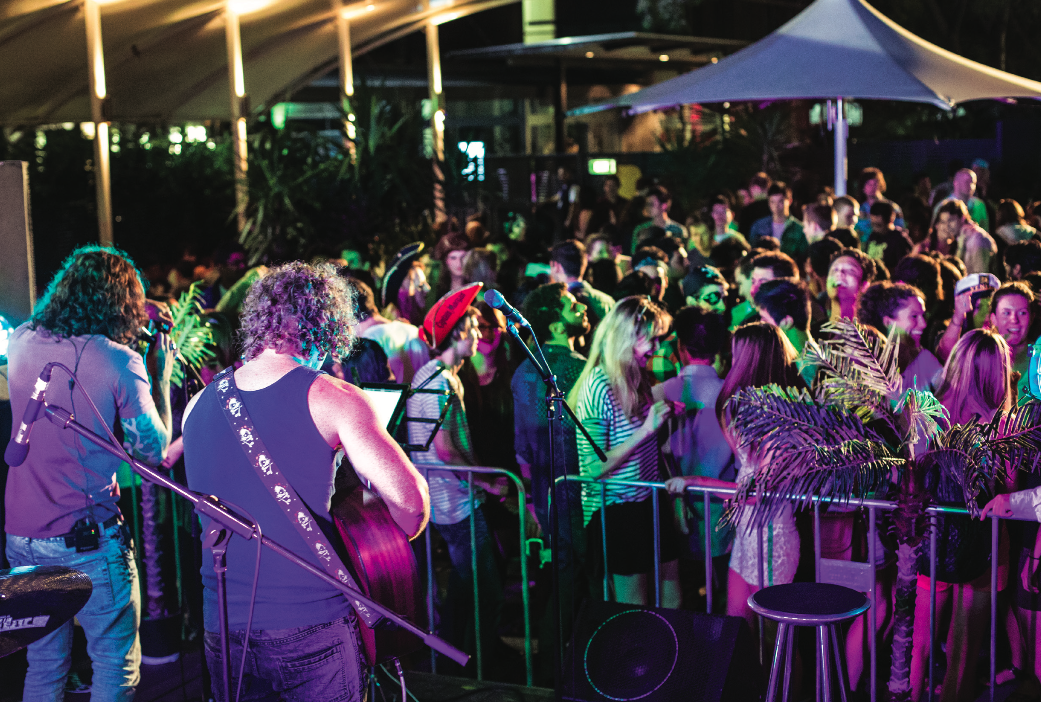 Engage a broader range of students
The demographic of the UNSW student population is changing dramatically, and Arc were struggling to keep up with what their members were looking for in uni-related events. As numbers dwindled in their more 'general' events, such as trivia nights, Shelley said they were needing to pinpoint more specific niche interests. "There is the classic student that comes here in their first year and they're ready to party party party!" says Shelley. But she notes that there has has been a significant change at UNSW, with the cohort becoming more diversified thanks to a greater input of international students, who are less enthusiastic about partying, and more concerned with settling into Sydney and finding strong academic mentorship. "Because we're a non-profit and we do have limited funds, we need to create events that will generate high participation," explains Shelley. "The students have interests that are so niche now that it can be difficult to gather interest in events that appeal to a broad range of students. The broader events aren't going to bring the students together." In short, there's no point marketing to a 'stereotypical' student – because they just don't exist.
Solution:
By taking advantage of Eventbrite's direct integrations with SurveyMonkey and MailChimp, Arc was able to converse with the UNSW students about what they were looking for in events, as well as use the Eventbrite data to review what was working and what wasn't. It also provides further insight in regards to targeted marketing online and creating niche events that will bring in the crowds.
"Now that we're understanding what faculty, gender, and age group these attendees are – that is, what specific student identity is coming – we can market the events better. We've seen our conversion rates improve because of this".
Shelley Valentine, Director of Student Services, ARC @ UNSW

Streamline attendee check in
Arc relies heavily on the help of student volunteers to assist with the rollout of events. Previously, Shelley and her team had to either print out a list of attendees to manually mark off, or hand over admin control to a volunteer – which was less than ideal. Sharing admin capabilities with a student had potential privacy issues and meant less control over who was managing the back end of the event.
Solution:
Thanks to the free Eventbrite Organiser app, Shelley can now segment events off to volunteers to manage autonomously from a smartphone on the day of the event. By simply giving them a code that pertains to that event only, volunteers can scan tickets and check people in without needing back-end access to the entire Arc system. This has allowed them to put more events on the app and collect more data from these volunteers.
"The thing we really like about the Eventbrite Organiser app is that you can give people access to specific events. That way we can send student volunteers out to the event to check people in, and still get the data, without having to give admin access."
Shelley Valentine, Director of Student Services, ARC @ UNSW

Key results:
By consolidating all of their ticketed events onto the Eventbrite platform, Arc was able to streamline their events program. This allowed them to collate all event data quickly and easily, and extract richer data insights, while cutting down on the time spent managing their events.
Thanks to Eventbrite's seamless integrations with Mailchimp and SurveyMonkey, Arc was able to save time on a number of important event tasks while developing a greater understanding of their audience and how they feel about the events that the team puts on. This data directly impacts the future direction of their events program.
The Eventbrite Organiser app has given Arc full control over their event management, all from the palm of their hands. Now they have the ability to delegate certain tasks – such as attendee check in – over to their student volunteers with ease, without also needing to handover confidential admin access.
Want to use Eventbrite to power your campus events? Contact us by 

getting in touch here

 or calling 1800 820 172 (AU) / 0800 448 422 (NZ)