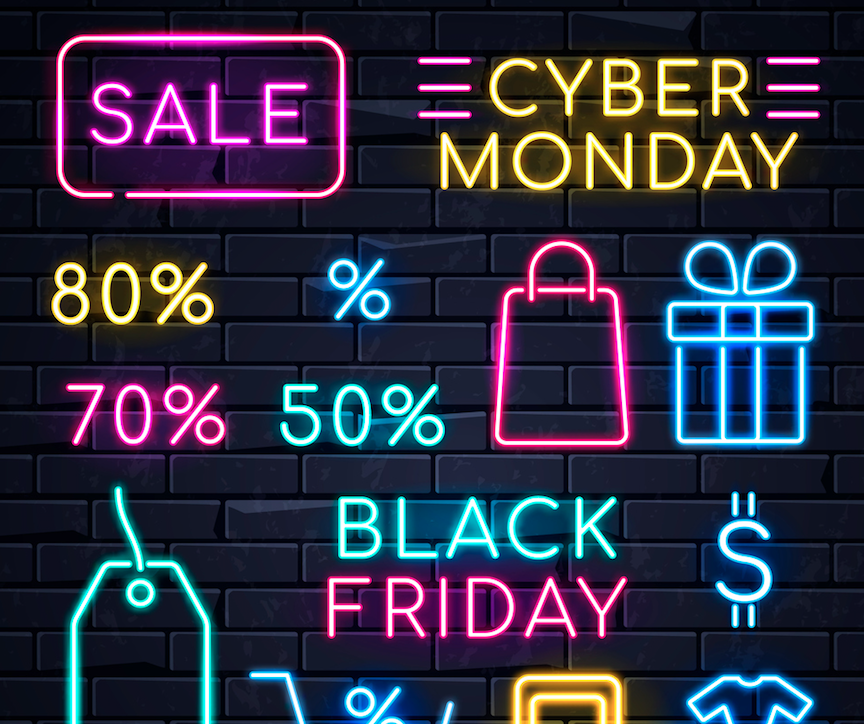 How to Create Black Friday Discount Codes for Your Event
Having travelled across the water from the US, Black Friday has become an integral part of many retail marketing strategies – both offline and online. But can you apply it to the events industry? In short – yes. For event creators, using Black Friday discount codes is a fantastic way to boost sales. Everyone appreciates a great deal. And offering discounted tickets for one day only will encourage attendees to snap them up while they have the chance.
This year, Black Friday falls on Friday, November 26. We'll tell you what it's all about, how it first started, and – most importantly – how you can use it for your event. From offering a set percentage off tickets to releasing a new deal every hour, there are several types of Black Friday discounts to choose from. Whichever one you go for, we can help you set it up and start selling straight away.
Where does Black Friday come from?
There are different theories here – one is that Black Friday refers to October 24, 1929, the day of the New York stock market crash. Another theory is that the phrase "Black Friday" originated in Philadelphia in the 60s, when the police used it to refer to the congestion on the roads after Thanksgiving. Meanwhile, some Americans say that it was chosen by retailers simply because it's the bridge between Thanksgiving and the weekend.
Today, people around the world use Black Friday to start their holiday shopping and grab bargains from both online and offline retailers. Plus, holding a Black Friday event is an effective way to start the festive season with a bang.
When is the Black Friday event?
Black Friday traditionally takes place on the Friday after the US Thanksgiving celebration. Thanksgiving is usually on the fourth Thursday in November – so this year, Black Friday falls on November 26. Cyber Monday – originally started in 2005 to encourage shoppers to spend online – follows after the weekend. Some retailers offer online discounts on both Black Friday and Cyber Monday, or even advertise offers that are valid for all four days.
How do I use Black Friday discount codes for my event?
Although Black Friday is famous for being used by retailers, it's also a great way for event creators to increase ticket sales. Discounted tickets are appealing to people, so you're likely to see a boost in overall sales, even if you're achieving a lower profit per ticket. Plus, Black Friday discount codes are simple to set up on Eventbrite. Once you've set it up, promote the offer via social media and encourage customers to buy before it's too late – no one wants to miss out on a bargain.
And it's not only about sales. Black Friday is also a fantastic opportunity to reach new customers. If they purchase a discounted ticket, you'll be able to promote future events to them and they might become a repeat customer.
What types of Black Friday discount codes are there?
There are lots of Black Friday event ideas to play with, so feel free to get creative. And the first step to setting up a Black Friday discount is deciding which type of offer you want to go with. Whether it's choosing a standard percentage off or offering a free gift with every ticket, there are a number of different types to choose from:
Standard percentage discount

A new deal every hour

Freebies with each ticket purchase

Exclusive discount for subscribers

Special group discounts
Take a percentage off your ticket price
Taking a percentage off is a tried-and-tested method of discounting. "How big are the discounts on Black Friday?" we hear you ask. Well, the percentage can vary depending on the product. So, when calculating a Black Friday discount percent, you want to make sure it's an offer that no one can refuse. That means 5 to 10% discounts may not cut it. One way of encouraging sales is to set the discount for a limited time only. For instance, you could state that only the first 30 buyers will receive a 75% discount.
Add new deals throughout the day
To make things even more exciting, perhaps you could set a new deal every hour during Black Friday. With so many different deals on offer, your potential customers will be sure to find one that appeals to them.
Provide freebies with tickets
Everybody loves a freebie, so why not offer a gift with every ticket? This way, you can sell tickets at full price, but with a one-time only incentive.
Offer special discount to email subscribers
You could also use Black Friday to grow your marketing database by offering a special discount to email subscribers. Potential customers will be sure to sign up if you give them the incentive of a discount. Or, if you're struggling to shift your most expensive ticket type, you could limit your offer to that category.
Create group discounts
Group discounts are also a great idea. You can offer discounts on group orders, encouraging people to buy more tickets at once. And since you'll be selling more tickets in group orders, it's an effective way to hit your revenue and sales targets.
How can I create Black Friday discounts on Eventbrite?
Go to your event dashboard.

Head to "Manage my events" in your account. Then select your event.

Go to "Promo codes." (You'll find it under "Tickets.")

Select "Add code" and enter a code name.

It's a good idea to create an individual code for your event, such as

BLACKFRIDAY2021

or

YAYITSBLACKFRIDAY

.

Set limits for your promo code.

It's also important to set a start and end date that allows the code to last until midnight of Black Friday. This urgency to buy or upgrade an event ticket is likely to be the biggest driver of your discount campaign.

Set a discount amount.

Discount your tickets by a percentage of the ticket price or by a set amount.

Test your promotional code.

After you create your code, view your event page to test it out. From your event page, click "Tickets" or "Register." Then, click "Enter promo code," add your code, and hit "Apply."
You can find more information on setting up discount codes via Eventbrite here.
How do I get the word out about my Black Friday discount?
Once you've set up your discount, you'll want to tell your customers about it so that ticket sales can start streaming in. Take a look at these marketing tips for promoting your Black Friday discount code.
Social media is your best friend
Social media is an important part of every event marketing strategy. Whether it's setting up paid ads on your channels or researching the most targeted hashtags to use, there are a number of ways social media can help get the word out about your event. Plus, Eventbrite makes it easy for you to integrate your social channels with your listings and allow attendees to share your event with their followers.
Build excitement
One way of creating a buzz is to give your audience a sneak peek of your discount before the big day. This could be via Instagram, Facebook, your website, or an email newsletter. However you get the message out there, make sure it entices your followers to look out for your offer on Black Friday.
Put yourself in the shoes of your audience
Other than finding a good deal, what else will encourage a potential customer to buy? As Black Friday comes before Christmas, you might want to think about promoting your tickets as gift ideas. Tailoring your messaging to your customer's needs, combined with a discount, is the perfect equation for converting sales. Eventbrite's analytics tools are super handy for assessing who your customer is and what they might want from you.
Partner up
Think about collaborating with other brands or influencers to spread the word about your discount. When working with others, analyse their audience to make sure that they align with your target customer. You can then come up with ways to promote each other using your channels and tap into their followers to attract new attendees.
Your Black Friday event checklist
Once you've spread the word about your discount code, there are a few other factors to consider. Here's a handy checklist to help you stay organised:
Discount codes are a great way to reach new customers and increase ticket sales. But that means nothing if the numbers don't add up. It's important that you do the maths and work out how you can still reach your sales targets with the new discounts.

Make sure that your ticketing partner or website will be able to deal with an influx of online traffic.

Don't forget to check that all your discounts are deactivated after Black Friday – otherwise, you'll undervalue your offering and miss out on profit.

Work with a professional ticketing partner, like Eventbrite, that makes it hard for scammers to take advantage of your discount campaign.

You might want to limit discounts to the purchase of two tickets per buyer.

Let your followers know about your Black Friday discount promotion a few days before, so they know what to expect. But don't do it too early – this may put customers off from buying before the big day.
Boost your marketing with Eventbrite
Discounts aren't just for Black Friday – they can be used all year round to grow your audience and increase sales. After all, great deals are an incentive for most people, and your event attendees will be no different. And if the promise of a thrilling live experience isn't quite enough, one of the above Black Friday strategies might just push those tentative buyers over the line.
It's super easy to set up an Eventbrite Black Friday sale and start selling tickets. We can also help you to spread the word about your discount and reach new customers.
Ready to give your marketing a boost? See how you can up your game with our handy marketing tools.