How to Prevent Online Ticketing Fraud at Your Event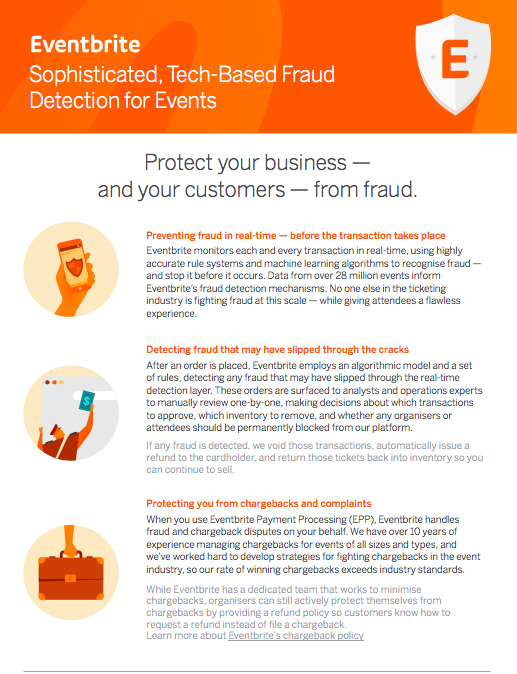 How to Prevent Online Ticketing Fraud at Your Event
Every industry is susceptible to fraud, but unfortunately the ease in which credit cards are used online makes ticketing fraud a particularly vulnerable target, causing big (and potentially expensive!) headaches for event organisers.
Increasingly, tickets are being purchased online with stolen credit cards and then immediately resold to unsuspecting attendees. Even if you catch the ticketing fraud and can alert the authorities, it's not the perpetrator attending your event — it's someone who unknowingly bought the ticket from scammers engaged in ticketing fraud.
This problem has recently come to light in Australia with nine leading tourism operators in Victoria being hit with fraudulent charges due to an ongoing scam on China's popular social media site, WeChat. Under the scam, fake discounted tickets for attractions are sold through WeChat to tourists visiting Australia. Stolen credit card details are then used to buy a real ticket, using the details of tourists who bought via WeChat. In recent months, these operators have had to refund around $400,000 to the legitimate owners of credit cards (Source: The Age, 6 April 2017). Not only that, they're typically stung with a chargeback fee and in some cases still need to provide entry to the tourist caught in the middle, even though the money they paid has gone to scammers and not the business.  
For the events industry, it's often the victims of fraudulent or scalped ticket purchases that receive all of the focus, with little said about how these scams are affecting event organisers and operators. Event organisers that get caught up in these scams are left out of pocket, but often don't get the support or publicity that the tourism industry is currently offering to affected operators.
Chargebacks and 'friendly fraud'
Another scam affecting event operators is a fraudulent chargeback claim, sometimes referred to as 'friendly fraud' as they are run off legitimate purchases. Scammers try to get something for nothing, claiming they never received tickets purchased and filing for a chargeback refund with their bank. These cases can be time consuming and difficult to manage, requiring operators to fight cases with the banks.
What should I look for when selling event tickets online?
To avoid getting caught up in ticketing scams and chargeback battles, selecting a ticketing provider that helps to fight fraud is your best line of defence. When selecting a secure platform to manage your event revenue, your security checklist should include:
PCI-compliance

A comprehensive privacy policy that does not on sell details to third parties

A secure system that doesn't store credit card details

Secure encryption and management procedures

Full-time staff that handle fraud prevention and security
How do I minimise chargebacks?
Event organisers can actively protect themselves from chargebacks by providing a refund policy so customers know how to request a refund instead of file a chargeback.
Eventbrite also employs a dedicated team that works to minimise chargebacks for event organisers. When you use Eventbrite Payment Processing (EPP), Eventbrite handles fraud and chargeback disputes on your behalf. With over 10 years of experience managing chargebacks for events of all sizes and types, Eventbrite has developed strategies for fighting chargebacks in the event industry, so our rate of winning chargebacks exceeds industry standards.
How do I prevent fraud at my event?
If your event ticketing is with Eventbrite, you're already protected against fraud in real-time, before a transaction takes place. Eventbrite monitors each and every transaction, using highly accurate rule systems and machine learning algorithms to recognise fraud — and stop it before it occurs. Data from over 28 million events inform Eventbrite's fraud detection mechanisms. No one else in the ticketing industry is fighting fraud at this scale — while giving attendees a flawless experience.
To learn more about Eventbrite's fraud protection solutions, including how we review fraud and protect organisers from chargebacks and complaints, visit
eventbrite.com.au/security
or complete the form on this page to download our information sheet "Sophisticated, Tech-Based Fraud Detection for Events".