Planning an Outdoor Festival in Australia: Essentials of a Sell-Out Summer Event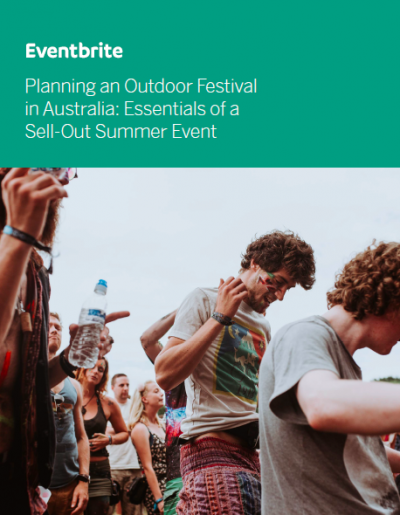 Planning an Outdoor Festival in Australia: Essentials of a Sell-Out Summer Event
To run an outdoor festival this summer, you need to be more than "well-prepared" — you need to be truly battle-ready. You're up against unpredictable weather and a big lineup of festivals, not to mention the hectic social commitments of the festive season.
Your festival deserves to make the cut. Download this guide to master the three essentials of an ultimate outdoor festival. You'll learn:
How to draw record-breaking crowds to your big summer event

How to keep attendees safe and comfortable once they're through the gates

How to create a summer-proof on-site strategy
Preview
How to sell-out your event this summer
With winter hibernation over, event lovers are ready to put down the TV remote and get outside. Of course, more people seeking events means more competition catering to demand. To stand out in a crowded market, you need to offer an event that is fresh, appeals to the lives of busy Australians, and will drive serious FOMO (fear of missing out).
Here are three ideas for selling-out your event this summer.
1. Tap into fresh trends
With the summer festival season wrapping up in the Northern Hemisphere, now is the perfect time to take a look at what was hot (or not) at recent outdoor festivals. Thanks to the likes of Instagram and Snapchat, Australians get an instant update of what is hot overseas. Your fans expect that they will see the same standard of entertainment, fashion, and food when summer arrives down under.