Template: How to Structure a Winning Event Sponsorship Proposal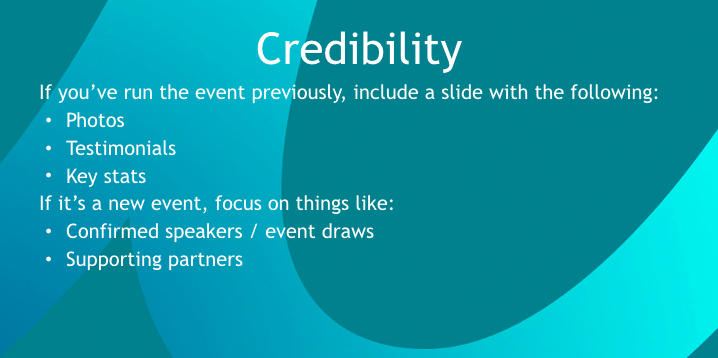 Template: How to Structure a Winning Event Sponsorship Proposal
You've got the big ideas, but not the big bank account. 
So, like most other event organisers, you're on the hunt for an external sponsor who can turn your event dreams into a reality. The fact is, a huge number of events rely on sponsors to cover their costs and make them viable – breaking even or making a profit can be extremely difficult without them.
Whether you're running a small networking evening for 50 people and need a sponsorship partner for $400 worth of drinks, or you need a 7-figure festival headline sponsor, the principles for a winning sponsorship pitch are the same.
Show the value of your event to the sponsor, and build credibility with them so they trust you can deliver on those promised benefits.
The key ingredient in this process is showing that the audience at your event are potential customers (and advocates) of your target sponsor, and that you will definitely be able to get that audience in front of your sponsor.
If you feel you can do this for your event and a handful of potential sponsors, the next step is to actually speak with them.
The event sponsorship proposal – in the form of a pitch deck or pdf – should be short, sharp and supportive of your overall sales pitch. Nothing more, nothing less.
We're here to help.
To help guide you through the creation of a great pitch deck, we've compiled an event sponsorship template with a completed example too.
Fill out the form on the right to download the customisable sponsorship proposal and open the doors to more sponsorship opportunities.