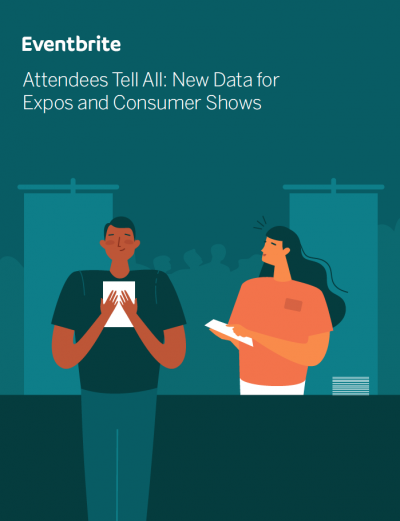 Attendees Tell All: New Data for Expos and Consumer Shows
To sell out your next expo or consumer show, you need to constantly uplevel your attendee experience, reach new audiences, and outdo your competition. And you can start with the insights in this report.
You've secured hundreds of A-list exhibitors, nailed down big-name sponsors, and reserved the perfect caterers for your annual show. But on event day, your sold-out event is sinking.
Why? You didn't know what your attendees actually want.
Instead, save time and money by planning, pricing, and promoting a show or expo that was designed perfectly for your attendees. To help you, Eventbrite surveyed more than 300 expo and consumer show attendees to find out exactly what matters to them.

In this report, you'll learn how to:
Curate an expo or show that people can't wait to attend

Increase your revenue — beyond your ticket sales

Create a VIP experience that attendees will pay for
Preview
Why attendees go to expos
To reach new attendees and grow your expo, you need to understand why they're going to events like yours. The reason might not be what you think.
This is a universal shift in thinking about why attendees come to your event. They're not just looking for a fancy car, a wedding dress designer, or a new home. They might be wanting to learn more about the area, connect with friends, or interact with your sponsors.
So why do event-goers check out expos and consumer shows? According to our survey, there are two top reasons.
What matters most to attendees
One of the easiest ways to put your expo at risk is by ignoring what matters most to your attendees. The best experience in the world will flop if it's not right for your audience.
Start with the basics.
Want your attendees to fall in love with your expo? Here's what attendees say matters most to them.
What motivates attendees to go VIP
VIP buyers aren't as rare as you might think. More than half of respondents (55%) said they would consider buying a VIP ticket but never have. One in five would consider buying a VIP ticket — and they've done so in the past.
What's more, 52% of attendees said they would be willing to pay 25% more for a VIP ticket. 10% said they would be willing to pay double.
Why tickets aren't the only way to increase your revenue
A third of events generate the majority of their revenue from sources other than ticket sales. That means you can make more money from the attendees you already have — and if you do it right, you'll give your attendees a better experience in the process.
What keeps attendees coming back each year
It doesn't matter how much time and money you've put in to create your event. If you want attendees to come back to your expo or consumer show, you need to invest in areas that your attendees care about.
The number one reason attendees said they would return to a show or expo was "the uniqueness of the event." This is even more important than ticket price, which came in second. If there isn't something different about your expo or consumer show, they won't come back.