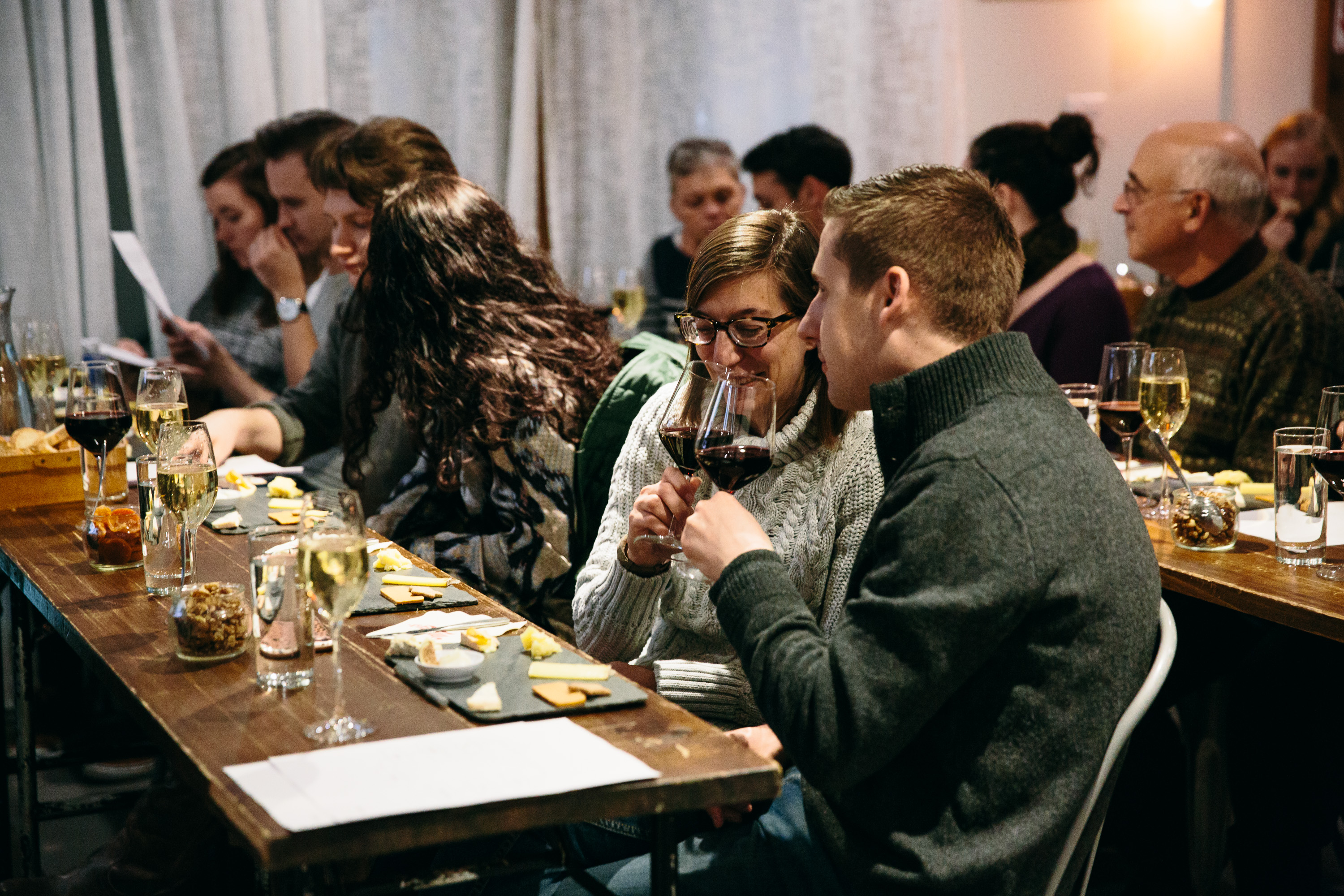 8 Valentine's Day Events to Boost Your Business
Valentine's Day is the perfect time to share the love with your attendees and show them how much you appreciate them. If you're looking for inspiration, our list of Valentine's Day ideas will get your event brain ticking. Explore innovative options for both couples' and singles' events that'll have your guests falling in love with their nights as well as each other.
1. Host a romantic outdoor cinema night
Hosting a film screening with classic romantic movies like Love Actually and The Notebook is a great way to gather a loved-up audience of couples. Choose a venue that's outside the box to create a connection with your audience and draw them away from the traditional screens. You could use a rooftop inner-city bar with a big screen and comfy beanbags or a drive-in venue that can house an entire local community.
Why not enhance the Valentine's Day theme with gift bags of digital discount codes, heart-shaped swag, and chocolates? Don't forget to use social media to include your audience in the behind-the-scenes setup of the event, and post photos, quotes, and videos during and after the night.
2. Organise a wine tasting with artisanal produce
Valentine's Day isn't just for couples. After all, not everyone will have a romantic date lined up for the big day. For a bigger guest list, draw in singles and their besties with a wine tasting event at a local vineyard. Pair the wines with Fairtrade chocolate or local farm-gate produce to tempt your customers' tastebuds and tantalise their senses.
Wine tasting is perfect for collaboration – choose a winery that's open to sponsorship or partner with local artisanal food producers.
3. Celebrate Galentine's Day
For an alternative to Valentine's Day, celebrate friendship, regardless of relationship status. Take a cue from Britt's List founder and editor Brittanie Dreghorn and host a walking tour focused on sustainable fashion or local history. Or opt for the ultimate indulgent experience and host a pamper-filled spa party.
Put together personalised swag bags with branded toiletries and cosmetics so your Galentines remember the day.
4. Create a fine romance with a masquerade ball
Whether you're single or taken, the mystery of costumes and masks can be a sensual event experience. Scout out a historic building or baroque hotel venue to set the scene for excitement. You could even consider a hybrid event with both online and in-person ticketing options. This format is a great way to offset impacts to your business from social distancing requirements, and to include people who are unable to attend in person.
If you do go down that route, accommodate your virtual audience with entertainment such as a live band or professional dancers. Don't forget to ask sponsors to provide prizes for best outfits and make sure to snap plenty of pictures for social media. It's a complex event with lots of moving parts, so use a planning checklist to help get it right.
5. Opt for a virtual murder mystery party
Murder mystery parties are an inexpensive Valentine's Day event idea. And thanks to downloadable murder mystery story packages and a recent surge in livestreaming, taking your event online is super easy. There are plenty of accessible video hosting platforms to choose from, whether you're looking for an interactive option like Zoom or a password-protected provider like Vimeo.
Whether you choose scripted or free play, there are plenty of murder mystery stories already prepared – so all you have to do is set your Valentine's Day theme, pick a date and time, and send out the instructions. Remember that the more guests you have, the harder interaction can become. So if you ask your virtual attendees to invite their friends, set a limit for your guestlist.
6. Livestream a cabaret show
Valentine's Day isn't all hearts and roses – there's something to be said for getting a little risqué at this time of year, and what better way than with a cabaret show? Take inspiration from Blackheath's Blue Cabaret, where the theme is just as much about loving yourself as it is loving others.
It's a perfect medium for streaming, too. A livestreamed Valentine's Day cabaret show can draw global crowds and spur plenty of real-time engagement. But the beauty of a virtual Valentine's Day event is that it can also be pre-recorded to ensure quality before going live.
7. Share the love with a Valentine's Day dinner
A delicious dinner with hors-d'oeuvres and plates of fresh food is just the thing to bring in a group of foodies. Keep your costs down with minimal styling and splashes of colour from inexpensive flowers such as carnations. Create an ambient atmosphere and an effective table centrepiece, too, with candles of all shapes and sizes.
Providing different ticket levels is a clever way to reward your favourite customers, with some special features like luxury menu items – think oysters, caviar, and truffles.
8. Kick up your heels with a karaoke night
Why not loosen up by hosting a fun Valentine's Day karaoke night? Decorate the venue with heart-shaped balloons, hire a karaoke machine, pump up the vibes, drop your inhibitions, and let your customers feel the love with a romance-themed song list.
If you want to bring out your guests' inner performers, consider livestreaming the night to a much wider audience. Prizes for best and worst renditions will encourage more people to attend (and bring their A-game).
Choosing the best format for your brand
Everybody needs a little love, and there are plenty of ways to boost your event business on Valentine's Day. After all, creating an unforgettable and rewarding event experience is easy when you already have the theme on a plate. Take your brand to the next level with our guide to planning and promotional tools.