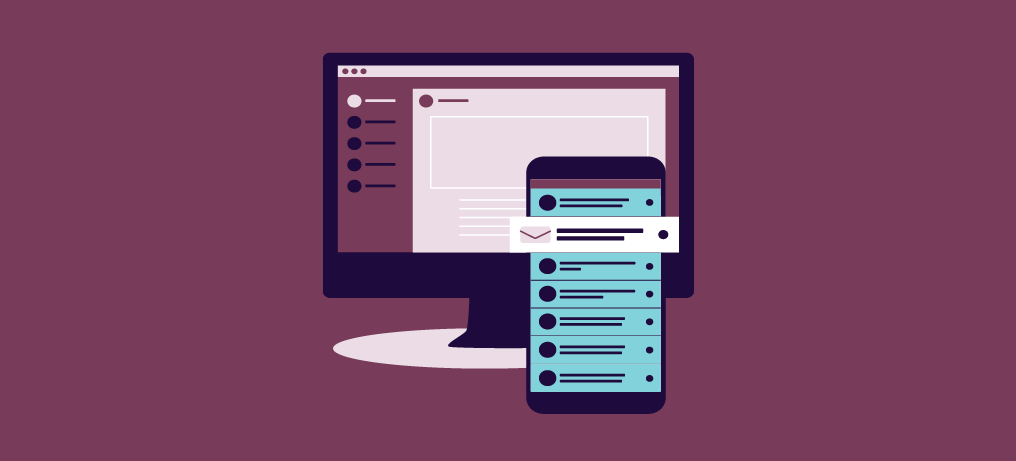 3 Event Invitation Templates to Make Your Own
First impressions count — and for events, it all starts with an invitation. You have the important details all set, but to inspire people to take action and attend your event, you're going to need a formal email invitation that connects with your audience.
Read on to learn more about writing effective event invitation emails, or click one of the links below to jump ahead to the invitation sample you need:
Don't see what you need on this list? For more email templates including ticket announcements, pre-sales, and post-event surveys, check out
7 Email Copy Templates to Sell Out Your Next Event
.
Writing effective event invitation emails
Regardless of what type of event you're inviting guests to, there are a few key principles you should stick to when crafting an email invitation.
In general, keep event invitation emails short and to-the-point. Place essential information about your event (like date, location, and a link to buy tickets) toward the top of the email. The less your reader has to scroll to find need-to-know information, the better.
Use the body of the email to tell your reader the benefits of attending your event. You want them to picture what they will get out of attending, rather than simply a list of what is happening. For example, "Marketing experts will take the stage," can be reframed to focus on the reader's emotional benefit: "Solve your most frustrating marketing challenges with expert advice."
If you have great visual content to feature (like past event photos, strong branding, or headshots of your keynote speakers), include it. Just don't hide your call to action (CTA). Put your CTA at the very top and bottom of your email to make it as fast and easy as possible for attendees to find — and click. This could be in the way of succinct lines of copy linked to your website, or brightly coloured buttons.
Workshop or seminar invitation template
If you're hosting a workshop, class, or seminar, you'll be providing a learning opportunity to attendees. When creating your invitations, let people know what they can expect to get out of attending — rather than focusing solely on the program itself.
Here are 5 tips for writing an email invitation for a workshop or seminar:
Start with a challenge, objective, or desire that your audience can relate to

Tell them how your event/speaker will address their challenges or help them achieve a goal/desire

Provide more details about what the event will offer

Give the important details – date, time, location, and cost

Provide a call to action such as "buy tickets" or "learn more"
Subject line examples:
Meet the experts who will evolve your business in 8 hours

This session on [topic] will have your LinkedIn circles talking

Learn how [expert, solved key challenge]
Email invitation copy template:
Dear [recipient],
[Event name, with link to website] has already helped thousands of people set their business strategy with confidence, using exclusive insights from five seasoned industry leaders.
We're back in 2019, to give you the tools to evolve and accelerate your business. In this one day workshop, top experts such as [highlight name, position] and [highlight name, position] will walk you through how to develop a strong strategy and the tools and tactics you'll need to achieve your business goals. Not only will you receive insightful views on [industry], you'll walk away with an actionable plan for the year ahead.
When: [Date]
Time: [When, including networking drinks if relevant]
Where: [Full name and address of venue, with a link to a map]
Cost: [Price e.g. "Early-bird tickets from $495 until January 11"]
To view the full line-up of speakers and register tickets, visit [event website]
[Buy Tickets]
Conference invitation template
Like a workshop or seminar, conferences also provide a learning opportunity for participants. However, conferences allow for a wide range of topics and sessions to be covered, so you may want a longer invitation template to really sell the benefits of attending your conference.
Subject line examples:
Join [X, Y, Z company] at [Conference Event, Year]

The ultimate chance to [key benefit] this year

Learn from [X,Y,Z company] at the [Industry's] premier event

Don't miss [Keynote] on [Date] at [Event Name]!
Email invitation copy template:
Hi / Dear [first name]

I'm [your name] from [company or event name]

After [interviews/survey] with senior industry leaders from companies like [X, Y, Z], we've discovered some key common challenges facing [your industry]. These include:

1. [Challenge 1]
2. [Challenge 2]
3. [Challenge 3]
Sound familiar? We're going to address these challenges head-on at our [Conference Event] on [date] in [location].

Actually, let me correct that. We're not going to address your challenges — the best minds in the industry are going to! You'll hear from thought leaders including:

• [Name, title, company] will share how they…
• [Name, title, company] will explain how you can…
• ]Name, title, company] will show how you can…

Of course we can't give you every detail about the event in this email, so why not check out our event page, which will tell you all about who you can meet, the full agenda and registration options available.

Just don't delay too long as the Early Bird rates end [date].

We look forward to seeing you there!

Best
[Your name]

Ps. To get the best possible registration price, you'll need to book your place by [date], so why not take a look at the full agenda here and decide if we can help with your core business challenges this year?
B2C and community event invitation template
When writing an event email to customers or members of your community, make sure your invitation reflects your brand personality. Capitalise on what appeals to your customers or supporters and keep that front and centre. Depending on the type of event you're hosting, this could be in the way of strong visuals and teaser content to encourage website or store visits, rather than a formal event invitation with RSVP.
For examples, private-members club, Soho House, bases their brand on exclusivity and benefits for members of the creative industries. For their email invitations, they use bold visuals to entice members to learn more. As you can see in the example (pictured below), they use graphics to invite members to a rooftop pool party — without using the word 'pool'.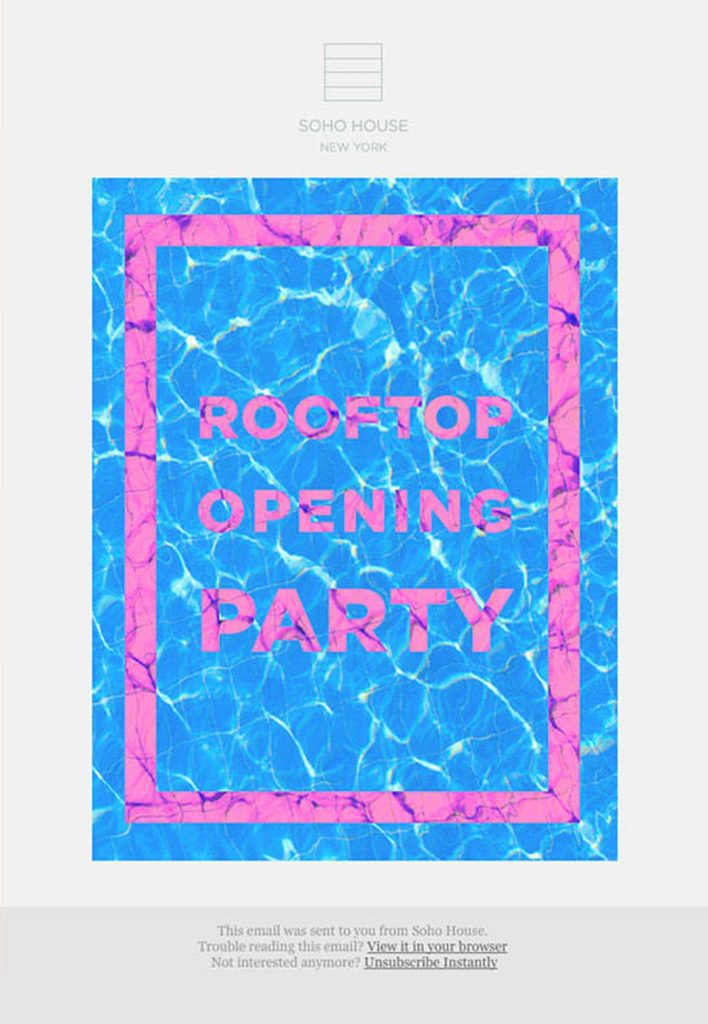 Sample subject lines for B2C or community event invitation emails:
Don't miss the [Event name] at [venue/business] next month

Your Instagram feed will be full of this in [Month]

Grab your VIP tickets to watch [Performer Name]

[Year] lineup at [Event Name], featuring [Performer Name]!

We're hosting an exclusive event for our favourite customers (that's you!)

Celebrate [brand]'s birthday with [exclusive offer or event hook]

Save the Date: [Community Group]'s annual celebration kicks off on [date]
Email invitation copy template:
Dear [Customer/Supporter Name],
[Image]
Free [date]? Join us at [event name or venue] for [value proposition or benefit of attending — such as exclusive access or entertainment].
When: [Date]
Time: [When]Where: [Full name and address of venue, with a link to a map or store locator on your website]

Free email invitation design templates
Now that you have the wording to get you started, it's time to create an email design. For free email templates that will help your invitation shine, try these handy resources:

Let's make event magic
Ready to plan your next event? Click here to get started.