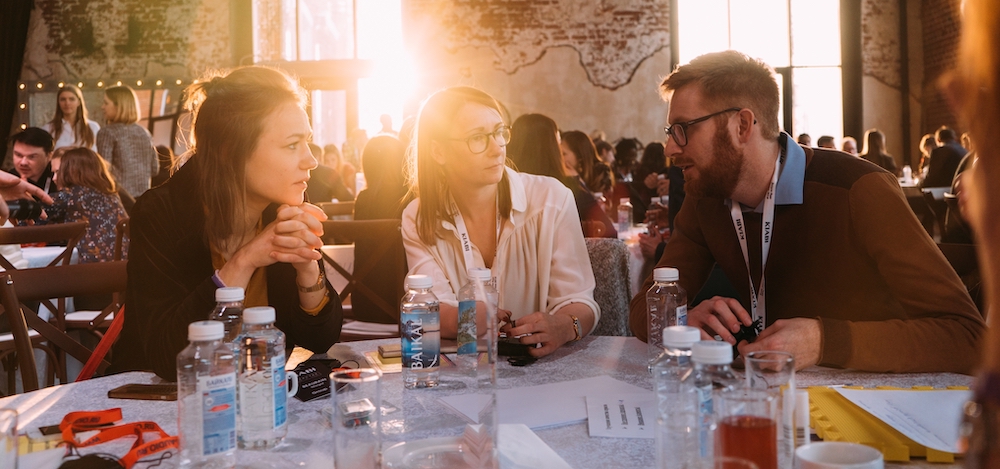 11 Strategies for Creating a Memorable Branded Event
Branded events are challenging. You want to create a memorable experience for customers, but you also have important objectives to achieve — such as growing brand awareness, generating sales leads, or rewarding loyalty.
When focusing on achieving these outcomes for your brand, it can be easy to overlook little details that could make or break the experience people have at your event.
That's not to say that you need to splash out on pricey entertainment or flashy gimmicks to keep people happy. The devil, as they say, is in the details. Every interaction a customer, prospect, or even employee has with your company reflects back on your core brand. And the bigger your brand, the more is at stake.
The solution is to ensure that your event experience will delight attendees at every touchpoint. It doesn't matter if you're entertaining prospective clients with a fancy cocktail party, or running a seminar on tax advice — if you get the little things right, your attendees are more likely to have a positive experience.
Here are 11 ready-to-action strategies for delighting attendees at a branded event:
1. Make people feel like welcome guests
First impressions count. But think about the first thing that people typically encounter at events; long queues and flustered staff scrambling with paper guest lists looking for names.
Avoid lengthy queues by using tickets instead of paper guests lists. Scanning tickets at the door is quick and frees up staff to give warm welcomes instead of flipping through pages on a clipboard.
2. Know your audience
You know who your target market is — but are they the same people attracted to your events? You can use your ticketing checkout to find out, by asking questions about who your guests are over and above simple demographics.
For example, if your target market was well-established small business owners, you might want to ask attendees how long they have been in business for. If your results show that your attendees are largely new business owners or aspiring to start a business, you could host a breakout session to cater for these guests and segment communication to them to build your future pipeline as their business matures.
3. Staff events with knowledgeable brand ambassadors
Particularly if you're running a large event, you may rely on a casual workforce and hire temporary event staff to help manage your operation. But if your customers are looking for more information on your latest product or service, these staff might not be who you want on the frontline.
Take for example, the customer experience at large department stores. A common frustration for customers is that they can't find anyone to help them — and when they find a brand representative restocking a display, they're told "I don't work here".
To avoid having this scenario play out at your event, make sure you designate knowledgeable staff members or trained brand ambassadors to talk to attendees and work the room.
4. Be entertaining
You don't have to hire expensive entertainment to "be entertaining". Andrew Rossi, head of advertising events at Google, has a great example of keeping the brand playful. Google is known for their "easter eggs"  — fun hidden messages that people stumble onto across the web. Google carries this easter-egg idea through to its events.
For example, Rossi has planted cups with conversation-starters printed on the bottom at his events. One person takes a sip of coffee; the other person sees the prompt. It's an intimate and light-hearted way to coax people to interact at an event.
Before your next event, sit down with your team and review your brand values. Brainstorm ways you can bring this to life as an event experience or icebreaker. Try to think of activities that are relevant to your event and what your audience needs. The Google example above works at a networking event, but wouldn't have the same impact at an outdoor festival.
5. Provide interactive games or competitions
If you're looking for a fun and playful way to encourage attendees to engage with your sales team or product demonstrations, then 'gamification' could be the answer. Gamification essentially takes attendee interactions and turns them into a game or challenge.
Examples of gamification at events include digital passports that collect redeemable points for visiting event sites, or creating exciting challenges for attendees with leaderboards to spark competition and teamwork.
Look at options to engage attendees through interactions such as collecting 'passport stamps' from vendors or a mini-scavenger hunt. If your event has a mobile app, look at including games or challenges to boost engagement within the app.
6. Provide a sense of discovery
Rules and rigidity are rarely fun. You might have a specific idea in mind on what people should do at your branded event and how they should behave — but forcing this on your attendees may also risk making them patronised. Think about the way in which museums and art galleries are evolving. Once whisper-quiet places full of bollards and boundaries, many modern facilities are moving towards interactive displays and encouraging people to explore works on their own terms.
Providing an opportunity for people to explore your events on their own terms can help make them feel comfortable and relaxed. Consider ways to "surprise and delight" your guests with interactive displays and product/service demonstrations instead of static booths.  
7. Rethink your swag
Branded merchandise or 'event swag' is another area that can really let a brand down at an event. Handing out items that are going straight in the bin makes your brand look cheap — or even wasteful.
Before spending budget on branded merchandise for your event, consider items that will be useful to attendees and feel relevant to your brand. For example, a company in the travel industry might want to swap pens for sunglasses and sunscreen to remind attendees to book a holiday or corporate retreat. If you're hosting an internal forum for parents on flexibility in the workplace, offering a child-friendly branded item like a toy, lunchbox, or wet-wipes holder shows that you're considering employee needs outside of the workplace.  
8. Give out premium samples
Swag could also incorporate your actual product or service too. Attendees of your event are enthusiastic about your brand, so don't be afraid to show off your product and give them what they want. If they have come to an event to see what your brand has to offer, don't let them leave empty handed.
Depending on what is relevant to your brand, consider offering premium samples, interactive demonstrations, or competitions to win your product or service for larger ticket items.
9. Teach guests a new skill
If you want to create a long-lasting impression on your guests, try adding an educational element to your event. Teaching guests a new skill leaves them with something they can remember and put into practise for years to come — while positioning your brand as helpful and insightful.
Learning comes in many shapes and sizes, so don't think you have to run full workshops or training sessions for this to be effective. For example, if you were hosting a cocktail event at a upmarket bar, you could organise for the bartender to give guests a demonstration on how to create their signature cocktail. Every time they make it at home or at a party with friends, they will remember your event.
10. Put your brand promise at the centre of events
What is your brand promise? Is this idea at the centre of every event you create? Do your events help people experience this sentiment firsthand?
For example, Bunnings Warehouse promises that "lowest prices are just the beginning". While you can find items in their stores at a low price, their focus is on having helpful staff members and being actively engaged with their customers and the wider community. If you attend a workshop or demonstration event in-store, the focus is on teaching new skills and making DIY accessible, not selling tools. By making the store experience memorable, Bunnings has succeeded where other hardware brands have failed. They are just as well known for cheap prices as they are for the friendly staff and community sausage sizzles.
11. Engage with attendees after the event
What kind of interactions do your attendees have with your brand after an event? Do they hear back from you? Get inundated with hard-sell emails and phone calls from the sales team? How you treat attendees after your event is an often overlooked touchpoint that could easily hero or hurt your brand.
While following up sales leads is absolutely important and even vital for many branded events, going in too aggressively could be off-putting for some customers and even discourage them from attending future events. Thankfully, events provide the perfect opportunity for you to add further value in your communication to drive results. By including relevant content from your event, you have the opportunity to nurture leads in a highly engaging way.
For example, if you were running a panel discussion at your event. You could put together a short video, blog series, or ebook with advice from your experts. Send this to your attendees after the event so they can continue learning and engaging with your event in the lead up to the next one.
Solve your B2B event challenges
For a closer look at how to overcome the common challenges faced by businesses running branded events, download the free guide: B2B Event Challenges Solved — 3 Ways to Win Over Customers at Events (While Staying on Brand)