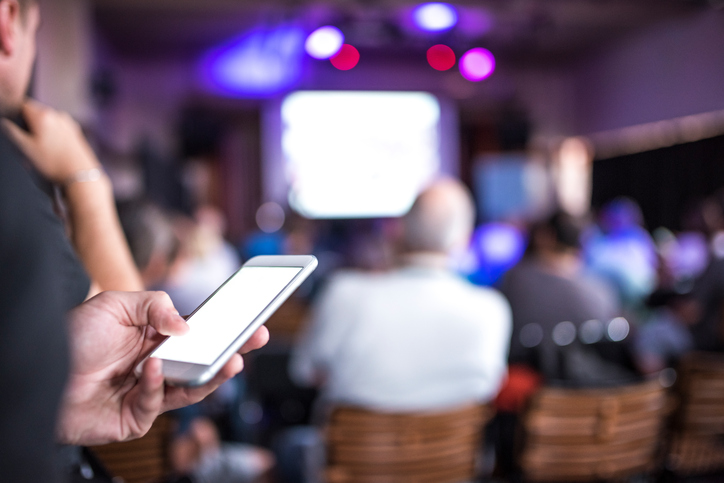 10 Event Technology Trends for 2020
As we enter a new decade, the range of technology available to event organisers just gets bigger and better. Streamline your event management processes and give yourself a competitive edge with the latest event tech trends for 2020.
From event software like ticketing systems and webinar tools to innovations such as artificial intelligence and virtual reality, technology is an incredible enabler.
What is event technology?
So, what's the definition of event technology? Basically it's any digital tool that can help planners perform essential event organisation tasks — think event marketing and management software and event apps. But event technology can also include other technologies that are shaking up a whole range of industries, for example, facial recognition and augmented reality. 
10 event technology trends to explore in 2020
1. Things can only get quicker with RFID and facial recognition
One of the biggest tech trends of the past few years, radio-frequency identification (RFID) continues to streamline the attendee experience by replacing tickets and physical payments. 
In 2020, things will get even faster, thanks to facial recognition technologies. Automated check-in terminals and guest list check-in apps can dramatically reduce waiting times and, with facial recognition technologies starting to be implemented, attendees who are willing to let their faces be scanned will find checking-in is even quicker. 
In addition to speeding things up, advanced software can read facial expressions and body language in order to predict the mood of attendees — taking feedback to a whole new level. 
2. Chatbots will demonstrate it's good to talk
As people get used to asking Alexa and Siri to add milk to their shopping list or play their favourite album, we can expect to see digital assistants and chatbots powered by artificial intelligence popping up in the event industry, too. 
By automating customer service, attendees receive a rapid response and organisers can continue to focus on planning their event. From Google's Dialogflow, which integrates a chatbot into a website or event app, to using a customer service plugin with Facebook Messenger, there are plenty of ways to get started.
3. Data collection and AI equals personalised recommendations
Talking of AI, it's increasingly being used to analyse data and offer up personalised recommendations. This is huge for event planners, who should be investigating how AI can enable personalised experiences and meaningful interactions that will delight attendees, exhibitors and sponsors alike. 
Post-event surveys are really useful, but you should also collect geolocation data and use AI to interpret data from the social media profiles of attendees. If this all sounds a little tech-y, don't despair — the quickest way to get up to speed is by using an event app with an AI plug-in.
4. We are all entering a new reality
You might have heard a lot of buzz around experiential events, and augmented reality (AR) and virtual reality (VR) certainly have the ability to transport attendees to a whole new world. 
The possibilities are seemingly limitless, with brands using AR and VR to create memorable experiences at corporate events, expos and trade fairs, and charities using the technology to draw attention to their cause and revolutionise fundraising.
Recently in Australia, we've seen event creators put this new technology to creative new uses, like at Rone's EMPIRE exhibition where VR was used to offer a peek behind the scenes, allowing attendees to walk through the artist's studio as he talks you through his process. 
5. Livestream your event to online attendees
Motivated by a desire to reduce their event's overheads and environmental impact, respondents to our latest event trends survey predicted 2020 would see more organisers host online and virtual events. 
But while many event organisers are embracing webinars as a means of reaching remote attendees, it's also worth discovering how live streaming could enable your event to reach an even wider audience via broadcast technologies like Facebook Live. 
Event organisers should encourage attendees, volunteers, staff and suppliers to share your livestream with friends who couldn't attend. They can invite people to join Facebook Live events as well as tweeting a link to their followers.
For example, Eventbrite recently hosted a Melbourne music first by streaming a performance by alt-pop darling Owl Eyes in 360-degree VR — delivering the experience live to thousands of remote fans via Oculus Quest headsets and YouTube.
6. Connected customers are happy customers
With the roll-out of 5G cellular network technology, there's an expectation that venues will provide a super-speedy WiFi connection — and that's good news for event organisers and attendees alike. Faster download and upload speeds mean connectivity will be less of a concern at events. 
In addition, technologies like live-streaming, VR and AR will be easier for planners to implement. Organisers have never been more within their rights to check with any potential venue what the strength of the WiFi signal is and the amount of bandwidth available.
7. Tech adds a visual element to events
A few years ago, social media walls started catching attendees' eyes at events all over the country. In 2020, we expect to see technology integrated into another visual trend: projection mapping. 
Projection mapping involves using lights to create 3D interactive displays that are then projected on ceilings, interior walls and building exteriors, adding an experiential element and wow factor to events, presentations and product launches.
8. There's an app for that
Still considering an event app? What are you waiting for! Conferences and B2B events help attendees keep track of the schedule and identify networking opportunities, while apps for festivals and consumer events allow attendees to bookmark locations and create custom line-ups. 
In addition to a branded event app, there are plenty of apps out there that can help creators discover extra information about their audience and sell more tickets in more places — check our App Marketplace to find one that works seamlessly with Eventbrite.
9. Project management tools can make life easier
So far, we have looked at how tech can improve the attendee experience, but it can lend a helping hand to event creators, too. From automating your marketing efforts to handing over admin tasks to event management software, there are plenty of tools out there to make scaling up less stressful.
10. More tech collaboration and integration
Tying together these last two trends, 2020 will see an increased connection between event management platforms, ticketing systems and tech companies. This includes more social media integrations like Eventbrite's latest integration with YouTube, and the ability to sell tickets via your website. 
If you're keen to take your offering to the next level, download our free report to discover the key Australian event trends in 2020 and get expert advice on how to implement them.